Sirens to blare for Emergency services food drive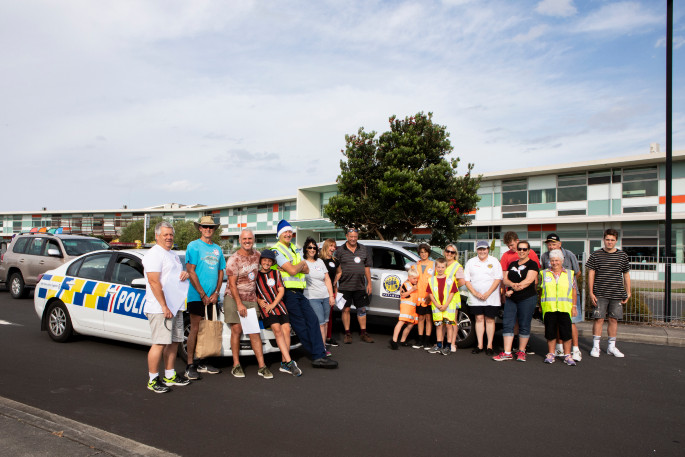 Sirens will be switched on and lights flashing as emergency vehicles slowly make their way through the streets of Pāpāmoa on Tuesday night.
The annual Emergency Services Food Drive, now in its 11th year, is happening over two nights this week and next, as teams of volunteers take to the streets and suburbs of Tauranga to collect donations to help local food banks over the Christmas period.
On Tuesday, November 30, Neighbourhood Support and Fire and Emergency NZ who are co-organising the Pāpāmoa collection will be joined by emergency services including St John's Ambulance, NZ Police, MPI Fisheries and Search and Rescue as they canvas the streets of Pāpāmoa.
And a week later, the entourage will be cruising around the streets of Mount South in the early evening on December 7 collecting non-perishable food donations from letterboxes.
"We are coming to every Pāpāmoa street this year," says Western Bay of Plenty Neighbourhood Support Manager Bruce Banks.
"Don't be alarmed – there will be sirens to alert you to our collectors in your street."
Last year there were 10 teams and more than 100 volunteers running the streets of Pāpāmoa, accompanied by police, fire, ambulance vehicles and fisheries, in what was the largest collection ever in.
This year it's even bigger. Bruce says 17 teams with 180 volunteers will be covering the Pāpāmoa streets on Tuesday night.
"This year we are not only collecting tinned, non-perishable food, pasta and rice, but also toiletries, baby needs, sanitary items, and pet food."
Last year, the drive collected 24 trailer loads of cans and boxes from neighbourhood donations which boosted stores at Pāpāmoa Family Services for Christmas.
This year the collection is contactless, with households leaving donations at letterboxes to be collected by runners. In the interests of keeping our people safe from Covid, people are reminded to please remember social distancing and mask wearing.
Donations of non-perishable goods can be left in plain view for collection, and people reminded that there is only a two-hour window for the collection, and the collectors will do their best to get to every street.
"Please leave your donations on or around your letterbox so that our collectors can swing by and scoop them up," says Bruce.
Bruce says that they will not be coming into aged care facilities this year.
"If your village needs a pickup of donations please contact me by email on nspapamoa@wbopns.org.nz," says Bruce.
Thank you in advance for your generosity. It is so nice to live in a community that cares for those less fortunate than ourselves."
Pāpāmoa is the first suburb to be visited, with other areas being covered from on Tuesday December 7.
Police will be leading in the other areas, with Community Constables in charge. The suburbs being covered next Tuesday are Mount Maunganui, Tauranga.
Kurt Waugh, organising the Mount Maunganui collection for Police, says they're hoping for generous donations from the public for Tauranga Foodbank.
More on SunLive...