Tauranga City Women reach new heights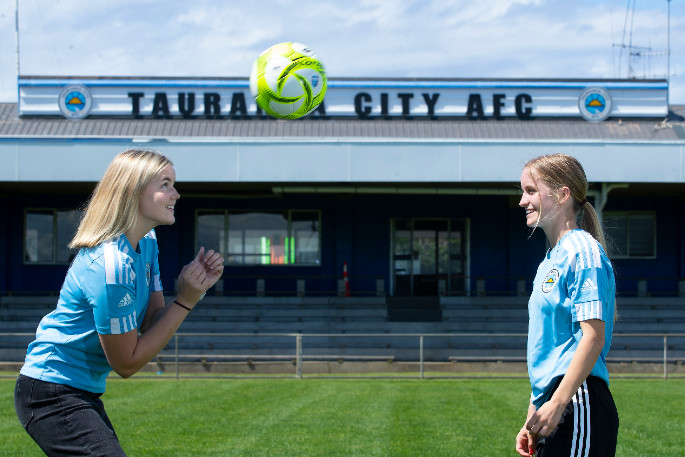 Tauranga City AFC Women enjoyed an unbeaten WaiBOP W-League title-winning campaign last season, scoring 73 goals in 17 games.
Now they've been rewarded for their hard work on-and-off the pitch with promotion to an expanded NRFL Women's Premier League for 2022, where they will face the best the Northern Region has to offer.
"The players have done brilliantly to win the W-League undefeated, and we have an exciting opportunity in front of us in 2022 and beyond," says Tauranga City chairman Brendon McHugh.
The promotion gives the club's senior players, such as captain Emma Cawte, the chance to finally play at a higher level. Meanwhile, young talent such as Isla Ganley now have a genuine regional pathway.
"It is really great for the senior players to get the opportunity to play at the highest level." says Tauranga City director of football Barry Gardiner.
"Especially for our younger players. Some in the past have had to travel to Hamilton to get that level of football, which means they are travelling a lot which isn't ideal at a schooling level."
Chairman Brendon agrees.
"There's so much great talent in the Bay of Plenty," he says.
"This shows our junior and youth players what they can achieve in the game without leaving the region."
As Barry alludes to, historically, the Bay of Plenty's best players have ended up crossing into the Waikato to play at a higher level.
"The biggest thing is for our region," he says.
"As a region we want to make sure we are offering equal opportunities for men and for women as well."
WaiBOP Football chief executive Karyn Walters is delighted for the Links Avenue-based club.
"It is a great opportunity for the wider Bay of Plenty region to be represented at that level," says Karyn. "It is great to see more opportunity for our female players across the board."
Karyn says that the hard work was not only on the pitch, but off it as well, with the club working hard to get the accreditation and coaching standard needed to elevate.
Barry also makes it clear that success on the pitch is only possible due to some excellent work behind the scenes, including coaching. Barry confirms the club is actively looking to add more coaches to the set-up ahead of the 2022 campaign.
"The knock-on is to hopefully inspire more female coaches and people into the women's game, to get chances to coach at that level as well," says Barry.
The team begin pre-season training in mid-January and, long-term, Barry has his eyes set on qualification to the New Zealand Women's National League.
"That's the aspiration," says Barry. "But the first target is to just perform well at that level against the teams we are playing, because we are playing against some big clubs.
"But it is a great opportunity for the Bay of Plenty to have representation at that level.
More on SunLive...