Christmas trees to light up Historic Village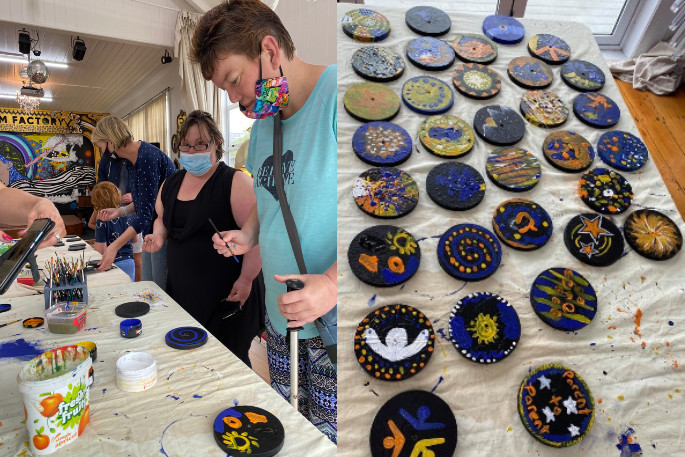 A forest of community Christmas trees will be lighting up the Tauranga Historic Village this December.
Twenty-four huge distinctive trees decorated by local community groups will be on display at the village from the launch on December 3 until early January.
The trees have been designed by Māori artist Ashleigh Luckman-Taupaki with kowhaiwhai patterns representing the pohutukawa tree, also known as New Zealand's Christmas tree. ​
Each year 22 community groups, art societies, kura and organisations are invited to participate in a group workshop to paint and embellish the adornment discs which are used to decorate each tree. Two trees each year are also used to display the painted discs of commissioned artists.
This year community groups have also been able to nominate themselves to be part of this project.
Parent to Parent's CBOP regional co-ordinater, Jane Ford, says that the Christmas Tree project has been a very special community project to be part of.
"Many of our families have felt very issolated through this last year with the added stress of a pandemic on top of all their every day struggles," says Jane. "It was such a lovely day to get together, have a little fun, get creative and make new friends.
"The families are looking forward to visiting the Village to see their tree on display and to be part of this awesome experience."
Parent to Parent is a national non-profit organisation that empowers parents, caregivers, siblings and whānau who have children or family members with disabilities, health impairments, or special needs by providing support, information and connections with other families who understand. One of the founders of Parent to Parent, Tauranga's Sally Duncan, who worked at the Tauranga Historic Village for many years, sadly passed away in August 2020.
Other community groups involved this year include Otumoetai College, Tauranga Hospital Children's Ward, Merivale Primary, NZ Prostitute Collective, Te Tomika Trust, Parent 2 Parent, Multicultural Tauranga, Shakti Women's Refuge, Pillans Point Primary, Envirohub, Moraka Menstrual Cups, Grief Support Services, Under the Stars and The Salvation Army Community Ministries.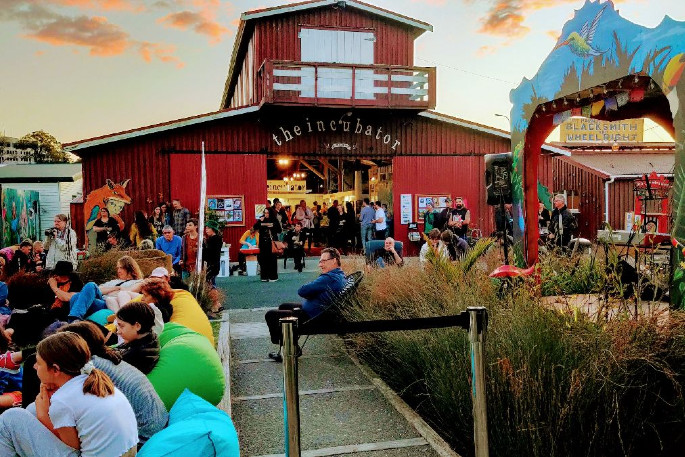 The Incubator, Tauranga Historic Village. Photo: Supplied.
The Incubator Creative Hub, in conjunction with Tauranga City Council, Classic Builders, and The Historic Village are behind this Tauranga Community Christmas Trees display at the Tauranga Historic Village.
"Our team look forward to this project every year," says The Incubator director Simone Anderson. "It is all about community arts. The project encourages participation and the invitation to be part of something that uses art celebrate uniqueness and diversity."
Since 2018, The Incubator Creative Hub has worked with Tauranga City Council to deliver a Christmas tree project where the community comes together to participate and celebrate the festive season in a unique and truly Kiwi style, at the same time engaging and involving community groups to showcase creativity and the different community organisations.

This year for the first time the trees will be on display along the streets of the Historic Village. The organizing team are delighted that so many of the village people organisations are represented.
"The Community Christmas Tree project is a fantastic example of how creativity can bring people together to create something that can be enjoyed by everyone," says Tauranga City Council Arts and Culture Manager, James Wilson.
"The Incubator team do a wonderful job of supporting and encouraging community groups to get involved, removing any perceived or real barriers, and ensuring that arts and culture experiences are accessible to everyone. We are thrilled to support this project, and look forward to celebrating the creativity of our community at the Historic Village this Christmas," says James.
The trees will be installed at the Historic Village by Classic Builders who recognise the importance of helping to build communities as well as homes.
"Classic Builders are passionate about supporting our local communities and are proud to help bring the Tauranga Community Christmas Tree project to life! The Bay has been home for us for 25 years and what better time to spread some joy than Christmas," says Classic Builders Tauranga branch manager Simon Robinson.
This year the project will be celebrated at a Christmas in the Village event on Friday December 3, and will include a night market, where food and craft stalls will be available to browse and shop at, along with street entertainment. The village provides a family friendly environment and has a range of areas to explore and picnic on with Covid appropriate safety plans in place.
As one of the first events to take place under the Government's new traffic light system the community Christmas Tree project and markets will be the ideal opportunity to demonstrate how the system will operate. Under the traffic light system, COVID-19 vaccination certificates will be checked on entry to the Village, and limits on numbers attending may apply.
The trees will be on display until late January.
More on SunLive...