Celebrating school road safety and active travel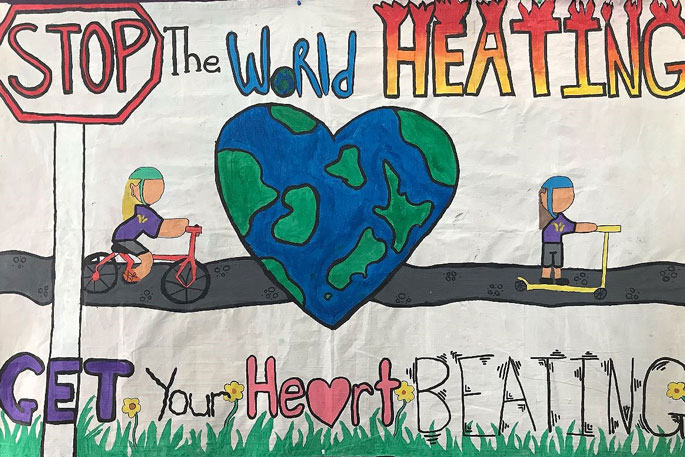 The banners were made, the route was planned, the guest speakers booked, and the trophies polished. Then Covid hit.
Covid-19 restrictions meant a change of plans this year and the annual Orange Day parade through Tauranga's CBD was forced to adapt.
Enter the 2021 Orange Party, where Tauranga and Western Bay of Plenty primary and intermediate schools will keep it local, parading in and around their respective schools instead and adding another chapter to the rich history of Orange Day.
Now in its fourteenth year, Orange Day is a joint initiative between Travel Safe and NZ Police, that celebrates the work of student volunteers like Travel Safe and Travel Smart students, road patrollers, traffic wardens and bus monitors.
The parade usually attracts up to 800 kids who wear bright orange costumes and march through town waving their banners and sharing road safety and active travel messages.
Director of Transport Brendan Bisley says that despite the forced change of plan it's fantastic to still be able to recognise the important work of the pupils.
"Orange Day is an opportunity to acknowledge the efforts of our hard-working students throughout Tauranga and the Western Bay of Plenty.
"The parade gives students a voice and helps raise awareness of road safety and active travel around schools."
Commission Chair Anne Tolley directly addressed the students in a video message, thanking them and underlining the importance of their varied work.
"There's a variety of jobs the young students have undertaken. Tauranga's roads are very busy, we know that, and whether you're a bus monitor, whether you're helping fellow school children cross the roads, whether you're just talking to people about keeping safe; it's a very important job.
"We want every single school child to get home safely from their day at school. Thank you so much, we really appreciate all the work you've done this year."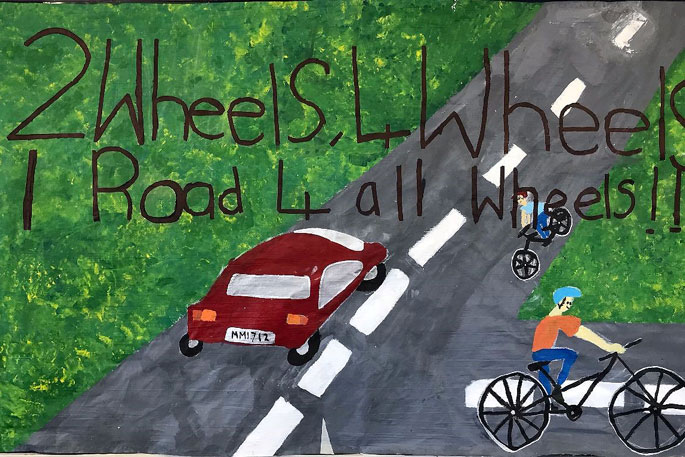 Winner - Mount Maunganui Intermediate.
Another annual feature of Orange Day is the banner competition. In the weeks leading up to the parade, students from each school work together to create colourful banners with important road safety and active travel messages.
The competition was judged by senior council staff and New Zealand Police, including Sergeant Trevor Brown, who was impressed with the relevance of the banners to their specific schools.
"I've done the judging for a couple of years now and once again the standard has been absolutely brilliant. What's been really good this year is the (banner) themes show that the students really understand the importance of road safety and active travel."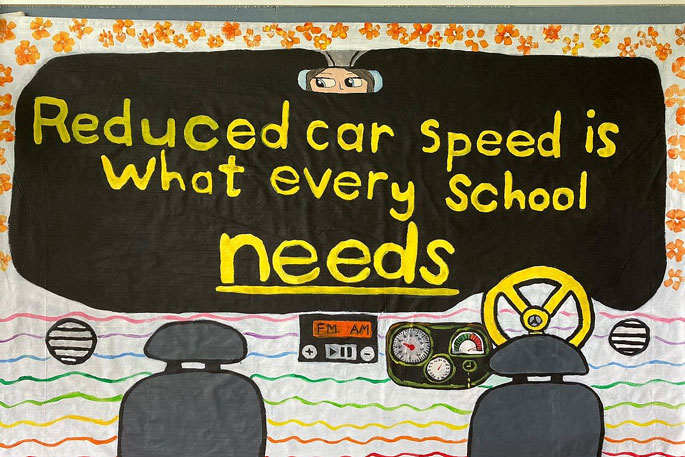 Winner - Year 5/6 Bellevue School.
This was highlighted by Bellevue School, winners of the Year 5/6 Active Travel category for their banner Reduced car speed is what every school needs. Their accompanying blurb explained.
"Us road patrollers come to school early and leave late to make sure our students cross safely. Our slogan is to bring awareness to our parents and whanau to control their speed near our school."
Instead of the annual post parade trip to Baywave and a BBQ with the police, schools were encouraged to have their own celebration this year, with school pool parties, picnics, and trips to the movies on the cards for various schools.
Winner - Year 7/8 Tauranga Intermediate School.
2021 Orange Day banner competition winners

Highly Commended
Arataki School – Thank you for stopping, to keep us safe on our crossing.
Papamoa Primary School – Phone off, brain on. Focus on the road.
Gate Pa School – Stop the pollution in the air, walk or cycle because we care.

Active Travel
Winner - Year 5/6 Golden Sands School – Stop the world heating, get your heart beating.
Winner – Year 7/8 Tauranga Intermediate School – Be the solution not the pollution.

Road Safety Category
Winner – Year 5/6 Bellevue School – Reduced car speed is what every school needs.
Winner – Year 7/8 Mount Maunganui Intermediate – 2 wheels, 4 wheels, 1 road 4 all wheels.
More on SunLive...