Mauao tribute marks White Ribbon Day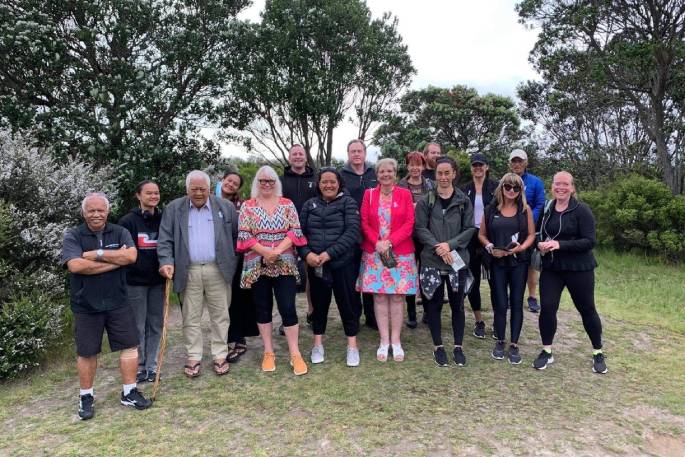 White Ribbon Day - an international day that encourages people to stand up against violence towards women and children started early this morning in Mount Maunganui.
To mark the day, a dawn service was held at the Mauao summit next to the memorial for Monica Cantwell, a British backpacker who was murdered here more than 30 years ago.
Buddy Mikaere organises the ceremony each year to remember Monica, and all women and children who suffer violence and abuse.
The service was attended by more than 30 people, including Tauranga City Council commissioner Anne Tolley, and Tauranga Women's Refuge manager Hazel Hape.
Anne read out New Zealand's "shameful" statistics, saying one in three New Zealand women had suffered violence from an intimate partner, and one in five had been subjected to some form of sexual abuse. With many of these crimes going unreported, the figures were likely to be much higher.
"This is not acceptable, and we must ask ourselves, is this the New Zealand we want to live in?"
She adds that violence did not always take the form of physical abuse, but included psychological and emotional abuse towards women.
Hazel Hape tells the group that front line workers at the Refuge see first-hand how widespread domestic violence is within the region.
"I spent most of yesterday supporting a wahine who had nearly been strangled to death in front of our two babies," she says.
"People turn away, or rather not talk about it, but we have to."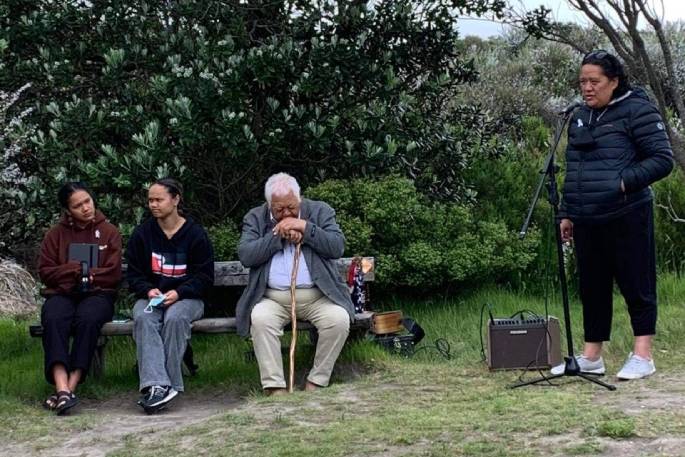 Tauranga Women's Refuge manager Hazel Hape speaking at the dawn service.
She acknowledges that White Ribbon Day was started by men who wanted to help stem the tide of femicide and abuse towards women, and she welcomed the tāne who had come to attend today.
"The perpetrators can change," she says.
"Often it comes through generations but change is possible so we have to support those men too, as well as protecting our women. It is not just up to us in the field, or the police, but every single person in the community - mum, dad, koro, aunties, cousins, friends - look around you and if you see violence, don't just turn away and tell yourself it's their business.
"It's your business too. We all have responsibility for changing these terrible statistics."
Hazel placed white flowers from the Mamuka bush that surrounds Monica's memorial. With two pohutukawa trees guarding the spot, when Waiari and Peri Kohu lead the waiata, a tui landed near the memorial.
Buddy says it is a day to reflect on what role we can play.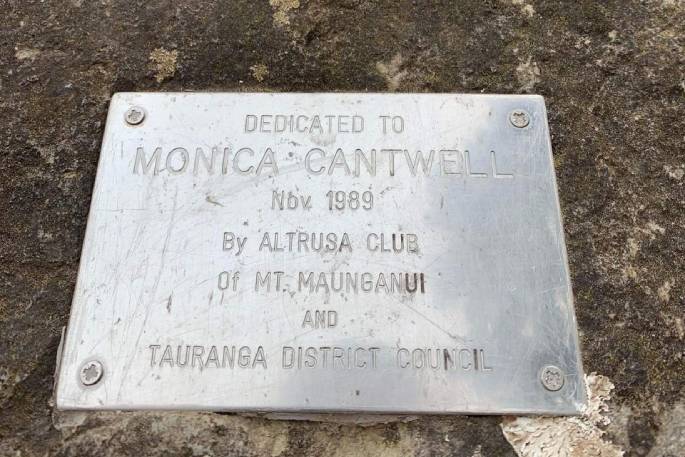 The tribute to Monica Cantwell on Mauao.
"It is a beautiful spot to show Monica and her family that we will always remember her, and all the other women killed," he says.
"And that we are trying to do better - there's so much more that needs to be done. It's a good day to reflect on how we can do better and what can we do to address these high levels of violence against women," says Buddy.
This evening a fundraising dinner and auction is being held at The Tauranga Club on Devonport Road. Guest speaker is Phil Paikea, a former gang member who was violent towards his girlfriend.
Phil will talk about how he turned his life around and now works as an anti-violence advocate with male perpetrators.
To read about Phil's story click here.
More on SunLive...