100 days until cricket world cup in Tauranga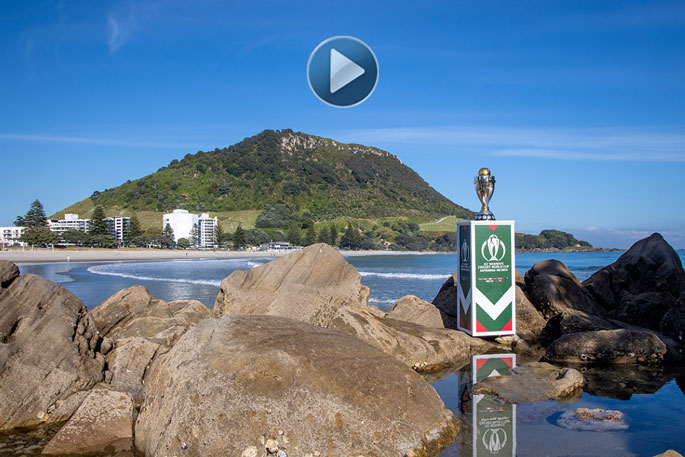 A 100-day countdown to the biggest international sporting event that has ever been held in Tauranga has been launched at sunrise with a piece of sand art on Mount Main Beach.
ICC Women's Cricket World Cup 2022 is set to open in Tauranga on March 4, 2022, one of only eleven sporting events of this calibre to ever be hosted in New Zealand.
The world's best women's teams, including the White Ferns, ustralia, India and more will play seven matches at the Bay Oval in the heart of Mount Maunganui.
In celebration, local artist and cricket fan, Zane McGregor, created the giant piece of sand art to represent tautoko in action – support and encouragement that fosters excellence.
"I wanted to create a piece that represents moments of individual brilliance and collective success," says Zane.
Local artist Zane McGregor.
'With a vibrant art scene and stunning beaches, Tauranga Moana is a perfect host city for this major event," says Tauranga City Council's General Manager Community Services, Gareth Wallis.
"It's a huge privilege to have such a prestigious international tournament on our doorstep.
"This is a world cup and it's right here in Tauranga. The tournament provides an incredible opportunity for our community to experience world-class cricket and be inspired by elite international athletes. I know visitors will not only enjoy the tournament, but also the scenery, the local hospitality and the variety of activities to do in and around our beautiful city."
In 2019, the city pitched its case to host the event before the International Cricket Committee (ICC) and won the bid to host.
"Since then we have been working hard alongside the ICC and the Local Organising Committee to ensure our city is ready to go for March 2022," says Gareth.
The ICC will open the tournament at Bay Oval, Mount Maunganui.
"Bay Oval is the perfect setting to showcase our summer sport and Tauranga to the world," says Cricket World Cup CEO Andrea Nelson.
"Starting ICC Women's World Cup 2022 in front of fans on grass banks a stone's throw from white sand beaches is the ideal start to our tournament and it's sure to inspire the next generation."
The Tauranga matches will be held between Friday, March 4, – Friday, March 18, 2022, with
tickets starting at $7 for a child and $17 for an adult from here.
More on SunLive...