All the bells and whistles for food drive nights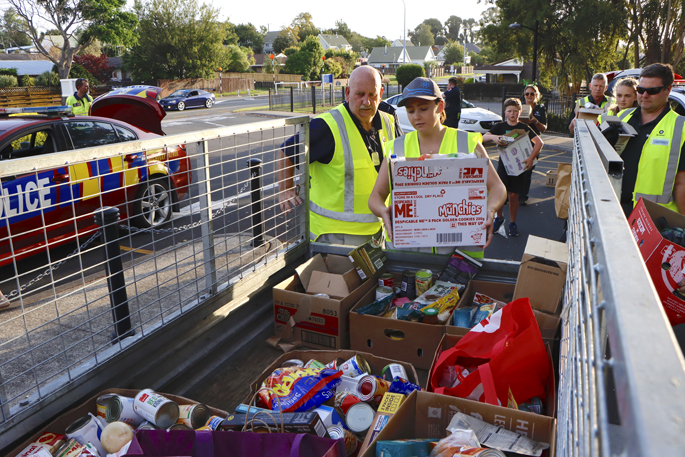 Western Bay of Plenty's Neighbourhood Support will be leading the emergency services food drive around the streets of Pāpāmoa on November 30 with sirens blaring and flashing lights.
And a week later, the entourage will be cruising around the streets of Mount Maunganui in the early evening on December 7 collecting non-perishable food donations from letterboxes.
Neighbourhood Support Manager Bruce Banks says they'll have 10 teams and more than 100 volunteers running the streets, accompanied by police, fire and ambulance vehicles with lights and sirens blazing.
Support vehicles from Fisheries, Search and Rescue and Emergency Management Bay of Plenty will also be joining in.
"It will be the biggest collection we've ever had in Pāpāmoa," he says.
Last year, the drive collected 24 trailer loads of cans and boxes from neighbourhood donations which boosted stores at Pāpāpmoa Family Services for Christmas.
This year the collection is contactless, with households leaving donations at letterboxes to be collected by runners.
"Many families will be doing it hard this Christmas after so many lockdowns and businesses under stress. Foodbanks are facing heavy demands, often from families who have never had to ask for help before," says Bruce.
The Foodbanks are also looking for the odd treat for struggling families, toiletries, cleaning items, baby needs and pet items.
"We're hoping families will add a few things to their grocery list over the next few weeks ready to donate when the emergency service vehicles arrive in their street."
Kurt Waugh, organising the Mount Maunganui collection for Police, says they're hoping for generous donations from the public for Tauranga Foodbank.
The Pāpāmoa collection is from 6pm on Tuesday, November 30, covering every street,
and the Mount Maunganui collection from 6pm on Tuesday, December 7.
The route will be confirmed closer to the date.
More on SunLive...