Tauranga Covid-19: Undetected cases likely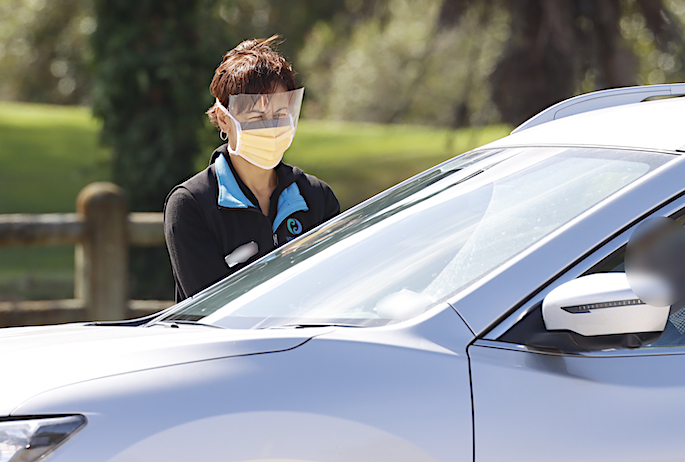 Two positive cases of Covid-19 have been detected in Tauranga, with one in Mount Maunganui and the other in Pyes Pā
Confirmation of the cases follows the detection of the virus in wastewater for the third time in five days in Tauranga and Mount Maunganui earlier this week.
Bay of Plenty District Health Board CEO Pete Chandler has confirmed the location of the two Tauranga cases.
"The Pyes Pā case probably doesn't explain the Tauranga positive wastewater test, as most people in Pyes Pā are on septic tanks," says Chandler.
"It probably means there is a third Tauranga case still to reveal itself, whereas the Mount Maunganui case is likely to account for the Mount positive wastewater test."
He says the DHB is poised to go "full pelt" and put up testing sites around Tauranga.
"With Covid-19 now in the Bay of Plenty, people need to prepare for what's coming," says Chandler.
"We've had several months now of unrestricted vaccination opportunity across the Bay; we've shown people the impact modelling of an uncontrolled outbreak and we've urged in the strongest possible terms how important it is to get vaccinated to avoid getting really sick with this virus.
"Current rates of vaccination are simply not high enough to avoid significant disruption to our lives in the Bay of Plenty if we are unable to contain our first outbreaks.
"This is a final call: if you don't go to the gate now, you'll miss the plane."
The latest Ministry of Health data shows 86 per cent of eligible people in the Bay of Plenty DHB region have had their first dose of the Pfizer vaccine, and 76 per cent their second.
"Current projections indicate we will have a national surge in cases in many areas of the country over the Christmas and summer period," says Chandler. "So please, if you're unvaccinated make this your top priority this week.
"There's still time to get fully protected by Christmas if you act now."
The Ministry of Health says interviews are continuing with the two Tauranga cases to determine their movements.
Any locations of interest will be added to the Ministry's website as these are identified.
Everyone who lives in or has travelled to the region is asked to monitor locations of interest regularly and follow any advice given.
Anyone with Covid-19 related symptoms is asked to get tested as soon as possible – even if the symptoms are mild.
Testing locations can be found on the Healthpoint website.
Covid-19 testing centres in the Bay of Plenty are:
• Mount Maunganui Sports Centre - Cnr Maunganui & Hull Roads (10am – 6pm)

• Tauranga central-100 First Ave. Drive-through accessed via carpark next to Noel Leeming on Second Ave (8 am–4 pm, Monday – Friday)

• Tauranga Race Course (10am – 6pm Friday 19/11 and 10am – 4pm Saturday 20/11)

• Whakatāne - Med Central Portacom, 52B King Street (10 am–4 pm, Monday – Saturday)

• Murupara, Koromiko Street (10 am–4 pm, Monday – Friday)
Walk-in vaccination centres in the Bay of Plenty
Bethlehem

Opening hours

Bethlehem Pharmacy
229D State Highway 2

Monday to Wednesday
8:30am to 5:30pm
Saturday
9am to 1pm

Kawerau

Opening hours

Kawerau Town Hall

Monday, Wednesday and Saturday
9am to 3pm

Whakatāne

Opening hours

Whakatāne Vaccination Centre
11 Quay Street, Whakatāne

Monday and Tuesday
8am to 3:30pm
Wednesday
11:30am to 7pm
Sunday
8am to 3:30pm

Tauranga

Opening hours

Tauranga Central - COVID Vaccination Centre
87 First Avenue

Monday to Sunday
8am to 3pm

Tauranga Crossing Shopping Centre
2 Taurikura Drive

Monday, Tuesday, Wednesday and Friday
9am to 7pm
Thursday
9am to 8pm
Saturday and Sunday
9am to 6pm

Life Pharmacy Bayfair
Shop T204, Bayfair Shopping Centre, 19 Girven Road, Mount Maunganui

Monday to Sunday
9am to 4:30pm

Unichem Brookfield Pharmacy
85 Bellevue Road, Brookfield

Monday to Friday
8:30am to 6pm
Saturday
8:30am to 4pm

Katikati

Opening hours

Western Bay of Plenty COVID-19 Vaccination Centre
Katikati RSA and Citizens Club, Corner of Henry & Main Roads

Tuesday to Wednesday
10am to 3pm
Sunday
10am to 2pm

Te Puke

Opening hours

My Pharmacy Te Puke
96 Jellicoe Street

Monday to Friday
8:30am to 5:30pm
Saturday
8:30am to 12:30pm
More on SunLive...