Tagging of testing marquee a 'kick in the guts'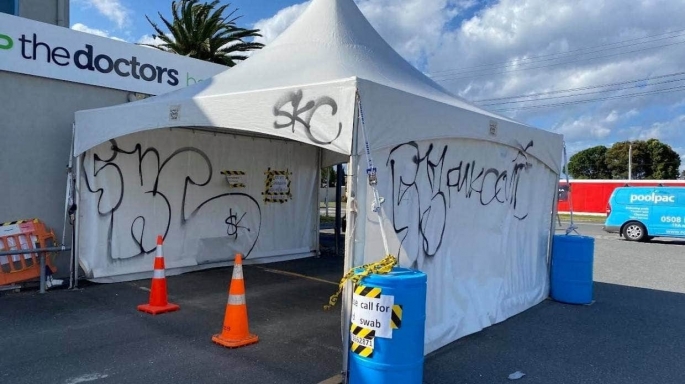 A medical centre in Mount Maunganui has been vandalised with anti-Covid graffiti.
A marquee used for Covid-19 testing at The Doctors Bayfair was spray-painted with the words "F.. Covid" sometime late on Sunday or early Monday morning, medical centre manager Rowena Cook says.
The same words were spray-painted on a fence at the medical centre.
"We are here to help people, and it's just really not hard to be kind. I know everybody's doing it tough out there at the moment, but we're that one service that provides care to patients," Cook told Stuff.
She says to arrive at work on Monday morning and see the graffiti was gutting and "a bit of a shock".
A nearby St John ambulance building and two search and rescue vehicles parked outside were also vandalised with graffiti, Cook says, "which is pretty stink".
In late August, a Covid-19 testing marquee was stolen from another medical centre in Tauranga, and was never recovered.
The company that supplied both marquees, Tauranga Party Hire, took to social media on Monday night to say "it is a real kick in the guts for all involved".
"We are a local family-owned small business that work our arses off. The last 18 months have been extremely tough on the events industry with lockdowns and restrictions, but we try to always look for the positives," the company says, alongside photos of the vandalised marquee at The Doctors Bayfair.
"Whilst events have been slow, we have been proud to be helping out with the Covid-19 response across the BOP.
"We had a marquee stolen a few months ago and now a marquee vandalised over the weekend. It is a real kick in the guts for all involved as we are just trying to help protect the community.
"It's hard for us to get our heads around the mentality of these people. We don't get it!!"
Mat Delaney, St John Western Bay of Plenty territory manager, confirmed the organisation's Mount Maunganui ambulance station was vandalised over the weekend, with one wall on the side of the property near the car park "being tarnished with spray paint".
"St John is extremely disappointed that while our ambulance officers were providing care to the community, someone would deface the property. St John is now working to rectify the graffiti."
A media spokeswoman for the police confirms a report had been received regarding wilful damage at The Doctors Bayfair, believed to have occurred between 2pm on Sunday and 6am on Monday.
Anyone with information can contact the police via 105 and quote the file number: 211116/5125.
More on SunLive...