The wonder of nature explored in art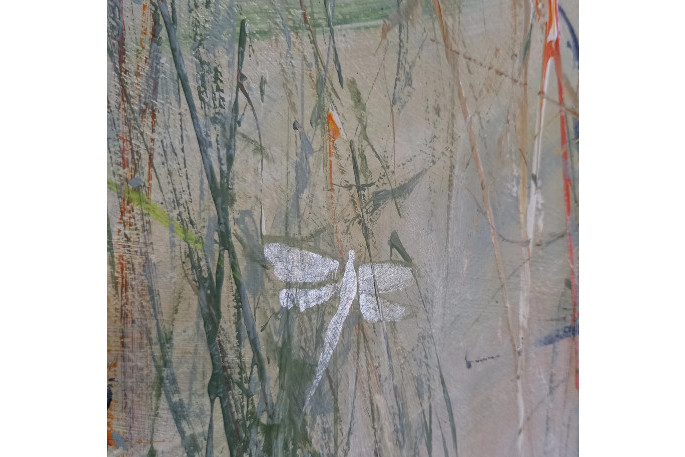 What to do on a rainy day? Chatting to a local artist in their gallery is surely something to add to the bucket list.
Papamoa artist Christie Cramer will be at the Tauranga Historic Village's Imprint Gallery today from 10am - 2pm manning her exhibition and is looking forward to sharing her thoughts behind her works with visitors.
Titled 'In the Balance', Christie has used acrylics on canvas to explore her thoughts on nature for this exhibition. On her website she writes 'Our tread so light it's hardly there, Without us, the earth is bare'.
"In my recent work insects began to appear," says Christie. "At times they need to be searched for, like a child making discoveries in the garden, sometimes they stand out as the stars of the show, and at others they hide in plain sight!"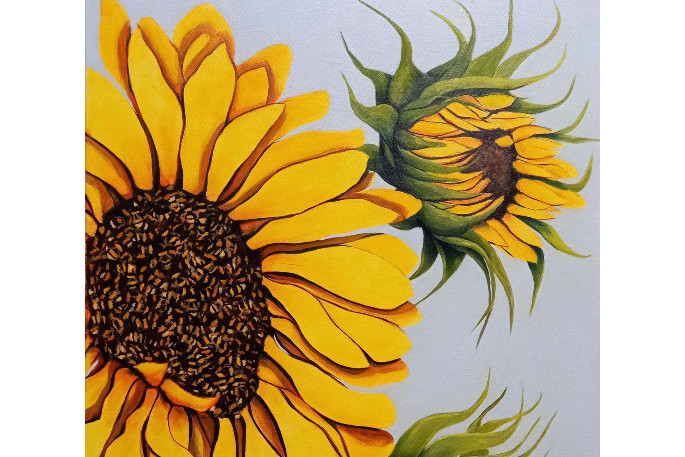 A painting of sunflowers by Christie Cramer, on display at Imprint Gallery. Photo: Supplied.
This year the full-time artist has been working on a series of paintings that have evolved from her concern at the balance of nature in these times.
"While painting this series I began to recall the beginnings of the wonder I found in nature as a child, those first discoveries of the small creatures that inhabited the world around me, and also the connectedness of every little thing in nature."
She's looking forward to sharing the joy she experienced in creating the works with any visitors to the gallery today, having freshly rediscovered what Marie Curie once wrote - 'All my life through, the new sights of Nature made me rejoice like a child'.
"During this process I enjoyed using different techniques, and tools such as feathers, brushes, palette knives pouring and spraying to create these works," says Christie. "Several of these paintings are painted on recycled supports."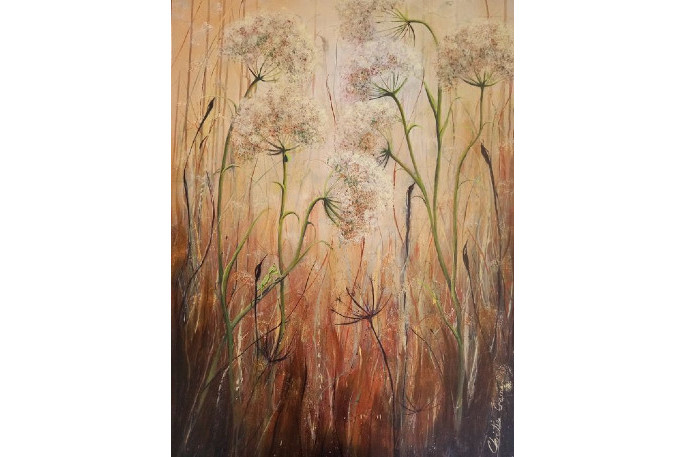 The Capture, an acrylic painting by Christie Cramer. Photo: Supplied.
One of her works, which is 100cm by 75cm is titled 'The Capture'.
"I wanted to enjoy the shapes of the anise flowers in a larger form. The larger canvas allowed me to be freer in my movements. The insects naturally appeared as part of the work.
"A reminder that nature moves in a cycle, each of the insects takes its part in keeping that balance. Removing one creates an unbalance in nature which ripples through the whole of the world. Keep the balance in nature."
In October, Christie was one of 12 artists exhibiting in An Artful Response exhibition at The People's Gallery.
Since beginning to paint full time in 2014 Christie has been involved in many group and solo exhibitions. She has also created commissioned pieces, working with the buyers to come up with a personalized painting to suit their requirements.
"I have enjoyed seeing my work find homes throughout New Zealand and overseas."
There are also other exhibitions on today at Tauranga Historic Village, including an exhibition by Ulemj Glamuzina at The Incubator and an exhibition by Otumoetai College Juniors at The People's Gallery.
More exhibitions can be visited at Tauranga Art Gallery, Sumer Gallery, The Art Lounge, and Gallery Te Puna. Please visit their websites to check for open hours.
As Christie says "on a rainy day, it might be a nice outing".
To meet Christie today, visit the Imprint Gallery between 10am and 2pm, at Tauranga Historic Village.
More on SunLive...