Kicking down barriers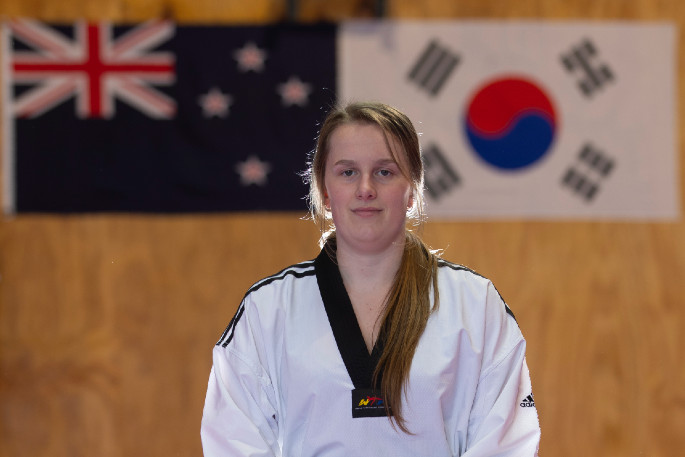 After kicking taekwondo into the regional and national stratosphere, a Tauranga woman now has the chance to do the same thing on a global scale.
Jamie Carpenter took up the martial art when she was just nine-years-old.
A family affair, with her mum and dad also black belts, Jamie's journey began in Oropi but she is now based at her father Garry's Budo South Martial Arts Club.
It is at the Greerton dojang where Jamie has perfected her craft whilst also developing into a leader and role model in New Zealand's taekwondo landscape.
Those qualities have now been recognised by one of world taekwondo's highest order.
Jamie was elected to the World Taekwondo Council last month. In doing so, she became the first woman from New Zealand to achieve this feat.
"It is crazy," says Jamie.
"It still hasn't sunk in that I am on a board with 17 other members from around the world."
Like a true taekwondoka, she is thinking with her lower limbs.
"I am excited to get my foot in the door."
Her role as a female in the sport is certainly not lost on Jamie.
"I want to look at doing some female workshops and events," she says.
"For just females, to get more into the sport. In a nice comfortable setting, with females getting taught by females."
As well as being a trailblazer for women's taekwondo in New Zealand, Jamie, who only turned 25 at the end of October, has hit another landmark by being elected to the council.
"I had a call with the council's president the other day and he mentioned to me that I am the youngest ever council member in the world.
"It is great to hopefully let the youth come through and get an idea of the ideas we have and what we want to come through. It is nice to see."
Bringing fresh ideas and a female perspective to the board are just some of Jamie's hopes as the World Taekwondo Council begins making preparations for the Paris Olympics in 2024.
Whilst relatively young, it is clear that Jamie has already soaked up as much as she can from martial arts.
Congratulations on her election have come from far and wide, highlighting one of the main reasons Jamie loves taekwondo.
"It is a good community," says Jamie. "It is kind of like your second family."
Above all else, increasing the success and scope of taekwondo in New Zealand is at the forefront of Jamie's plans.
Whilst an Olympic sport, taekwondo is, first and foremost, a martial art, something Jamie is keen to push.
So, whilst competition exists, the all-inclusive nature of her discipline means anyone can give it a try.
"I think our youngest member is three-years-old," she says.
"That range goes all the way up into the 60s, training in the same class as well.
"It is a martial art first, then a sport, but ultimately it is for everyone."
More on SunLive...