Average residential home value cracks $1 million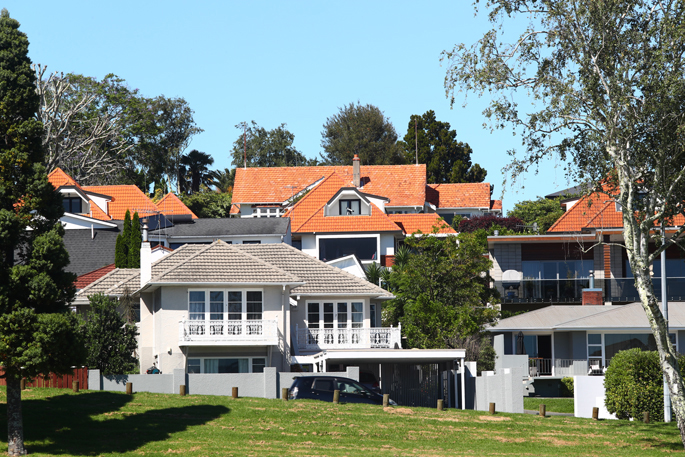 The property market reached new heights last month with the average residential home value topping $1 million for the first time.
This comes as large tracts of the country remain in level three lockdown restrictions, which seemingly hasn't dampened buyer demand.
The average value increased 5.3 per cent nationally over the past three-month period to the end of October, up from the 3.6 per cent quarterly growth we saw in September, with the national average value now sitting at $1,002,153.
This represents an increase of 27 per cent year-on-year, up a fraction from the figure of 26.3 per cent QV reported last month.
In the Auckland region, the average value now sits at $1,427,896, climbing 5.6 per cent over the last three-month period, with annual growth of 24.8 per cent − up slightly from September's year-on-year growth of 23.9 per cent.
"There's certainly still buyers out there who are keen to commit to property transactions despite ongoing uncertainty around Covid-19 and the impacts this is likely to have on the economic recovery," says QV general manager David Nagel.
"Credit availability continues to tighten as banks respond to RBNZ concerns around property market stability, particularly with interest rates on the rise. But a continued lack of supply has resulted in a resurgence in prices across all 16 metro locations we monitor.
"A reported flood of new listings will provide some welcome relief for house hunters. With interest rates rising faster than most initially expected, there appears to be an element of panic buying from those who have been in the market for a property for some time, keen to lock in a mortgage rate that's still at historically low levels."
The strongest value gains for the main cities over the past three months have come from Christchurch at 10 per cent growth in value, up from 7.7 per cent value growth last month, followed by Queenstown Lakes District at 9.6 per cent growth, building further on the strong three-monthly rate of growth of 9.4 per cent QV reported last month.
None of the 16 major urban areas QV monitors have seen a decline in average value, with all but Palmerston North and Napier at 3.7 per cent and 5.1 per cent respectively, showing an increase in the rate of three-monthly growth since last month.
The Manawatū-Whanganui region continues to be the strongest growing region with 34.7 per cent growth over the past year, closely followed by the Canterbury region at 34.1 per cent, while the Hawke's Bay and greater West Coast regions have experienced annual growth of 33.9 per cent and 32.7 per cent respectively.
The three lowest annual growth rates are all in the South Island, with the Southland region experiencing a still-significant 20.4 per cent increase, the Tasman region recording 22.1 per cent growth, and Otago at 24.4 per cent annual growth.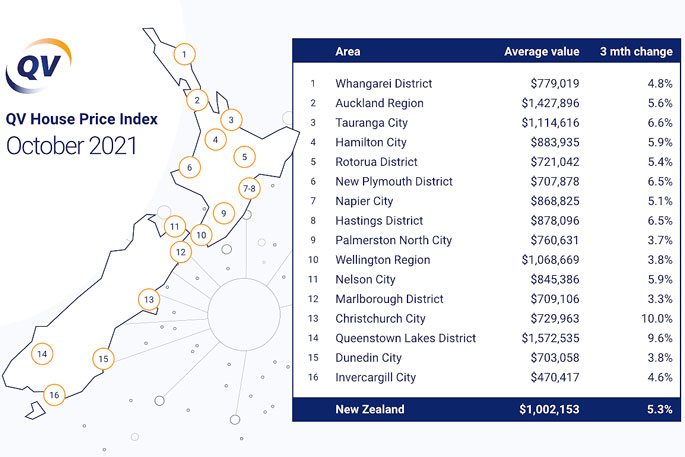 Tauranga
Residential property values continue to climb upward in Tauranga, rising by an average of 2.3 per cent in October and 6.6 per cent over the last three months.
The city's annual rate of house value growth is 33.8 per cent, which makes Tauranga's residential property market one of the hottest in the country over the past 12 months, with its average home value now sitting at $1,114,616.
QV property consultant Derek Turnwald says the number of property appraisal requests has increased markedly as the warmer weather has begun to set it.
"Vendors want to list their properties during spring and summer when they are looking their best.
"Rising interest rates haven't dented people's enthusiasm in the market so far. FOMO still exists and investors seem to have recovered their enthusiasm after a loss in interest for the five or six months following the March tax announcements by the Government."
Turnwald says there has been a noticeable drop-off in interest from investors in Auckland and Waikato − to be expected given current travel restrictions − with Covid-19 developments further afield also having an effect on the local residential property market.
"Enquiries from prospective purchasers living overseas have been falling away as the vaccination programme worldwide continues to roll on, reducing the risk of catching Covid-19.
"While in New Zealand we continue to grapple with an outbreak of Delta, which may be making the prospect of moving home less appealing for some."
More on SunLive...