Severe thunderstorm warning for Eastern BOP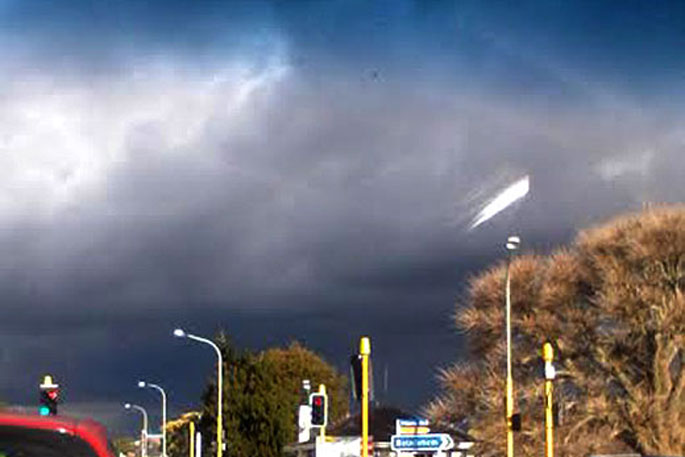 UPDATE 7.15pm: A severe thunderstorm warning has been issued for the Whakatāne region this evening.
MetService have detected severe thunderstorms in the areas near Murupara, Te Whaiti and the Ikawhenua Range.
The thunderstorms are moving toward the east north-east direction and are expected to lie in those areas at 7.22pm and 7.52 pm
"These thunderstorms are expected to be accompanied by very heavy rain," reads a MetService warning.
"Very heavy rain can cause surface and/or flash flooding about streams, gullies and urban areas, and make driving conditions extremely hazardous."
A Severe Thunderstorm Watch remains in force for Bay of Plenty, Taupo, Gisborne, Hawke's Bay and Taihape.
The National Emergency Management Agency advises that as storms approach you should:
- Take shelter, preferably indoors away from windows;
- Avoid sheltering under trees, if outside;
- Get back to land, if outdoors on the water;
- Move cars under cover or away from trees;
- Secure any loose objects around your property;
- Check that drains and gutters are clear;
- Be ready to slow down or stop, if driving.
During and after the storm, you should also:
- Beware of fallen trees and power lines;
- Avoid streams and drains as you may be swept away in flash flooding.
For more information on the thunderstorm track, please see
http://www.metservice.com/national/warnings/severe-thunderstorm-warnings
EARLIER: A thunderstorm watch is being issued for the Bay of Plenty today.
The MetService says thunderstorms are expected to develop this afternoon and there is a risk that one or two of them may become severe, producing localised downpours with intensities of 25 to 40 mm per hour.
There may also be hail, says a statement from the weather organisation.
"Rainfall of this intensity can cause surface and/or flash flooding, especially about low-lying areas such as streams, rivers or narrow valleys, and may also lead to slips.
"Driving conditions will also be hazardous with surface flooding and poor visibility in heavy rain.
"The thunderstorms should ease this evening."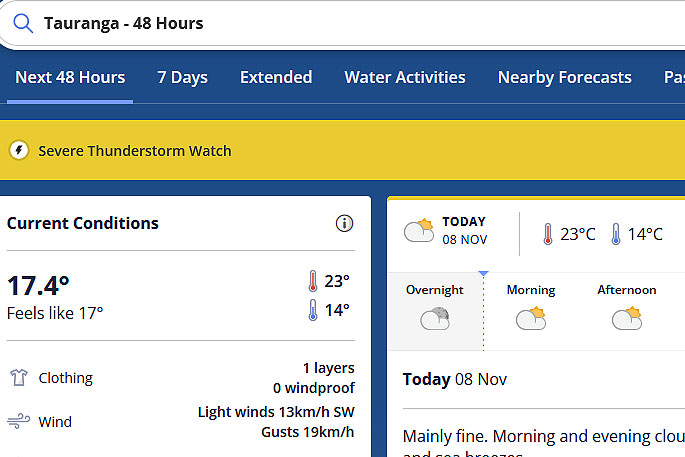 Image: MetService.
This watch affects people in the following weather forecast districts:
Bay of Plenty
Rotorua
Taupo
Gisborne
Hawke's Bay
Taihape
More on SunLive...