Kiwi triathlete claims top five finish in Florida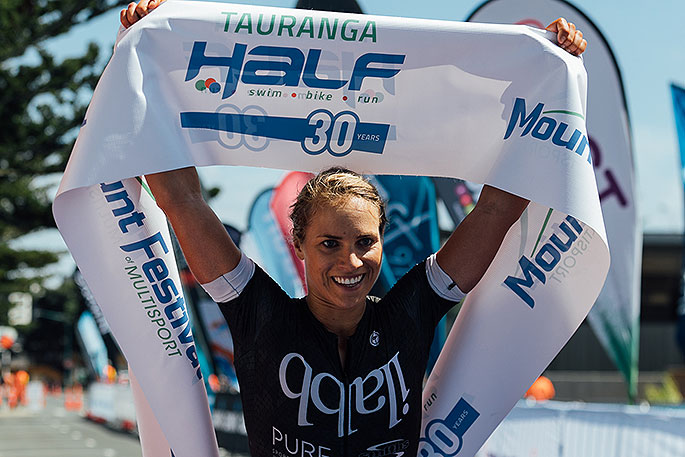 Reigning Nutri-Grain Ironman New Zealand champion Hannah Wells claimed an impressive fifth place finish at the Visit Panama City Beach Ironman Florida.
The Bay of Plenty athlete in only her second full-distance Ironman finished in 09:14:02 on Sunday.
Wells raced alongside an experienced international field, taking on the flat and fast course at Ironman Florida over a 3.8km swim, 180km ride and 42.2km run.
Wells says she learnt a lot from the experience of racing alongside seasoned pros.
"It's so good, great experience and learning for me and that's why I wanted to come here to race these girls, to see how they raced and try and learn from them and give it my best shot.
"It's all about learning for me at this stage. It was nice, they raced incredibly well today and it was pretty cool to see."
The 31-year-old started well with a strong swim in tough conditions in the Gulf of Mexico and exited the water in fourth, just over four minutes behind the leader.
In the early stages of the bike Wells maintained her position but by the 114km mark she had dropped down the field to sixth, before a five-minute time penalty incurred for drafting halted her progress.
"I need to learn to stay patient on the bike, not to drift into the draft zone and then back out which is what I did. I didn't realise and got caught and it was a penalty.
"I just wasn't looking and then when I did look up I was too close but lesson learned, I won't do that again."
After spending five-minutes in the penalty tent Wells began the run in seventh and battled hard over the marathon-distance to claw her way back up to fifth where she would eventually finish.
"The run was tough, I tried to pace it well but it got me in the end," says Wells.
"I didn't fade as much as I did in my first Ironman so I guess I could say it's a small improvement, but still a lot to improve there as well.
"I'm happy with some parts and some parts not. I'm always going to be a little tough on myself, I always am. In some parts it was a step in the right direction and so I'll take that. I think now we'll probably just step away and take a look at the numbers and try and learn and improve for next time.
"But I'm pretty happy because I'm here and I got to race some awesome girls out there. It was a pretty good day, some good parts, some bad parts, but I'll learn from the bad parts."
Wells made her Ironman debut at Nutri-Grain Ironman New Zealand in March, impressing on her way to victory in Taupō.
Florida was her first event outside of New Zealand and Australia and Wells said she really enjoyed racing in the US.
"It was awesome here, the atmosphere, it's pretty massive here. Everyone is so enthusiastic out on the course and everyone was just yelling so loud, I love it.
"The whole experience has just been really awesome."
US athletes dominated the podium at Ironman Florida with Heather Jackson claiming top spot and Skye Moench finishing in second. Germany's Laura Zimmermann rounded out the podium in third. Australia's Renee Kiley finished in 14th.
For more information about Ironman Florida, visit https://www.ironman.com/im-florida
For more information on the Ironman and Ironman 70.3 brands and global event series, visit www.ironman.com.
More on SunLive...