Inspired by Japan drama and theatre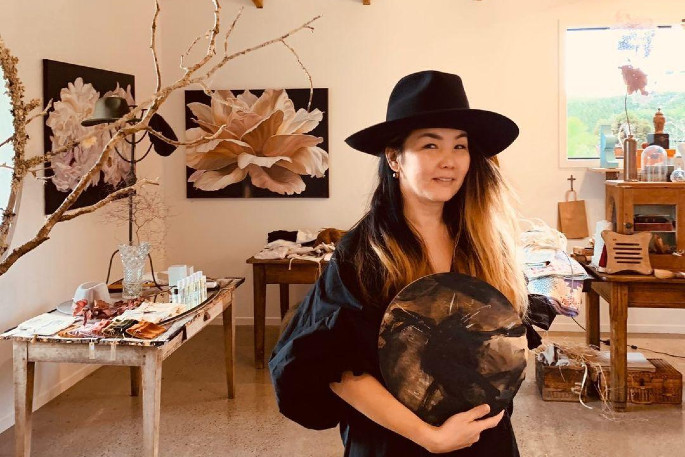 It's a double visual delight at Tauranga Historic Village this month with Ulemj Glamuzina opening her exhibition Kubuku at The Incubator Gallery, and Otumoetai College students holding their Junior Art Exhibition at The Peoples Gallery.
Born in Mongolia, Ulemj came to New Zealand in 2006, after meeting her kiwi husband, Maté, in Japan, where she was completing her post graduate studies in education and linguistics in Hokkaido, and where Maté was teaching English and snowboarding.
Much of Ulemj's work is inspired by her time spent in Japan, and her exhibition Kabuku is a play on themes of Kabuku - meaning 'to be out of the ordinary', and Kabuki – the traditional form of Japanese drama with highly stylized song, mime, and dance, using exaggerated gestures and body movements to express emotions. Ulemj was inspired by a trip she made to Ginza, in Tokyo, which is the principal theatre for traditional Kabuki.
"I'm a visual person so I was really taken by the costumes and hairstyles. I love the Japanese style but this is exaggerated and the masks are so dramatic. Often the masks, or faces, are painted without expression so the artist has to show emotion through movement," says Ulemj.
This is her third solo exhibition in the past 12 months. She credits her job as a teacher at Tauranga Girls College for driving her prolific output as an artist and sees the roles as complementary.
"Being a teacher gives you structure and sets the pace, and that's the pace you continue with into your artwork."
During the past 12 months, Ulemj has more reason to be grateful for her art practice than usual. Her husband, Maté was seriously injured in an e-scooter crash in October 2020, which saw him airlifted to Auckland ICU, and in a coma for weeks.
"Since Maté's accident I have more urge to create – it helps my wellbeing, it's like a therapy. It has a healing effect and I just love it."
Kubuku is being exhibited at The Incubator Gallery and a Junior Art Exhibition by students of Otumoetai College is being exhibited at The Peoples Gallery, The Historic Village, 17th Ave, from November 6 to 24.
More on SunLive...