Unfurling youth at city hub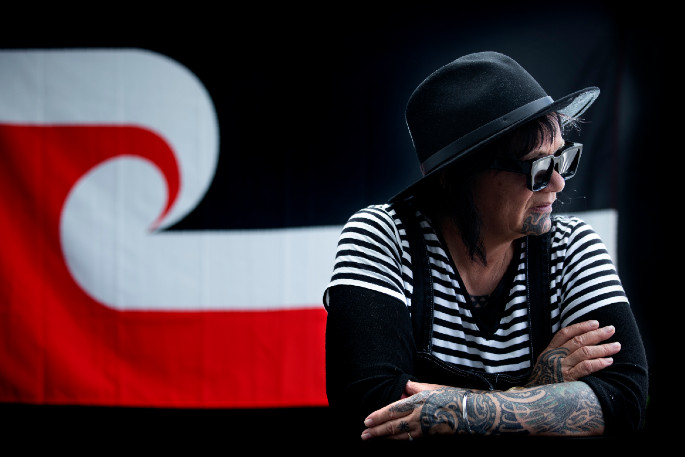 Setting up a bustling youth hub is at the heart of a host of new activities in Tauranga city centre.
Our Place on Willow Street is to house Te Tuhi Mareikura Trust's temporary offices, with Arpége Taratoa confirming the inclusion of a hub with collaborating Māori providers.
Trustee Linda Munn is also one of the three creators of the Tino Rangatiratanga flag, which won the National Māori Flag Competition in 1990. The flag design represents the "balance of natural forces with each other" and the "promise of renewal and hope for the future". The other two creators, Haraina Marsden and Jan Smith, have since passed away.
"Our trust is there to support Māori arts within Tauranga Moana," says Linda, "and we have a huge network that reaches to the Pacific Rim and beyond.
"Our Place is the hub for all of our projects. Arpége is the go-getter behind the development of the youth programme. That's going to be really exciting for young people, helping them in their career or personally."
Linda says the flag is a physical representation of the kaupapa behind how they work as a trust, working as a community and uniting and helping people.
"Tino underlines a set of values of what we are all about."
Designed in 1989, the flag was first unveiled on Waitangi Day in 1990 at the 150th commemorations of the signing of Te Tiriti o Waitangi. The koru is symbolic of a curling fern frond, representing the unfolding of new life, hope for the future and the process of renewal.
"There are a whole crew of people behind the flag," says Linda. "It wasn't just the three of us. A lot of them have passed on now. Haraina did the first design on a serviette on a marae."
Linda wants to centre on the positives, particularly as people navigate through Covid-19 lockdowns, and celebrate bringing people together.
"For those who don't know about the flag, it's an ideal time to reach out to them."
The Te Tuhi Mareikura Trust has the use of Our Place until February 2022.
More on SunLive...