Production of 4000 school lunches impresses MP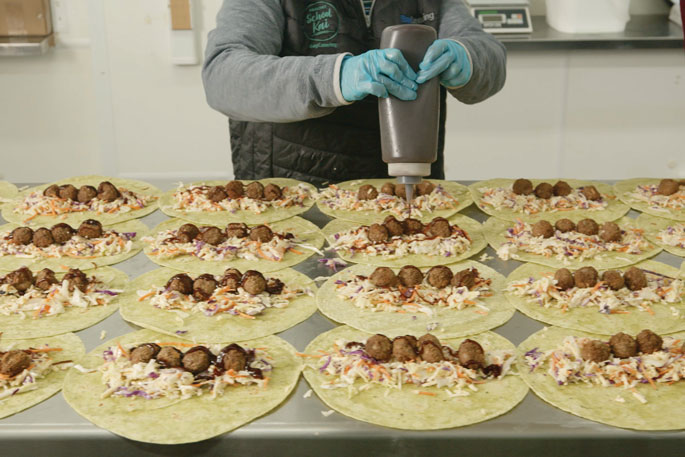 Tauranga Labour List MP Jan Tinetti recently visited Bay Venues Healthy School Kai kitchen; seeing what it takes to prepare and deliver just under 4000 school lunches each day, including an impressive 12 variations of dietary requirements.
Bay Venues is an approved supplier of the Ministry of Education Ka Ora, Ka Ako │ Healthy School Lunches programme which was launched in the Bay of Plenty in October 2020.
The programme, which targets Year 1-8 children within schools that have high levels of disadvantage, aims to reduce food insecurity by providing access to a nutritious lunch in schools every day.
Tinetti was shown around the Healthy School Kai kitchen, located at Trustpower Baypark, where she was impressed with the well organised production line and the precision of the special dietary requirements area that produces gluten free, diary free, nut free and other important variations that must be separately and precisely adhered too.
"It's a big ask," recognised Tinetti of the 250 special dietary meals the Healthy School Kai team make every day.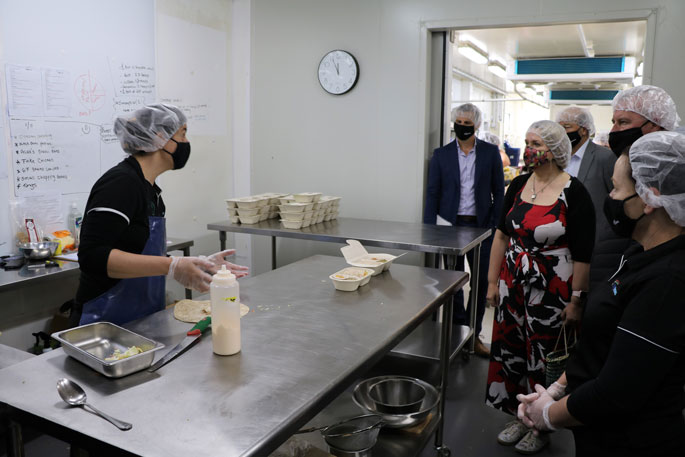 Labour List MP Jan Tinetti speaking with Healthy School Kai dietary specialist Josefina Aleman about the specially prepared school lunches.
Having been a former school principal, Tinetti was excited to see the Ka Ora, Ka Ako│ Healthy School Lunches programme in action and hear about the ways in which the Healthy School Kai team are working with their schools and kura to provide nutritious food that the children will eat. Hot food lunch days and tasty, recognisable menus are being used to encouraging the consumption of nutritious kai.
Providing healthy kai to hungry tamariki was the initial driving force behind Bay Venues becoming involved in the Ka Ora, Ka Ako│ Healthy School Lunches programme.
After becoming an approved supplier in Term 4 last year, Healthy School Kai now delivers just under 4000 healthy lunch boxes to 10 schools and kura each school day.
"This programme provides a great social enterprise opportunity for Tauranga," confirms Bay Venues interim CEO Adam Ellmers.
"Not only are we feeding our hungry tamariki, but as Bay Venues is a Council Controlled Organisation, any profits will also benefit the community by helping to pay for the cost of running our community facilities."
More on SunLive...