Lads Lunch raising money for charity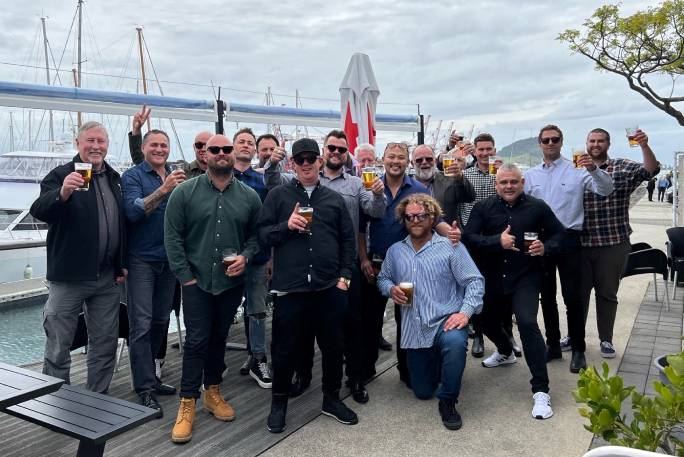 A fellowship of fellas from Tauranga have come together to raise money for local charities.
The altruistic crew are now set to hand over $1000 to their chosen charity, Live for More, which may go toward the pilot of a more regular course for at-risk young people in the area.
The Good Chaps Lads Lunch was hosted by Salinity Restaurant and Bar on October 23, with a handful of men from the Tauranga area getting together for a day of festivities and raising money for charity in the process.
"The idea behind this was collective, just a group of men from all walks of life that want to give back to our community," says a spokesperson for the group.
"We are planning to do this every quarter and watch it grow, ideas for the next one have started and tickets will be available to the public from January."
After raising $1000 from the first event, the plan for the next event is even bigger.
The hope is for speakers and auctions to be present at the event and a target of $10,000 per lunch.
Live for More is a Tauranga based charity which aims to empower high-risk young people to live positive and fulfilling lives through surf therapy programmes.
"We are looking at the at risk guys, the 17-25 year olds that are starting to head down the wrong track.
We try to get them addicted to surfing and connected in that way," says Live for More operations manager Dave de Graaf.
"You know, a lot of them started down behind the start line. So we are looking to change that track for them a bit.
"These guys, they aren't exactly going to put their hands up for counselling. But if you ask them if they want to go to surf they might."
Live for More offers clinical counselling, life navigation tools, employment skills and cultural sessions aimed at creating a support network.
Their six main outcome objectives is to keep participants out of the justice system, out of prison, away from gangs, in full-time employment or apprenticeship, drug-free and mentally well.
They are funded by grants and donations so Dave says any funding like this means a lot as it allows them to continue running the programme.
As for specific plans from the money raised, Dave says it may go toward helping past graduates beyond their nine-week programme and a potential trial course of more regular daily events.
"Each day we could work through topics related to the outcomes we want," says Dave.
"I may put the money toward piloting that programme and seeing if it works before tweaking it ahead of next year."
More on SunLive...