Preparing for an earthquake in Tauranga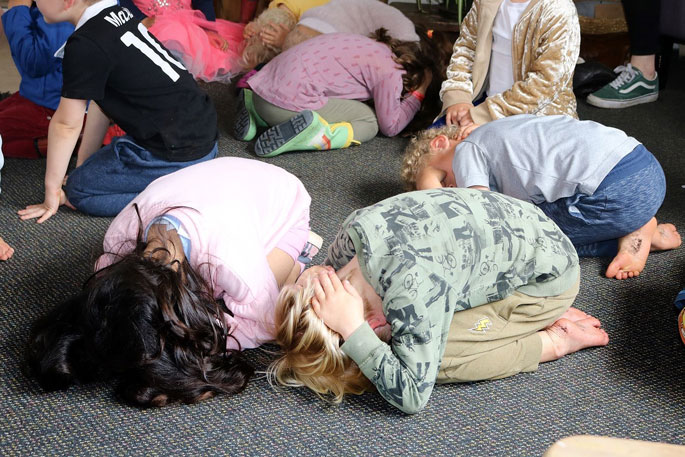 An earthquake could strike at any time so it's important you know what to do.
People across New Zealand will join together at 9.30am to practise the correct actions to take during an earthquake and tsunami by participating in the National ShakeOut drill.
Tauranga City Council is getting behind the National ShakeOut day, with staff visiting Natures Cove daycare on Tuesday, October 26.
There, the children were taught about the importance of knowing how to drop, cover and hold and practise turtle safe skills.
Turtle Safe is an educational action developed specifically to teach preschool children what to do if they are inside or outdoors when an earthquake occurs.
Early childhood teachers are encouraged to hold several practice drills with the children, so they are familiar with the drill.
Emergency Management and Civil Defence Manager, Paula Naude says, by practising ShakeOut every year, knowing what to do in an earthquake and tsunami will become second nature.
"We know when kids are involved in preparing for emergencies, they encourage their families to be more prepared. They play a more active role in responding to and recovering from emergencies."
Natures Cover Centre Owner, Rebecca Scott says, it is vital that our tamariki and kaiako know what to do in an emergency – before an event occurs.
"We achieve this through carrying out monthly emergency preparedness drills and participating in National ShakeOut day. This not only prepares our kaiako to effectively manage the response of an event, but also to support our tamariki to feel more comfortable during an emergency."
The National ShakeOut is based on the highly successful California campaign which began in 2008 and has now expanded to numerous other US states and countries such as Canada and Japan.
The 2021 ShakeOut earthquake drill and tsunami hikoi/march or walk is taking place on Thursday, October 28, at 9.30am and more than 657,000 participants have signed up nationwide.
To sign up for the National ShakeOut day and to find out more information, visit www.getready.govt.nz.
More on SunLive...