Four dogs treated after pufferfish invasion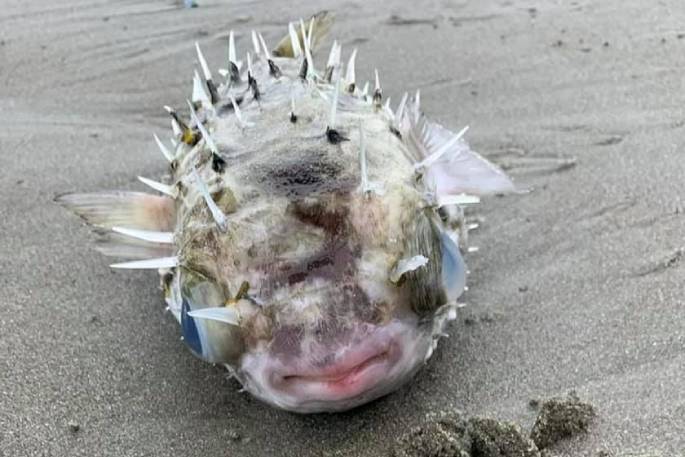 A vet in Waihi Beach says they treated four dogs over the weekend who fell ill after coming into contact with potentially toxic pufferfish that had washed ashore.
Pip Jones, from Beach Vets in Waihi Beach, says she came across eight of the unusual-looking marine creatures on Labour Day.
She swiftly put out a warning on the company Facebook page but the pups soon started arriving.
She says it is fortunate none of the dogs actually ingested any of the fish, but the quartet of canine patients had licked them.
"All four were okay in the end," says Pip.
"The ones I saw just had signs of bad nausea and vomiting."
The dogs were given an anti-nausea medication and treated with an activated charcoal solution and put on a strict watch for several hours before going away with a clean bill of health.
The University of Waikato has identified the fish in question as a porcupine puffer fish, common in New Zealand waters.
Some species of porcupinefish have a deadly toxin, called tetrodotoxin, in their internal organs and flesh.
Whilst on this occasion, all the patients bounded away fully recuperated, Pip warns there are dangers associated with dogs coming into contact with the toxin.
"It is a neurotoxin and it goes straight to the brain," she explains.
"They become paralysed, often between two to four hours."
Pip says she regularly sees this breed of fish washed up on the beaches near her practice.
However, this occasion was unusual.
On previous occasions, she might come across a dried up fish that had been present for a number of days. However, this was the most she has ever seen in a short period of time and never as fresh out the ocean as on this occasion.
"It was not long dead," says Pip.
"I picked up eight of them Monday morning within 200 metres of each other. I was too scared to even bury them so I put them in a bucket, took them home, double bagged them and put them in the skip.
"I was too scared about dogs digging them up."
Pip says that in 16 years practicing at Waihi Beach she has never had a case of pufferfish toxicity and wonders if the fact they were fresher carcasses made their toxin more potent. Some of the dogs, she says, were only in the vicinity of the pufferfish for a few seconds.
Bay of Plenty Regional Council coastal scientist Dr Josie Crawshaw says they are aware of the pufferfish washing up on beaches in the region.
"We are aware that many pufferfish have been washed ashore at Waihī Beach and potentially at other beaches in the region," says Josie.
"This sometimes happens during stormy weather. We advise people and pets to keep a safe distance and not touch the fish as they have a neurotoxin in their skin and intestines."
Various species of pufferfish can be found in New Zealand waters but despite their cute name, they pack a hidden punch.
They are often found on beaches after swells and stormy conditions out at sea.
If ingested, tetrodotoxin can be fatal for both man and man's best friend.
Even just licking the exterior of a particularly potent species can cause numbness, paralysis and respiratory failure so they should not be handled.
If you, or your dog, may have ingested tetrodotoxin in any way seek emergency treatment from a health professional or vet.
More on SunLive...