Walkers welcome new pathway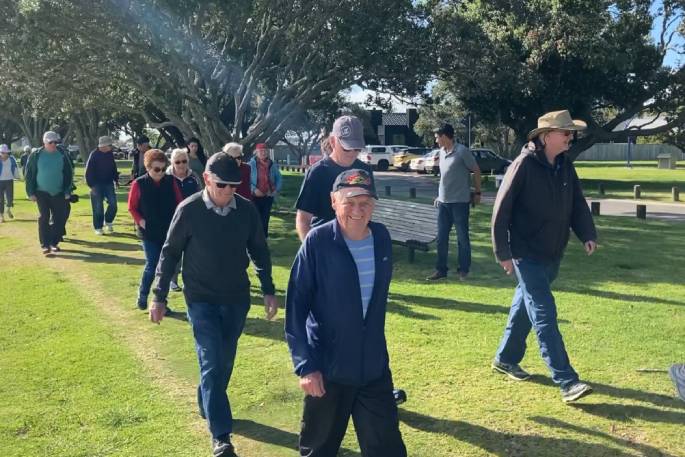 Every Tuesday morning - rain, hail or shine - you'll find a keen group of walkers gathered at Kulim Park, ready to hit the foreshore for their weekly walk.
Led by group captain Danny Begley, the Ōtūmoetai 'City On Its Feet' walking group – a Sport Bay of Plenty initiative - has eagerly been awaiting this week's opening of a new shared pedestrian and cycle pathway that will give them an additional route to walk.
The new three-metre-wide pathway, along the foreshore of Kulim Avenue heading east to Harbour Drive, is the first stage of Tauranga City Council's upgrade of Kulim Park.
The upgrade will also include a new playground catering for all ages and abilities, a reserve design that shares the stories and cultural expressions of mana whenua, as well as accessible picnic tables and bike stands.
Safety improvements, including a shortened road to allow people to walk safely from the playground to the water's edge, as well as sealed and marked car parking to make clear where people should park, are also being made to create a safe and attractive open space for the community to enjoy.
Danny says the new pathway will make "a big difference" for the walking group, which can attract up to 30 walkers of all ages and abilities, and their furry friends, each week.
"We have fast, medium and slow walkers, so some of our slower ones only want to take a short walk. This pathway will be perfect for that and will give us another option."
The group is also looking forward to the safety improvements as they often struggle with the lack of separation between cars and pedestrians.
Stage two of the upgrade is already under way, with an overflow car park near the Tauranga Yacht Club being built and continuation of the shared pathway. Once completed, the shared pathway will link up with the existing pathway from Beach Road, connecting Fergusson Park and the city centre. The complete park upgrade, including the new playground, is expected to be finished in December 2021.
TCC director of Spaces and Places, Paul Dunphy, says Council is working to create a more accessible and connected city with a network of shared pathways for cyclists and pedestrians, and a special place for whānau to come and enjoy.
"This will be a valuable connection which will allow for better movement around this part of the city," he states.
"And who can resist the opportunity to take in the stunning views across the harbour to Rangiwaea, Matakana Island and Mauao?"
Kulim Park was first established in 1950 when Bureta Farm was subdivided for residential housing.
The owners of the farm, Walter Rushton and brothers George and John Sickling, gifted about one hectare at the north-west corner of the farm "for children's recreation."
For more detailed information on the upgrade, including the design, visit the council website.
More on SunLive...