Remembering a friend on a breast cancer walk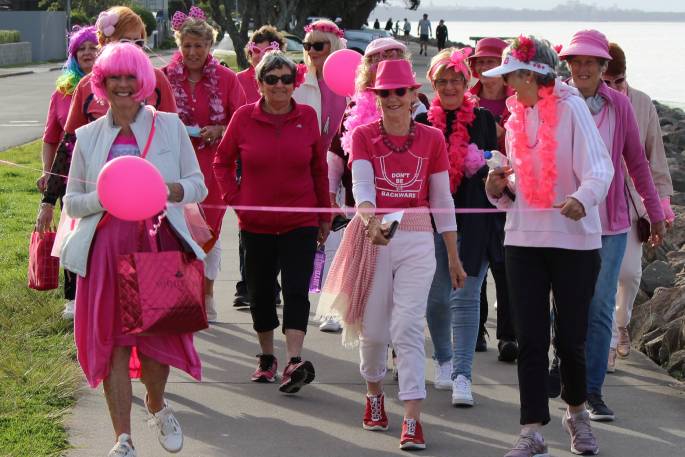 With the usual Hot Pink Walk off limits due to Covid-19 restrictions the Breast Cancer Support Service Tauranga Trust was asking residents to instead do the walk in your own bubble this month.
So that is exactly what Sherry Bennett decided to do.
Sherry is a volunteer with the support service and felt a desire to continue the fundraising efforts in the absence of the usual mass gathering walk that takes place annually - especially as it was also a victim of Covid-19 in 2020.
"I put the idea out there toward anyone who might want to walk within our own bubble.
"That's what I decided to organise."
In the end, Sherry managed to cobble together a crew of 18 to take on a walk, aiming to help toward meeting a national combined target of 3500kms.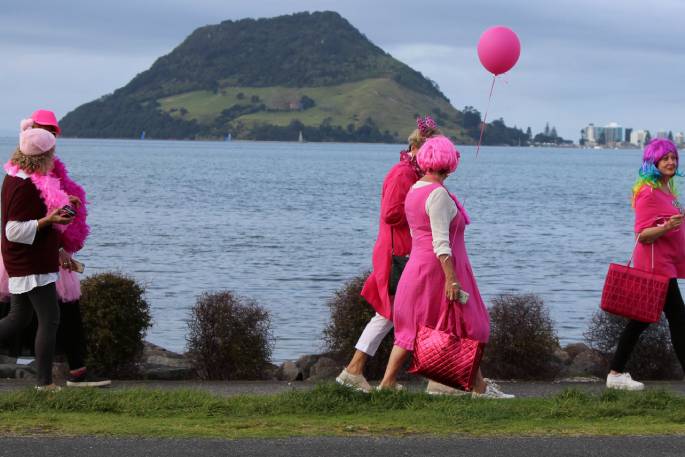 They also managed to raise some money in the process.
"We did the walk and we managed to raise $180 for breast cancer." she says.
"We had a wonderful time. We all got dressed up and walked along the front at Beach Road on Otumoetai, with the Mount in the background."
There were plenty of personal stories among the group.
"A personal friend, who is also a cameraman with several years experience, took the photos.
"His personal story is that he lost his sister to breast cancer at just 42.
"There were seven ladies on the walk, within our bubble who are breast cancer survivors and I myself and a melanoma survivor.
"So we all have our own stories and we all had a lot of fun."
The walk also gave the group a chance to pay tribute to another close friend of theirs who recently passed away.
"It was very much a personal story for us as well," says Sherry.
"We lost Jenny, a dear friend of ours from Otūmoetai just a month ago and she was a breast cancer survivor.
"She died of a heart attack and we all were out there remembering her.
"She would have been the first person to promote the wonderful treatment she has been given over the years. She would have been out there walking with us."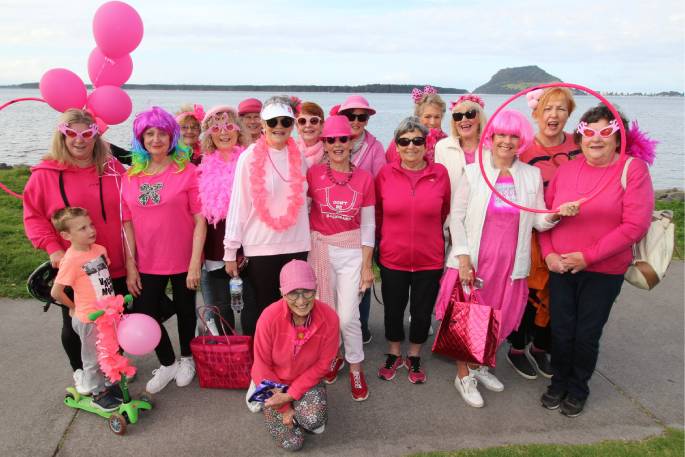 Breast Cancer Foundation NZ is asking the people of Bay of Plenty to generously support local pink ribbon fundraisers happening next weekend.
Sign up for a neighbourhood Pink Ribbon Walk at pinkribbonwalk.co.nz/virtual and follow @pinkribbonNZ on social media for all of the virtual action on the day.
Donations can be made to the Pink Ribbon Street Appeal through volunteer collectors who will be out in force shaking pink buckets across Bay of Plenty on October 29 and 30, or online at pinkribbonappeal.co.nz.
Money raised from the Pink Ribbon Street Appeal and neighbourhood Pink Ribbon Walks will go towards Breast Cancer Foundation's work to support patients, fund ground-breaking scientific projects and educate New Zealanders about the importance of early detection.
More on SunLive...