A new home for Garry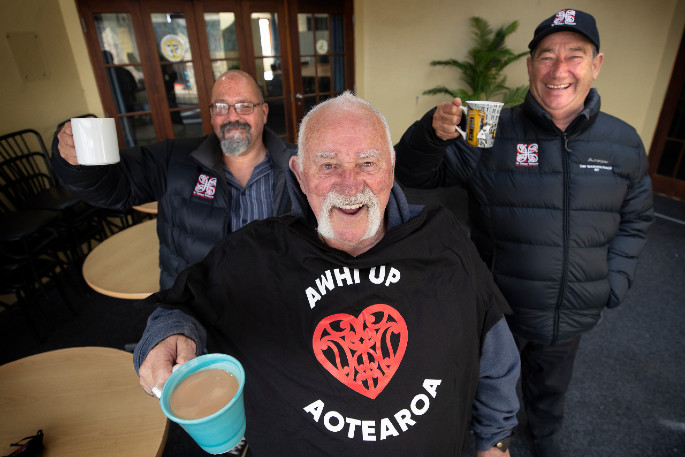 At 81 years of age, Garry is all set to make what he hopes will be his last big move - but it could have ended up being a very different story.
Just 15 months ago, through circumstances out of his control, Garry found himself sleeping in the back of a station wagon.
He was then picked up by Tauranga homeless charity Te Tuinga Whānau Trust, and housed at Greerton RSA's spare accommodation facilities.
Now Garry can't believe his luck, and says his situation goes to show that anyone can find themselves in need of a helping hand.
"It is a marvelous catching basket," says Garry. "It gives you the freedom to regroup. To get back on your feet."
He has positive words to say about the entire team at Te Tuinga Whānau, with a special mention for office administrator Sophia Murray, and the "bloody marvellous" RSA.
"They make us feel welcome," he says.
"My hat goes off to the team for running such a good place and giving people a helping hand, because otherwise I might have been a statistic. For me being lucky, there must be three or four others that are not so lucky."
He admits being taken aback at the services and facilities available, from a comfy bed and warm shower, to offering other residents help with debt and tenancy issues.
But there is still a small price to pay. A desire to help yourself.
"You have to appreciate what it is they are offering," says Garry.
"These people here, they will allow you that steady incline you need if you want it."
With the help of the Te Tuinga Whānau, Garry has now found a new place to live in Waihī and is set to make the move next week.
Clearly, Garry is excited about the move.
"I have a new town to examine and terrorise," he jokes.
"It is a new town, a new library, new shops to look at and a new view to see. It is time to look at it positively and hopefully this will be the last shift."
Throughout his colourful life Garry has worn many hats. He owned businesses in Tauranga, worked on a farm, as a caretaker and a theatre manager.
He admits that having worked hard all of his life, he does find himself getting frustrated at his current situation.
But he is not averse to looking at the bigger picture. Perhaps he is here for a reason.
"I have been able to listen and talk to people here," he says.
"I have become a bit of a sounding board. So I guess it might have worked out for the best that I ended up here and I have been able to help some of the people out.
"They can come to me and drop some ideas around. I don't say much, but they end up kind of chewing the ideas themselves. Maybe that is part of why I have been here."
When asked if he is imparting wisdom, Garry laughs and expresses his feelings on wisdom with words not fit for publication. He has a different way of putting it.
"Hard experience. Life's experience."
Te Tuinga Whānau is asking for anyone who may have furniture they wish to donate, to help Garry settle into his new home, to make contact via: karl@ttw.org.nz
More on SunLive...