What's on this Labour Day?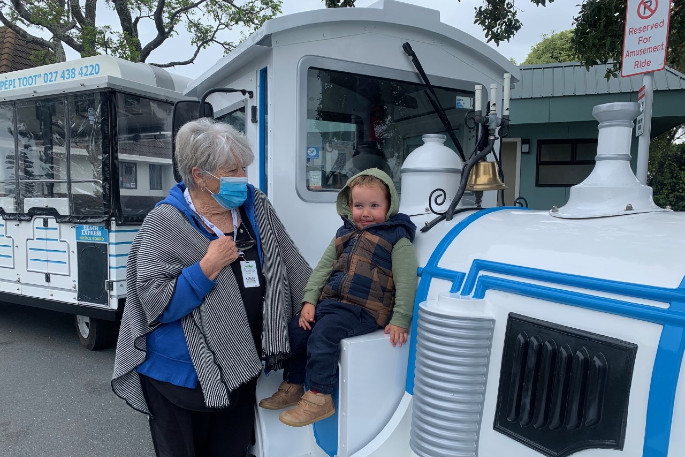 Tauranga is buzzing this weekend with people out and about despite bursts of rain overhead, visiting indoor and open air art galleries, shops, cafes and the beach.
At Mount Maunganui it is the first weekend of the summer season for the Mount's iconic Pepi Toot Beach Express.
The single carriage train has for years taken cruise ship passengers for a ride along Pilot Bay, around to the main beach, past the town's 450-year-old pohutukawa tree, down the main street and finally ending up back outside Spongedrop Café in Salisbury Ave. The half hour trip is a great way to see the shops and sea from a different vantage.
This year, as was the situation last season, there are no cruise ship passengers in sight due to the global pandemic, and owner/driver Lesley Smith is making the best of the change in circumstances by offering half hour rides to locals.
Local retirement villages have prebooked the train, as it's an even greater fun outing when combined with a coffee, scone and chat afterwards. School trips, birthday parties, hen parties and outings by social groups can all quickly book up the train which is also out over the long weekend and will continue providing trips throughout summer.
Passengers can simply turn up, scan in using their Covid app before embarking on the train and enjoying fresh air through the open-sided carriage as it "toot-toots" around Mount Maunganui.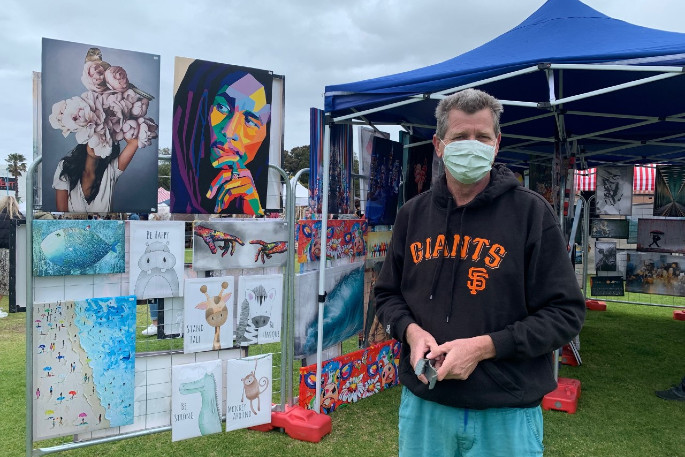 Artist James O'Connor with his stall at the market in Coronation Park. Photo: SunLive.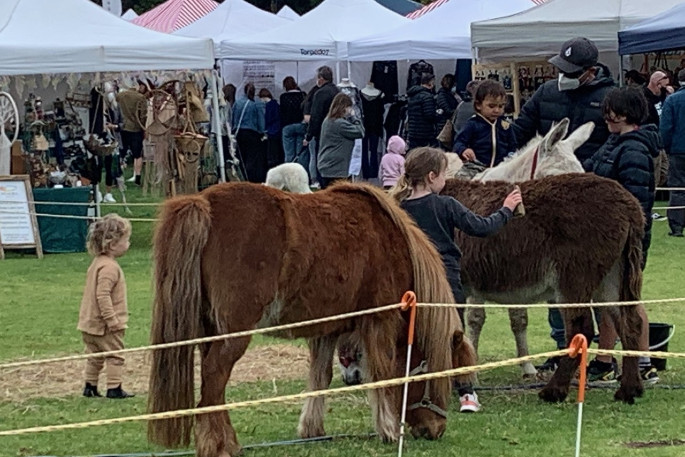 Coronation Park. Photo: SunLive.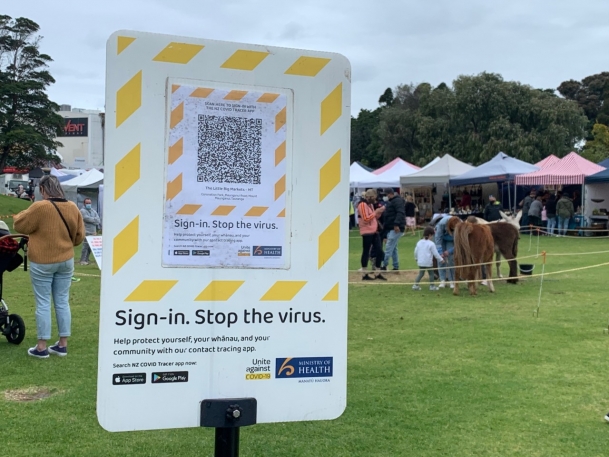 The entrance to Coronation Park market. Covid scanning has become a normal part of daily lives when attending events and locations. Photo: SunLive.
Nearby in Coronation Park, the Labour weekend Saturday market was in full swing, with donkey rides and animals to entertain children, and many craft and food stalls. The market these days has a low bunting fence that sends the signal to visitors to scan in at the entrance way before coming into the market itself.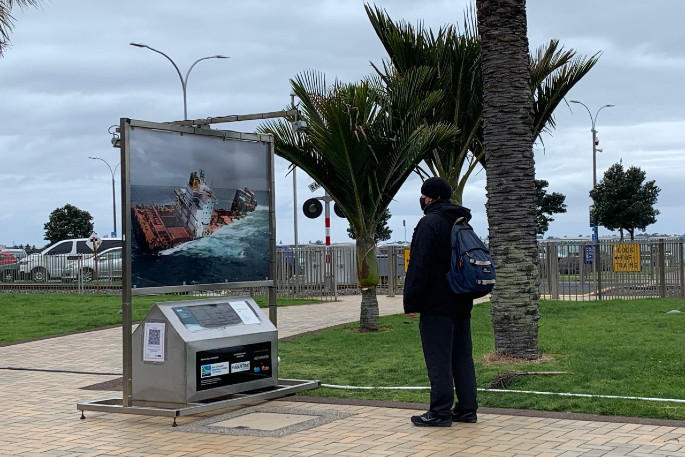 Many people are going to The Strand over Labour Weekend to view the outdoor exhibition of photographs commemorating the Rena disaster. Photo: SunLive.
Covid scanning and mask wearing is becoming a normal part of life while out and about it seems, and in downtown Tauranga, many are enjoying wandering along the Strand viewing the Rena photographic exhibition by Ross and Graham Brown, commemorating ten years since the Rena hit Astrolabe.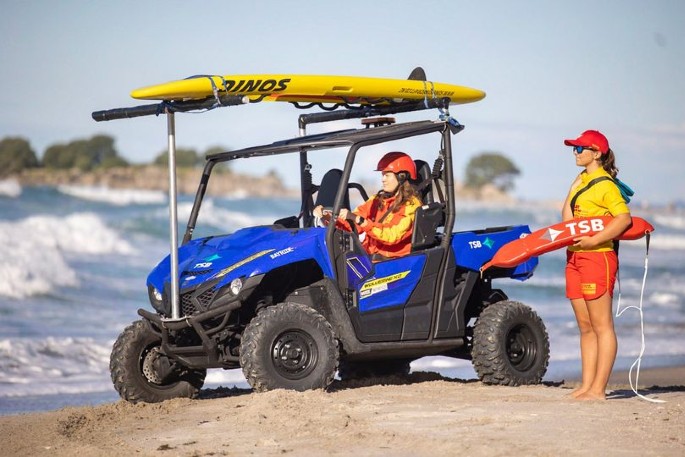 The Mount Maunganui Lifeguard Service is situated at the base of Mauao on the "Mount" main beach where lifeguards are responsible for patrolling ten kilometres of coastline. Photo: Mount Maunganui Lifeguard Service Facebook.
Labour Weekend marks the start of the voluntary weekend patrols, with the Mount Maunganui Lifeguard Service kicking their patrols off from Saturday.
"Our lifeguards have been training all winter for the season, and this weekend looks like it will be a good test, with a decent wave running," writes a Mount Maunganui Lifeguard Service volunteer on their Facebook page.
"Please be aware the water is still cold and there will be plenty of strong currents – know your limits, swim between the flags and if in doubt, stay out!"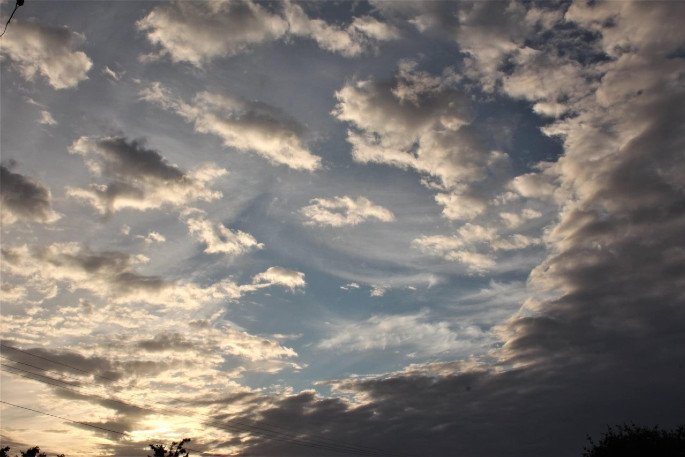 Clouds. Photo:Fredrick John Christensen.
Labour Day is set to be another cloudy day with periods of rain, and northeasterlies.
It's a one-to-two-clothing-layer day with an expected high of 18 degrees, and an overnight low of 15 degrees. High tide is at 11.12pm and low tide is at 5.16pm. Sunset is at 7.43pm.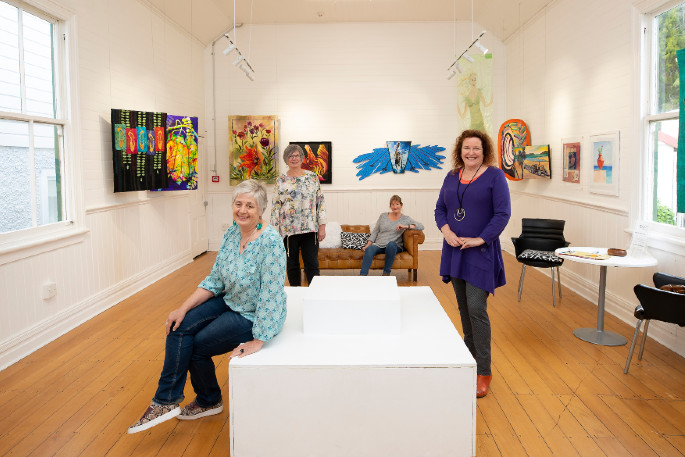 Melanie Martin, Rowena Ashman, Lyn Watts and Marilyn Muirhead. Photo: John Borren.
The Artful Response exhibition is on at Tauranga Historic Village from 10am – 2pm. In a first for the Bay of Plenty, textile and pigment artists are combining to produce creativity in a unique way. For more information click here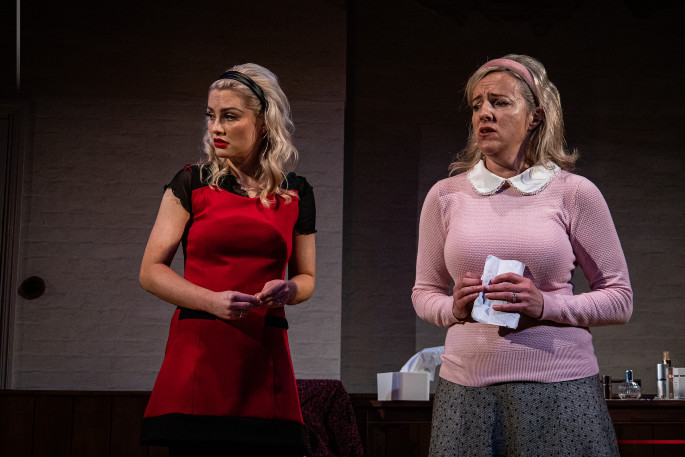 A scene from The Revlon Girl at 16th Ave Theatre. Photo: Supplied.
Come along to quality live theatre at Tauranga's 16th Ave Theatre and see 'The Revlon Girl' by Neil Anthony Docking which is running from October 15 - 30. The Revlon Girl tells a very human story of a group of grieving mothers who came together as a support network for each other after the mining disaster in the Welsh mining village of Aberfan.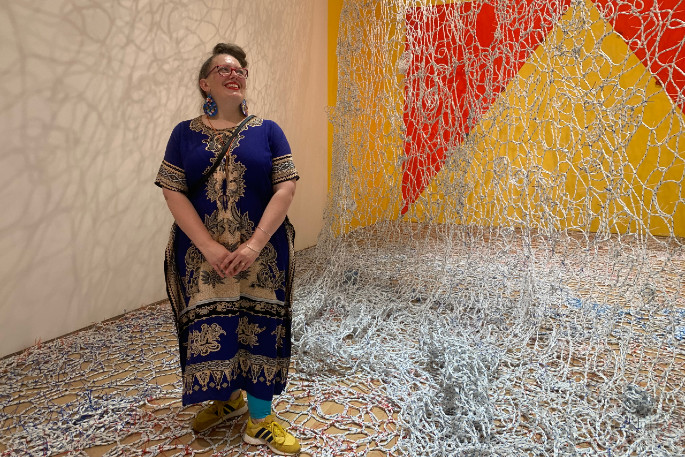 Gabby O'Connor. Photo: Rosalie Liddle Crawford.
Tauranga Art Gallery is open from 10am – 4pm, with the final exhibition of The Unseen, an art-sci exhibition making the unseen marine world visible. Artist and researcher Gabby O'Connor worked with communities and school children to explore the risks associated with environmental and climate change, and how this might affect the way we manage New Zealand's marine ecosystems. The resulting collaborative artwork involved 1,600 schoolchildren, as well as their whānau and communities - and 12km of rope. Click here for more
For more events visit My Tauranga.
The Elms | Te Papa Tauranga in Mission St is open from 10am - 4pm. Come and view the Mission House and gardens. For more information click here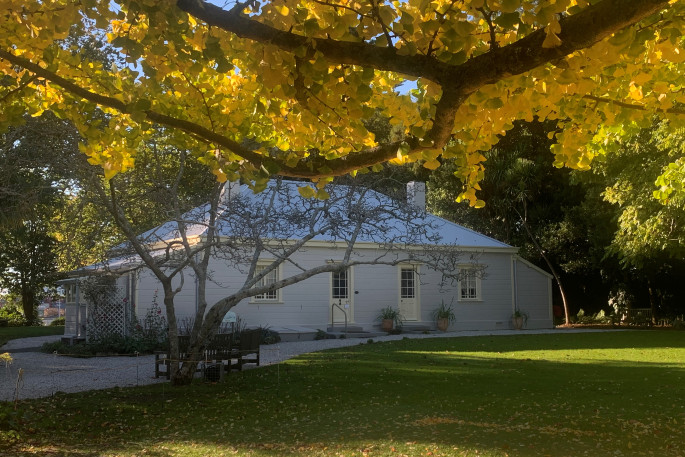 The Mission House at The Elms | Te Papa Tauranga. Photo: Rosalie Liddle Crawford.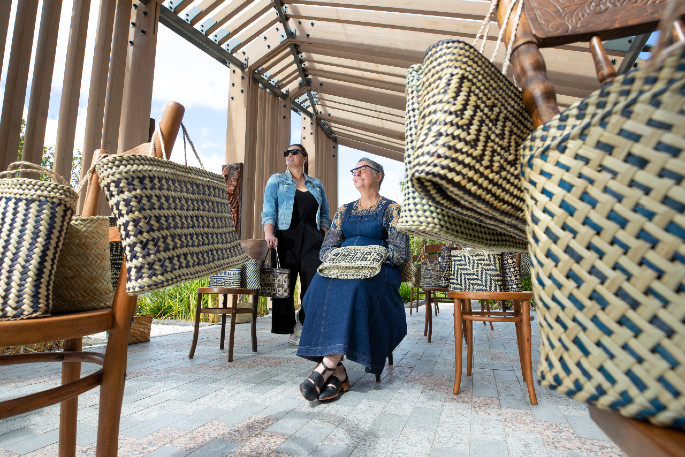 Tarryn Motutere and Jo Torr at The Elms' Heritage Garden. Photo: John Borren.
The weaving together of two cultures is being illustrated in a new way, with an outdoor installation at The Elms' Heritage Garden. Renowned artists Tarryn Motutere and Jo Torr have come together to exhibit unique patterned bags woven with flax, known as kete whakairo. They will be weaving in the garden from 10am - 4pm today. For more information click here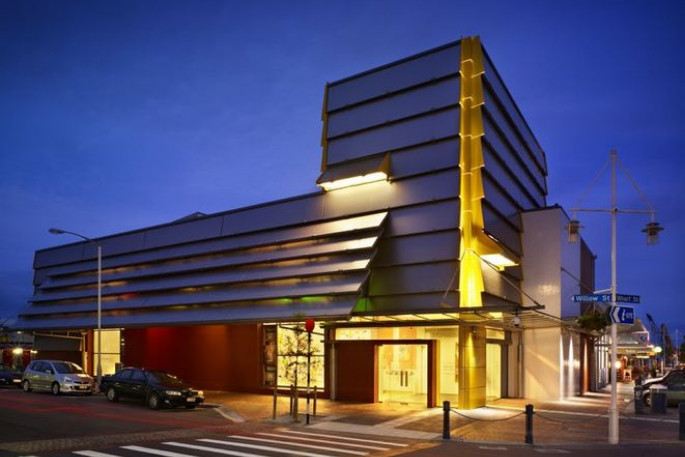 Tauranga Art Gallery in Willow St. Photo: Supplied.
Take a walk through Tauranga Art Gallery and view the many exhibitions on display there this week. The gallery, in Willow St, is open from 10am - 4pm.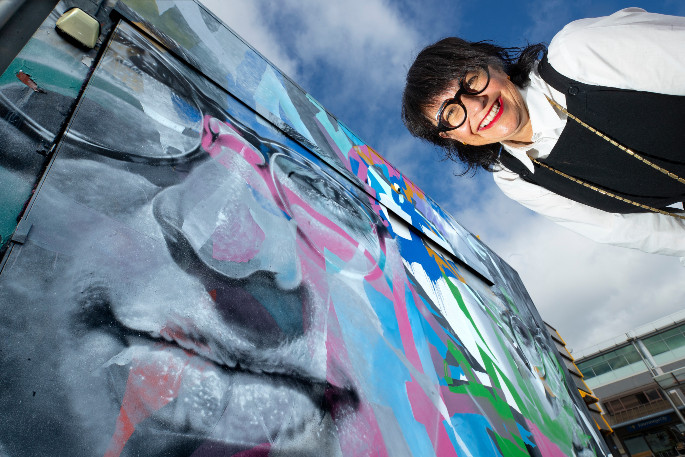 Love public art? CITY ART WALK TAURANGA app is a free to download walking tour of 20 public artworks in Tauranga's city centre. For more information click here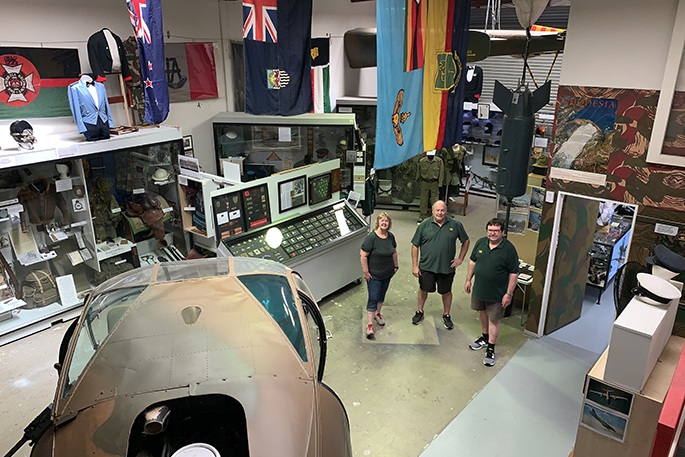 Diana Bomford, Tony Fraser and Hugh Bomford at the Lion and Tusk Museum at Mount Maunganui. Photo: Daniel Hines.
Have you been to the Lion and Tusk Museum yet? It's open today from 10am - 3pm at Unit 4, 14 Portside Dr, Mount Maunganui. Come and see a massive display of Rhodesian military history records and exhibits of uniforms, medals and equipment. Opening hours are 10am – 3pm Thursday to Sunday. For more information click here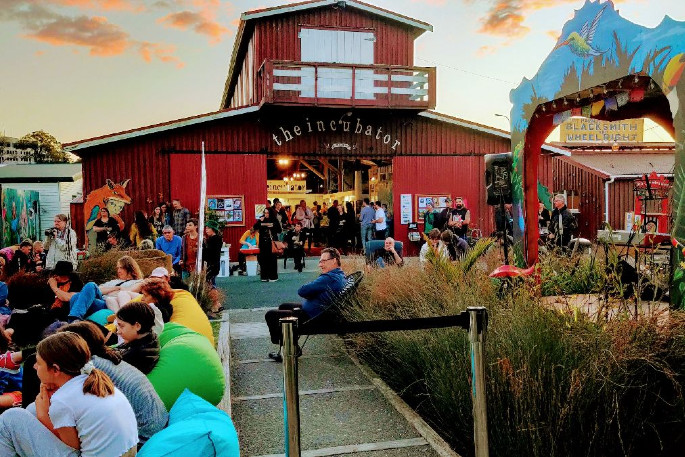 The Incubator. Photo: Supplied.
At The Incubator Creative Hub at Tauranga Historic Village, there are many exhibitions, workshops and events happening daily. For more information click here. Exhibition hours are 10am – 2.30pm.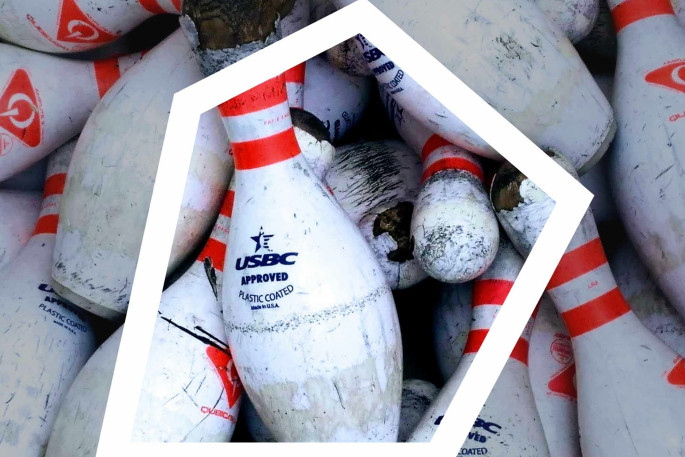 In the Gutter group show at The Incubator. Photo: Supplied.
In the Gutter are holding a group show at The Incubator Creative Hub today from 10am – 2pm. For more information click here The exhibition runs until October 31.
What else is on today?
500 Cards
Tauranga Senior Citizens Club, 14 Norris St (behind Pak n Save). 12:45pm start. $3 entry includes afternoon tea. New members welcome.
---
Alcoholics Anonymous
Open meeting 10am Tauranga Central Baptist Church. corner Cameron Rd/13th Ave All welcome. Ph 0800 229 6757
---
Association Croquet
Sat, Mon & Wed at Club Mt Maunganui, 45 Kawaka St. 9:15 for 9:30am start. New players & visitors welcome. Ph Jacqui 574 9232
---
Badminton Club, Aquinas College
Tauranga Badminton Club, 7-9pm, Aquinas College Events Centre. Seniors & Year 11 upwards, Casual players welcome, $8pp, Racquets available. Ph/txt Noel 027 622 9797 www.sporty/taurangabadmintonclub.co.nz
---
Katikati Open Air Art
Katikati Festival of Arts-''Lighting up the Town"-'Barry's Park' lit up; Fairy Wonderland; Theatrical performance; Kati Poles Silent Auction- Umbrella Alley -THE ARTS JUNCTION; Haiku. www.KatikatiFestivalOfArts.org.nz
---
Keep On Your Feet
Omokoroa 11am-12, Settlers Hall, 334 Omokoroa Road. Strength & balance classes for older adults. All levels of fitness welcome. Ph. Sharnie 021 111 8617
---
Let's Learn Something New
An A-Z of clubs, courses & classes happening now. Find an activity, join & do it! All ages. www.letslearn.co.nz or Ph 07 544 9557
---
Monday Matinee
Screening Big Eyes at the boutique Junction Theatre, 36 Main Rd, Katikati. Tickets $10/7.50. Ph 07 549 1658
---
Pickleball Morning Play
Mount Sports Centre 9:15am-12:15pm. Join the fun! Beginners welcome. Bats and balls provided. $5. The Mount Pickleball Club. Bob 027 478 6282
---
Rotary Club of Otumoetai
The Club meets at 6pm on the 2nd and 4th Monday of the month at the cafe in New World Bookfield. Ph Brian 021 122 8735
---
Tauranga City Brass Band
Meets 7-9pm at 10 Yatton Street, Greerton. New players very welcome. Jeremy 021 132 3341
---
Tauranga Creative Fibre
Every Monday 9:30am and 2nd & 4th Thursday 6:30. Join us learning new skills, knitting, crochet, spinning, weaving, dyeing & felting. 177 Elizabeth St, Tauranga. Ph Cathy 07 570 2191
---
Tauranga Men's Shed
Open Monday-Friday at the Historic Village. Toyshop selling wooden toys, mah-jong racks etc. Wednesdays, surplus tools and materials sold.
---
Western Bay Museum Tour
Make your museum experience come alive with a fascinating guided tour. 11am. WBOP residents and ratepayers FREE. Other: Adult $5/GC $4.32 Main Rd, Katikati. Ph 07 549 0651
More on SunLive...