Sir Ian Taylor to trial 'self-managed isolation'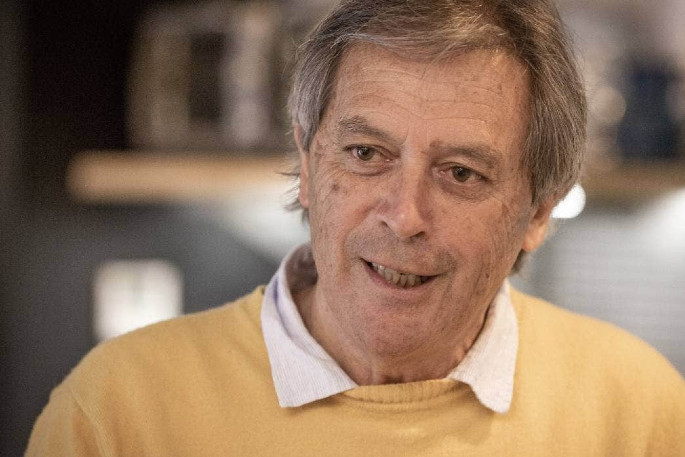 Sir Ian Taylor is a busy man. He's hopping between Zoom calls, filming projects and speaking to reporters while running a business that is heavily reliant on overseas contacts.
He has got two more weeks to pull together a plan that could present a road out for New Zealand's businesses that have been struggling to operate from the Kiwi fortress while the rest of the world is opening up.
But he is confident the self-isolation trial – approved by the government – will present deliverable results while proving that technology developed right here in New Zealand can be used to shorten isolation time and reduce pressure on Managed Isolation and Quarantine (MIQ) rooms.
He is not alone in his thinking. Several business leaders have stepped up to help make it happen, while two MPs have given Taylor their support.
It all hinges on having, and more importantly using, the necessary tools for faster risk assessments, so not everyone coming through the border will need a space in MIQ in its current form.
The idea is that someone who has been fully vaccinated and tests negative for Covid-19 both before boarding a flight and after landing in New Zealand, will not have to spend more than three to five days in isolation.
In the interim, there are hopes the technology Taylor tests out during his trip might allow more apartments and hotels to be used as MIQ facilities without drawing on security and health resources.
Geofencing technology will mean security staff will not be needed, portable air purification devices could open up possibilities for the types of facilities that could be used to isolate low-risk arrivals. Health monitoring devices could reduce the need to tie up our health workforce in MIQ.
Taylor's trial will run alongside the Government's self-isolation pilot from October 30 to December 8. He will isolate at a specially-selected Auckland property and follow the same Ministry of Business Innovation and Employment (MBIE) protocols and testing regime as 150 business travellers chosen for the test.
However, Taylor will also be testing about eight devices and diagnostic tests at the same time.
He will document the process with professional services firm EY which will analyse the process, compare it to the Government's preferred process, and present a report – which it expects to complete within in two weeks of Taylor leaving isolation.
Taylor runs Animation Research which produces graphics for sporting events, and he is hoping to send a team to Australia to cover the Ashes cricket series with the confidence that they will be able to return in January or February.
"If we can bring 13 back, we can bring 30 back," he says.
Among the diagnostic tools Taylor will test is Auckland-based Orbis Diagnostics' 15-minute blood test to determine his level of Covid-19 immunity, along with the Rako Science PCR saliva test, which produces a result in six to 12 hours.
Then there is MicroGem's Spitfire6830 SARS-CoV-2 Saliva Testing System developed with funding from the United States National Institutes of Health in Dunedin, just a few hundred metres from Taylor's office.
The polymerase chain reaction(PCR) test system delivers a result in 27 minutes and can pick up the Covid-19 virus in the early stages of an infection because of the way it amplifies genomic sequences and the fact that there are more traces in saliva.
Chief scientific officer David Saul says the system is waiting for Food and Drug Administration emergency use authorisation, but the production infrastructure is already in place in three US states and the company will be able to produce 840,000 kits a week when it is approved.
In a nutshell, the test uses a cartridge that requires just half a teaspoon of saliva. The cartridge uses magnetic virus capture beads and a plunger to extract RNA, which is then heated to separate and magnify the strands.
All this happens once the cartridge is placed inside a roughly 20 kilogram machine designed to be "easier to use than a microwave".
Saul says something like this would typically take between three and five years to develop, but under the National Institutes of Health's Rapid Acceleration of Diagnostics initiative, the system has gone from whiteboard to final product in 18 months.
Other technology Taylor will trial includes BioIntelliSense's BioButton that continuously monitors temperature, respiratory rate and heart rate for up to 60 days, and SekiTech's app that uses artificial intelligence and facial recognition to monitor vital signs.
The latter boasts former All Blacks team doctor John Mayhew as its medical director.
Scientist and entrepreneur Sir Richard Avery will be supplying Taylor with a PPE kit for his flights and time in the US, as well as a wearable geofencing and health monitoring device designed by Jupl – a company he co-founded.
The quarantine wristband looks like a hospital bracelet – similar to those used in Singapore and Hong Kong – and connects to a cloud-based platform from a mobile application.
The device sets a ring-fenced perimeter and will trigger an alarm when the wearer moves beyond it. It also triggers an alarm if the wearer switches their mobile device off, or breaks the band, which acts as circuit.
The wristband monitors skin temperature to warn wearers if they are developing a fever – one of the most common symptoms of Covid-19.
On a larger scale, GPS signals can be monitored and tracked remotely from a call centre, and wearers can be prompted to use the app at random intervals as an extra layer of compliance.
The plan and the wristband, have been criticised for requiring a high level of trust, but Taylor makes two points: businesses will be paying for this, and they know they will not be allowed to use the system again if they break the rules.
He calls this model self-managed isolation.
There is a perception that business people's need to travel in and out of New Zealand comes from a position of privilege, but he argues none of them actually want to.
Companies like his are losing millions because they can not meet clients face to face, while those that do brave the MIQ system end up spending inordinate amounts of time in MIQ facilities.
One chief executive has spent 10 weeks in MIQ this year, he says. That is time that could have gone to people with more personal reasons for travelling, like seeing dying relatives.
"New Zealand could have led the world in all of this. This was the ideal place to be testing it."
The cross-sector border steering group, set up with the help of Auckland Unlimited after the Auckland's Future, Now conference in August last year will be helping Taylor with preparations for the trial in Auckland.
"The bench just stepped up," he says.
The group had previously proposed a detailed plan for private pay-as-you-go isolation hotels, developed with experts who helped establish the current MIQ facilities.
Seasonz Travel managing director and member of the collective, Sam Porter, says they represent a wide range of industries and skills and have been engaging with the government for the past year.
"To be honest, there's been little cut through."
So when Taylor got through, with the help of media exposure, Porter knew the collective would be able to take care of all the facets of the trial.
"I knew for sure we could really make this happen and show the Government we can get people across the border safely."
In the past two weeks they have pulled together everything from the testing gear Taylor will use to preparing the residential property he will isolate in.
The key to the protocol, Porter says, is that it does not matter if Taylor is positive or not when he returns because they have designed a guideline that will keep both travellers and the community safe.
"It's actually a lot to do. We're doing everything [the 150 in Government's isolation trial] are doing and more."
He anticipates MIQ parameters will change as the country moves from an elimination to management strategy and expects most people will eventually isolate at home.
But in the meantime, using these protocols in currently empty hotels or apartment suites would allow "thousands of Kiwis" a chance to get home.
He admits Taylor's regimen will be somewhat over the top, for the purposes of testing many options; and says not everyone will have to follow the same path.
Fellow member of the collective and Jucy Cruise co-owner Chris Alpe says Taylor's trial should have been done six months ago.
But he is delighted to be working with him and says Taylor's connections in Wellington, and with the media, have been invaluable to getting the attention the trial needed.
"It couldn't come soon enough. The rest of the world is opening up, and we're just opening our eyes."
Alpe also tipped his hat to Auckland Unlimited's head of investment Malcolm Lawry, who he says had been putting in many hours to get this over the line.
Economic Development Minister Stuart Nash says he supports the plan because Taylor is an innovative New Zealander, and put up a unique proposal.
"We are open to new ideas and our Covid-19 response is evolving all the time," he says, although the trial does not fall under his ministry.
"MBIE is facilitating his proposed trial, and will look closely at how it pans out. [Taylor's] proposal will provide additional useful insights over and above those we will get from the wider self-isolation pilot."
Sir Ian Taylor's self-isolation plan:
• Taylor will take the MicroGem test before flying from Dunedin to Auckland, where he will undergo an Orbis Immunity test at Dr Api Talemaitoga's clinic in Māngere, before heading to the airport.

• He will undertake two Kiwi-developed PCR Covid-19 tests before boarding a flight to Los Angeles, in the US, wearing medically-approved PPE throughout his flight.

• Once in the US, Taylor will use medically-approved PPE, wear a device that monitors his vital signs and perform daily rapid antigen testing. He will also speak to Kiwis working overseas to find out what it is like to work in a country that has "reopened".

• On his return to New Zealand, seven days later, he will again undergo two PCR saliva tests before boarding.

• When he lands in New Zealand, Taylor will take a test at the airport before being transported by a double-vaccinated driver to a residential property that fits MBIE guidelines.

• During his two-week isolation, he will follow the MBIE testing regime, as well as his own, using the technologies he will be trialling.

• Taylor will document the experience from a home studio that will be built in his isolation location.
More on SunLive...