Early birds can win prizes for garden ramble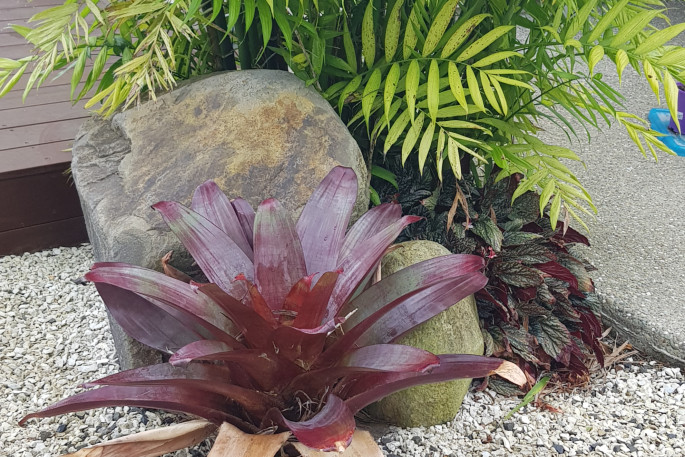 The Rotary Garden Ramble in Katikati is now only a fortnight away, and the organisers of the town meets country event are offering prizes to anyone purchasing early bird tickets.
Due to the uncertainties created by Covid the time to buy tickets for the early bird prizes for the Tall Poppy Real Estate sponsored Rotary Garden Ramble has been extended until October 30.
"There are wonderful prizes to win by purchasing tickets early," says Rotary Club of Katikati organizing committee member Rod Calver.
"There are two beautiful Corten steel garden sculptures donated by one of the gardeners Dennis Walter, two huge ceramic pots with plants donated by Grower Direct, heaps of garden products donated by Tui Garden Products and even a Christmas cake donated by another of the gardeners, Delwyn Rientjes."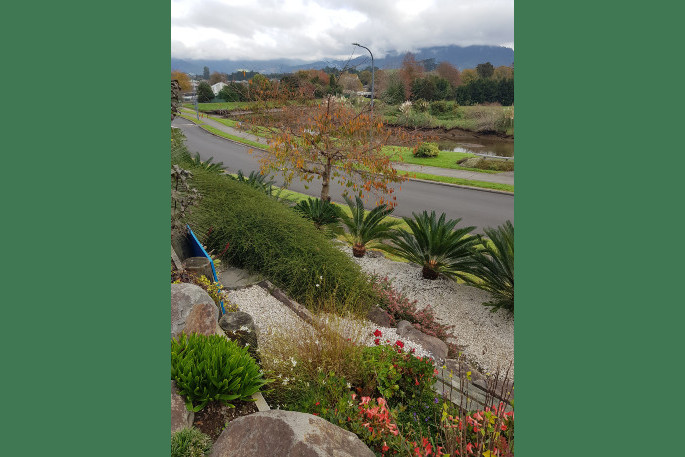 Everdien de Graaf's Katikati garden. Photo: Supplied.
The garden ramble, titled 'Up the Garden Path', will 24 gardens in total, with six rural gardens to the north of Katikati and seven rural gardens to the south.
Rod says that in addition to the Early Bird prizes for buying tickets prior to the event there are going to be Tui garden products at the gardens as spot prizes over the weekend of the event.
The most northern garden, owned by Moira Edmends and John Galloway, started from a bare maize paddock 30 years ago.
"No formal design was done before the garden was started but rather it evolved as trees and plants Moira liked were purchased," says Rod.
"Hedging was sited by throwing a frisbie for the then dog and putting the hedge no further away than Moira could throw the frisbie for the dog."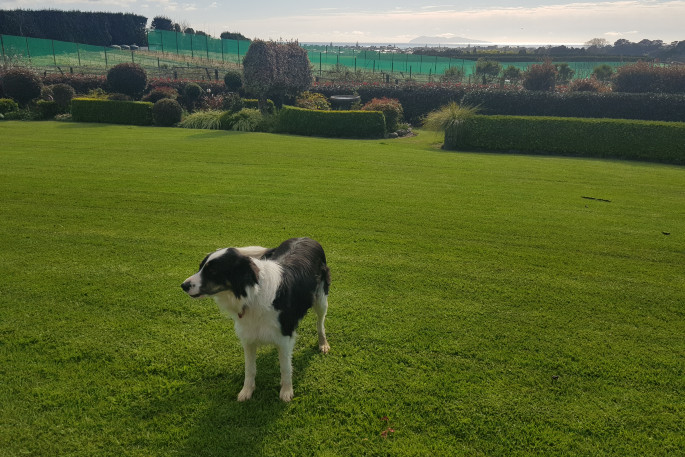 Moira Edmends and John Galloway's garden. Photo: Supplied.
Rod says Moira was Waihi College's art teacher for many years and her artistic flair is evident with the shape, texture and foliage colours throughout their garden.
"The garden is complemented by an amazingly productive vegetable garden. As one drives up to the elevated garden a regal stand of Cypress Lusitanicas looks extremely impressive."
Visitors are able to park adjacent to the garden in the orchard which is also a wheelchair friendly property.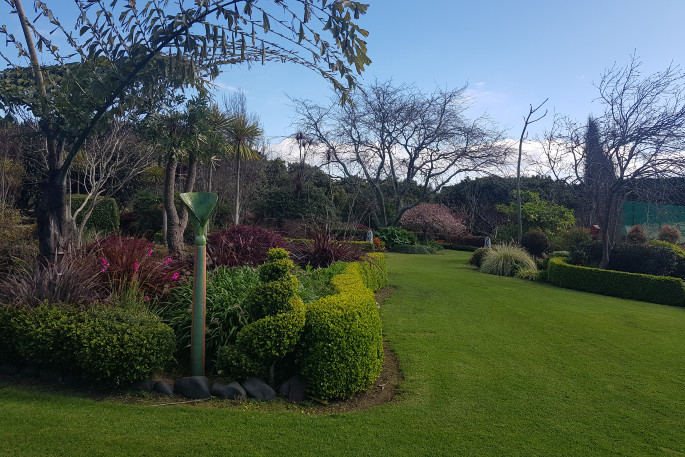 Moira Edmends and John Galloway's garden. Photo: Supplied.
A stark contrast to Moira and John's large rural garden is the Noble Johnson Drive garden of Everdien de Graaf which looks down the Uretara River.
"This garden is an eclectic mix of unusual and easy to maintain plants on a very steep slope above the road," says Rod. "The garden gets full sun all day and features many drought resistant plants."
Rod says the steep garden started from a vacant section five years ago. Large rocks were provided by Greg the Rock Man guided by Allie from Elite Garden Design and Everdien`s sister who was out visiting from Holland.
"The bare bones of the garden were completed in four months but Everdien continues to buy interesting plants which enhance this artistic project.
"Art works by Everdien will be on display and although the garden is not accessible to wheelchairs Everdien is being especially accommodating and will allow people to get a bird's eye view of this amazing property from her private verandah."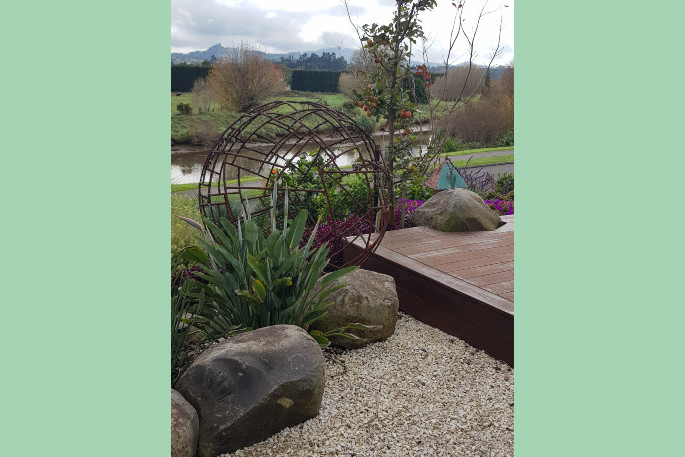 Everdien de Graaf's Katikati garden. Photo: Supplied.
There are also two other properties on the garden ramble to visit in the same street.
As well as looking at a great variety of the district`s gardens, those on the garden ramble will have the opportunity to attend an hour long sustainability workshop held at Jizzy and Mike Green's garden in Park Road.
Jizzy is the founder and brainwave behind 'Grow on Katikati' which distributes seeds and seedlings to the community each Saturday morning.
The workshop which will be held at 11 am on Saturday October 6 is limited to 20 people. The $10 tickets to the workshop can be purchased in advance by contacting Moira James on 021409750 or by email to moirakjames@gmail.com . Tickets to the sustainability workshop can also be purchased at the gate, but it is first in first served.
Western Bay Museum will be showing the Pioneers Herb Garden and the Maori medicinal garden Te Rongoa during the Katikati Rotary Garden Ramble weekend. Although open, the museum will not be serving their traditional scones with jam and cream due to Covid restrictions.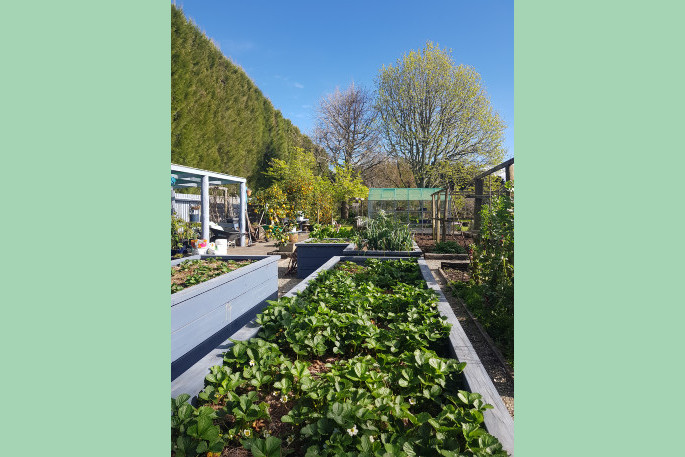 Moira Edmends and John Galloway's garden. Photo: Supplied.
"All the funds raised through the garden ramble will go to our local community," says Rod.
Rod says Katikati Rotary is a generous benefactor of the local Katikati schools, Project Generate and Maori Wardens. They also provide computers to many local charities, support the annual IHC Christmas Party, Katikati cycleways, the new Community breakfast, and the Chrome Collective. Rotary bought the lights that everyone has seen lately adorning the town centre for the Katikati Arts Festival.
Garden Ramble tickets can be purchased at the Katikati Information Centre, from Grower Direct in TePuna or online at www.katikati.org.nz/events/up-the-garden-path.
"Tickets purchased before October 30 go in the draw to win lots of fabulous prizes," says Rod.
Tickets will also be available at the gardens on the day with no eftpos available. Patrons will be required to observe the usual Covid protocols with scanning or manual recording available at each garden.
Katikati Rotary "Up the Garden Path" garden ramble is being held from 9am - 5pm, wet or fine, on November 6 and 7. Anyone purchasing tickets before October 30 at the Katikati Information Centre or from Grower Direct at TePuna will be eligible for a variety of early bird prizes.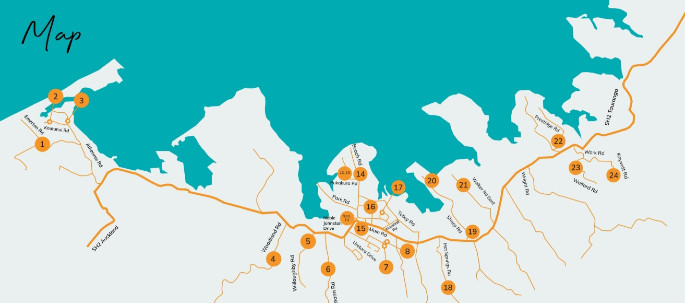 More on SunLive...