BOP doctors slam anti-vax speech seen by thousands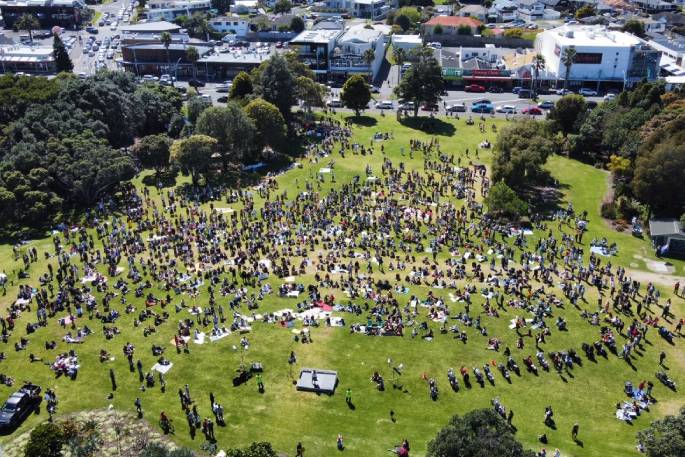 Medical practitioners in the Bay of Plenty have hit back after a speech at a recent event in Mount Maunganui appears to have spread misinformation about the Covid-19 vaccine.
Videos of the speech, in which various claims are made about the safety of Covid-19 vaccines, have been seen by tens of thousands of people online causing alarm among doctors in the region.
The speaker was talking at an event organised by The Freedom & Rights Coalition at Coronation Park on Saturday, October 16.
Attendees were largely protesting for freedom of choice against topics such as vaccine mandates, lockdowns and mask regulations and did so peacefully. However, vaccine efficacy and safety were also topics of concern.
The speaker claims to have previously been a doctor in both Mount Maunganui and Pāpāmoa. But as one GP who spoke to SunLive notes, the person in question has not been practicing medicine since November 2006 – as verified on the Medical Council of New Zealand's website.
The speech has been viewed over 112,000 times on YouTube and over 19,000 times on Facebook, leaving medical practitioners in the Bay of Plenty and Waikato disheartened at the many commenters and viewers who appear to believe the information stated.
"We have grave concerns that anyone watching this video will believe the credibility of this person by way of her claim to be a recently practising GP," says a statement on behalf of several practitioners.
"The content of the video is gross misinformation. All GP's in New Zealand are required to meet high competency standards to obtain a practising certificate which is reviewed annually.
"We have to undergo regular training to ensure we are up to date with the current evidence and guidelines.
"I would implore anyone who has watched this video and may have doubts about the vaccination process to talk to someone they trust who is qualified, such as their own GP."
The statement is on behalf of several doctors in the region, including Dr Hannah Jenkins and Dr Geoff Esterman of Gate Pa Medical Centre; Dr Jen Holloway, Dr Amrita Kumar and Dr Alison James of Fifth Ave Family Practice; Dr Linda Dear and Dr Al Johnson of Bethlehem Medical Centre; Dr Ruth Cameron and Dr Sue Genner of Pyes Pa Family Doctors; Dr Malcolm Scott of Accident and Healthcare; Dr Satvinder Chauhan of City Centre Medical; Dr Tineke Iversen Douglas of Waihi Family Doctors, Dr Virginia McGowan and Dr Julie Edwards of The Doctors Papamoa; Dr Cheryl Pittar of Te Aroha Health; Dr Victoria Jones of Katikati Medical Centre; Dr David Offner of Ngati Kahu Hauora; Dr Brooke Vosper of Te Puke Medical; Dr Natasha Roberton of Papamoa Pines Medical Centre; Dr Claire McNally of Farm Street Doctors; Dr Jenny Hill of Otumoetai Doctors and Dr Jethro Leroy of Med Central Whakatāne.
"We completely endorse the Covid vaccination which is backed by robust evidence to be safe," they conclude.
The Bay of Plenty District Health Board say they are aware of the speech and are concerned of the impact it may have in the region.
"We are aware of an event at Coronation Park," says BOPDHB operations manager for Covid Programme Brent Gilbert de Rios.
"Mis/disinformation about the vaccine puts our community at risk. Inaccurate information about the Covid-19 vaccine, whether intentional, or accidental, could seriously impact the immunisation programme. We encourage the public to check trusted sources."
The Bay of Plenty District Health Board's region currently remains below the national average for first and second dose vaccinations with some rural regions among the worst in the country
Brent is therefore imploring the public to seek trusted sources with regards to Covid-19 vaccination.
"Mis/disinformation of any kind about the vaccine puts our community at risk," he says.
"Getting the vaccine is the best way to protect ourselves, our whānau and our community against Covid-19. It is free, and it is safe to have."
The nationwide collective Doctors Stand Up For Vaccination, consisting of over 6600 New Zealand doctors, say they back the safety of vaccines and that the "vast majority" of doctors across New Zealand were "honoured" to be vaccinated.
However, they say there remains "a very small minority of doctors" who do not want to get vaccinated and that can have a massive knock-on effect.
"Despite the small numbers, their impact can be devastating, especially amongst smaller or rural communities," says a statement from the collective.
The Coronation Park event was attended by several hundred residents on the same day many across the nation were getting vaccinated as part of Super Saturday.
Among the many claims made during the controversial 10-minute speech were assertions of a British Medical Journal study suggesting high miscarriage rates among vaccinated women in early pregnancy, the death of four New Zealand teenagers due to clotting diseases caused by the vaccine and a total of 204 deaths caused by the Covid-19 vaccine in New Zealand.
None of these claims could be verified.
When contacted by SunLive, a spokesperson for the British Medical Journal says they are unaware of anything published in their publication which resembles those figures.
Instead, they point to figures from a study in the New England Journal of Medicine that have been "taken out of context". The figures in question have been widely debunked as a misrepresentation and misunderstanding of findings.
In April, Medsafe reviewed the risk of blood clots with bleeding after the Pfizer vaccine and found no evidence of risk.
In the latest MedSafe Safety Report, there remains just one death linked to the effects of vaccination. That case, a woman's death attributed to have likely been caused by vaccine-induced myocarditis, is still pending a full Coroner's report. Myocarditis has been identified as a rare potential side effect of Pfizer's Comirnaty vaccination currently in use in New Zealand. Myocarditis is also a potential side effect of infection with Covid-19.
At the time of the report in question, 5,269,060 vaccine doses had been administered across the country with just the one likely vaccine-related death.
The observed number of deaths after vaccination in New Zealand is currently less than the expected number of deaths.
The Freedom & Rights Coalition have been approached for comment.
The BOPDHB advises that people can report instances of misinformation, whether online, by email, phone or in a physical document to the government agency CERT NZ by visiting www.cert.govt.nz.
They also state the importance of using trusted sources such as www.covid19.govt.nz, www.health.govt.nz, www.karawhiua.nz and www.vaccinations.bopdhb.health.nz to check for information on the Covid-19 vaccine programme and advise speaking to a healthcare professional you trust.
If people have questions about the vaccine programme, you can email ask.covidvax@bopdhb.govt.nz or freephone 0800 829 000.
More on SunLive...