Rena exhibition hits The Strand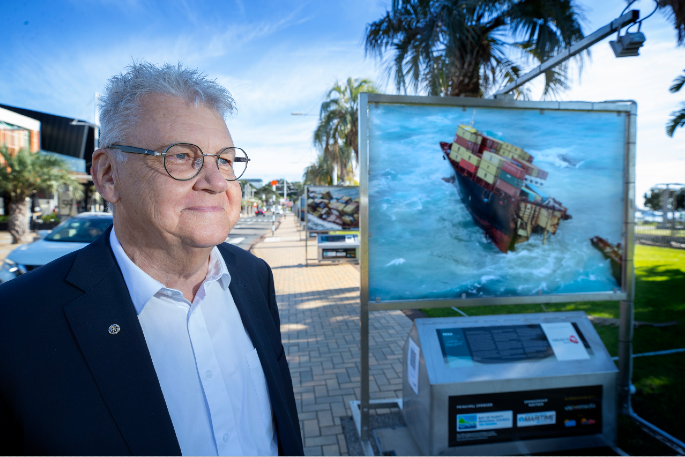 Just over 10 years ago, Vision Media director Ross Brown was hanging out of a helicopter off the Tauranga coast.
Wrapped in harnesses, with feet planted on helicopter struts and hands clasping cameras, Ross and Graeme Brown were two of just a few people who got up close and personal with the largest ship ever lost in New Zealand waters.
On October 5, 2011, the Rena ran aground on Astrolabe Reef whilst carrying 1368 containers, as well as 1700 tonnes of heavy fuel oil and 200 tonnes of marine diesel oil.
Ross and his brother Graeme were commissioned by Maritime New Zealand to keep a photographic record of the disaster response, and their photos and videos were subsequently seen by millions around the globe.
Ross says it wasn't just something that happened here, it was worldwide.
"I'd flick on the BBC and we'd see our footage there," he says. "After a hard day out filming it was quite rewarding and interesting at the same time."
On the 10th anniversary of the disaster, which occurred earlier this month, Ross released an outdoor photo exhibition in Mount Maunganui.
"So far, the response from the public has been amazing," he says.
"Sometimes these exhibitions happen and those walking past will just have a glance, but people have actually been stopping and taking photos."
Now, after two weeks on Maunganui Road next to Coronation Park, the exhibition is moving to The Strand in downtown Tauranga from October 19-November 15.
Ross says each of the 20 boards is being sponsored by individuals, businesses and organisations.
"We've gotten great community support from the Bay of Plenty Regional Council, Maritime New Zealand and a lot of businesses here in Tauranga.
"Without them, this would not have been possible."
More on SunLive...