Parafed Bay of Plenty volunteer honoured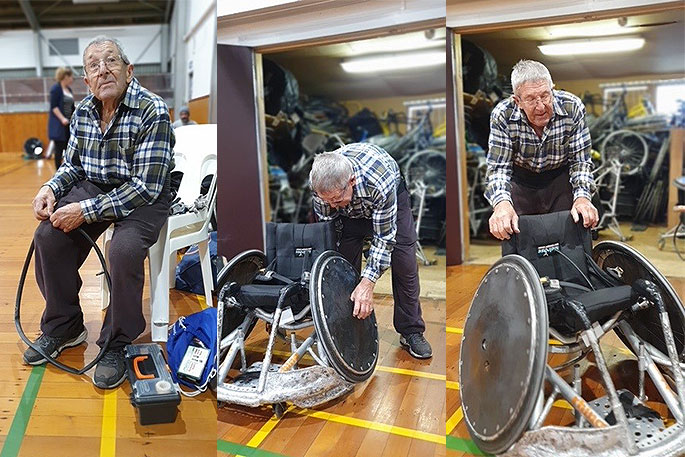 Volunteering is the lifeblood of most not-for-profit organisations and also a great way for people to connect with their community.
All volunteering contributes in some way but occasionally a volunteer makes an exceptional contribution that impacts many peoples' quality of life.
This is the case with 80-year-old Trevor Cliist who was honoured with a Life Membership at the recent AGM for Parafed Bay of Plenty.
Trevor started contributing to the Parafed Wheelchair rugby team in 2014 after attending a training session with his 10-year-old grandson, Harry.
Harry is a triple amputee, and at the time was the world's youngest wheelchair rugby player.
It was on this occasion that Trevor saw that the team needed someone with mechanical skills to assist the athletes with chair maintenance for Wheelchair Rugby and Wheelchair Basketball.
Eight years later and Harry has now moved to New South Wales and achieved many accolades for the sport, while is grandfather remained in the Bay of Plenty.
Trevor remained an invaluable part of the Parafed community, servicing and maintaining the chairs and equipment required to keep the Bay of Plenty Steamrollers in action.
With chairs costing between $6000 -12,000, this is a vital service.
Steamroller team member Amanda Lowry reiterates the incredible contribution Trevor makes to the sport.
"Seeing Trevor when I roll into the hall makes me smile. When we arrive, he has all the chairs out of the shed, assembled and ready to go. He engages with each of us before assisting with transfers, pumping up tires, and making sure that everything is in tip top shape. Trevor is amazing, and such an asset to our team – we couldn't imagine rugby without him".
The membership is prestigious as it is only the second ever awarded.
Trevor was "proud and humbled" by the recognition, emphasising that his involvement with wheelchair rugby and the wider Parafed group "kept him going".
"Trevor is a genuine, salt of the earth Kiwi bloke.
"His fantastic work adds real value that is hard to measure – we are indebted to him," says Steamrollers coach Neil Cudby.
It's safe to say that the award is a small recognition for the enormous contribution made by Trevor and there is no better reflection of this than the gratitude of the athletes who's life he has enriched with his service.
Disability sport relies on volunteers. If you're interested in getting involved please contact john@parafedbop.co.nz.
More on SunLive...