Dead bird mystery in Pāpāmoa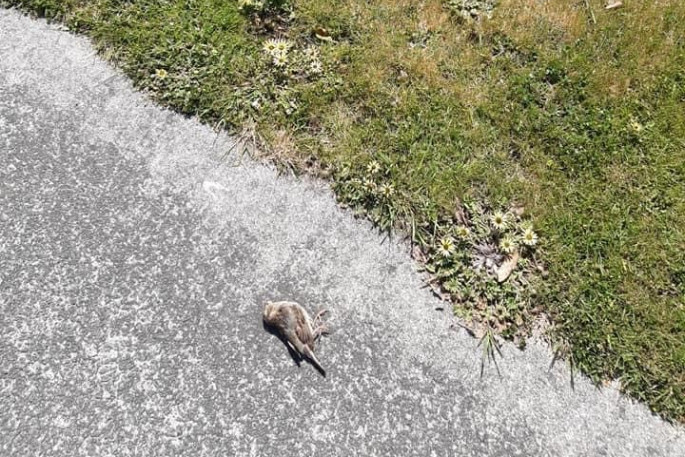 Birds have been dropping out of the sky in Pāpāmoa this week and no one seems to know why.
Riana Ward first posted to the Pāpāmoa Link Facebook group on Monday that she had witnessed 12 birds in the space of 25 minutes plopping down on the pavement and road around her near Topaz Reserve.
Wondering why they were acting strangely she asked if anyone else had seen anything similar, saying the birds "have literally landed on the road, pavement frothing at the mouths".
During the two days following, while people waited for a response to email queries sent to Tauranga City Council and Bay of Plenty Regional Council, members of Pāpāmoa Link speculated as to what could be causing the odd occurrence.
Some suggested that perhaps council spraying was causing it, or whether there was poison in the area.
Sparrows tend to tuck into anything, and it may take a veterinarian to diagnose a particular toxin but it doesn't explain the frothing.
Exploring the Bay of Plenty Regional Council website, there is a pest animal control flyer titled 'Alphachloralose for Bird Control ' which reads:
"In NZ alphachloralose is commonly used for the control of sparrows, pigeons, blackbirds, mynas and magpies. Alphachloralose is a narcotic and when used in concentrations of less than 2.5 per cent it anaesthetises birds rather than kills them. Comatose birds are then collected and the pest species humanely killed. Non-target species can be revived by placing them in a warm dark place."
Perhaps the explanation was as simple as a pest control exercise by the regional council.
During the wait for information from both councils, the opportunity for some humour presented itself with people suggesting that "government drones have a software issue".
Or maybe it was a conspiracy and that in fact birds are not real, referencing the Birds Aren't Real movement which insists that every living bird has been replaced by 'the government' with robotic replicas and we are all under bird drone surveillance.
Not to be outdone by this poultry idea still others maintained a more rational explanation such as sprays and poison. Another thought maybe the birds had eaten something with yeast in it, then "go have a drink and it'd swell and could kill them. Who knows if that's true or not tho?"
Maybe they are drunk, thought one Pāpāmoa Link group member.
"We had these Kereru that used to get drunk on berries etc and fall out of the pohutakawa trees, hella funny."
One Pāpāmoa cat owner found her feline was bringing in many birds that it had found outside, so locked her cat indoors.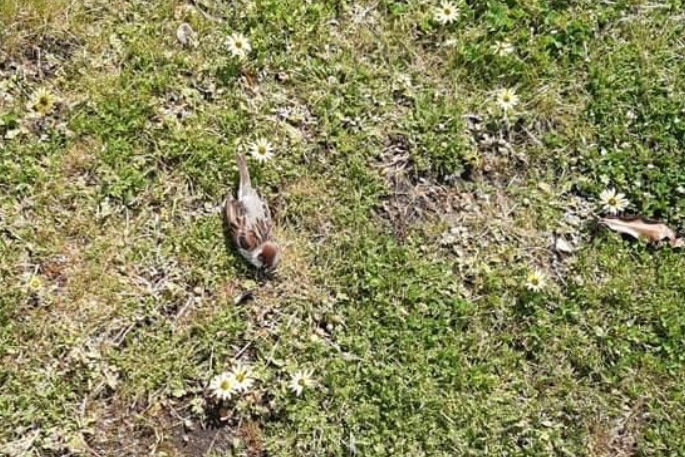 Riana Ward found 12 birds had dropped to the ground within half an hour. Photo: Riana Ward.
The conversation on social media grew to take in what others had observed in nearby Pāpāmoa waterways, with some saying they had seen dead eels and also dead koi along the banks.
Koi or more specifically nishikigoi, are coloured varieties of the Amur carp that are kept for decorative purposes in outdoor koi ponds or water gardens.
One resident says they saw signs up in Pāpāmoa the same day notifying people that glyphosate was being sprayed on the dunes.
Meanwhile Riana was doing her best to save the dozen birds she had found.
"They can't even drink. And there's too many for me to try have saved," says Riana.
Annaliese Marie experienced something similar happening a couple of months ago on Girven Rd near Arataki.
"Seagulls were dropping from the sky as I was driving," says Annaliese. "I would like answers as this was terrifying and very upsetting. Especially when they were dropping on peoples windscreens and causing people to have to brake their car in a hurry and have people run out onto the street to try and pick them up off of the road. I just felt so helpless and upset."
Annaliese wondered if the distressing scene had been caused by the spraying at the beach access near Arataki.
"Could it be why the eels are all dead at the end of the new bike track?" says Aleisha Hards.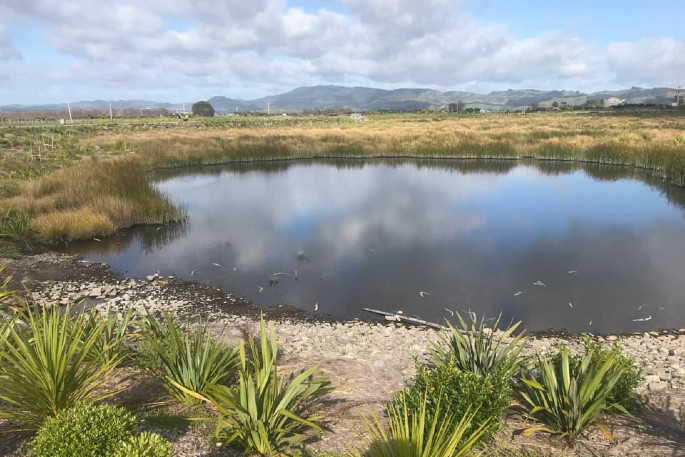 Dead eels in a pond near the end of a Pāpāmoa cycle track. Photo: Aleisha Hards.
Another Pāpāmoa resident, Laura Wells, also came across a bird on the ground on Monday.
"This happened to me this morning! I noticed a little sparrow barely breathing at the end of my driveway - just figured he'd flown into something and shocked himself and put him out of harm's way," says Laura.
Another resident nearby had also seen a few birds looking unwell, and removed one from off the road, placing it in a nearby bush to recover safely away from traffic.
Riana found that her children had also witnessed the unusual avian behaviour while at school.
"The kids said there were a couple of birds acting strangely today at school before I mentioned anything," says Riana.
Salt of the Earth Packaging owner Melissa Woods reported an unusual occurrence with her bees.
"Just putting it out there but we have had a ton of bees die outside our hive," says Melissa. "More than the usual cull of incompetent worker bees that the ladies throw out."
Faye Pitman found dead birds in her house on Saturday.
"I woke up Saturday morning to three dead birds in my living area! My cat has caught the odd bird here and there but I thought three was extreme! Maybe she found them weakened and brought them inside? Strange," says Faye.
Other speculators suggested it was due to a range of causes including: Council trucks driving along the side of the road spraying copious amount of weedkiller, 5G, vaccines, Covid, spy robots, poison 1080, and that "the end is near".
On Monday, SunLive sent an email to both Tauranga City Council and Bay of Plenty Regional Council requesting information about whether there had been spraying in the area, or if they knew the cause of the odd situation.
On Tuesday, SunLive received a reply back from Tauranga City Council:
"The agrochemicals that our contractors use would not have this effect on sparrows. You'll need to get in touch with BOPRC for more information regarding the wildlife."
On Wednesday, Bay of Plenty Regional Council forwarded SunLive's request on to Tauranga City Council, copying in SunLive to their email. The email from the BOPRC Customer Contact Advisor reads:
"Please find detailed below an email received by Bay of Plenty Regional Council for an issue that is handled by yourselves (Reserves). I have included the requestor into this email and ask that you respond directly back to them."
SunLive is awaiting further response from Tauranga City Council and its Reserves Department, and will reply toot suite to the Bay of Plenty Regional Council email. Meanwhile the 14,000 members of Pāpāmoa Link would like this hoot-dunit solved.
More on SunLive...