Essential staff shipped to Raoul Island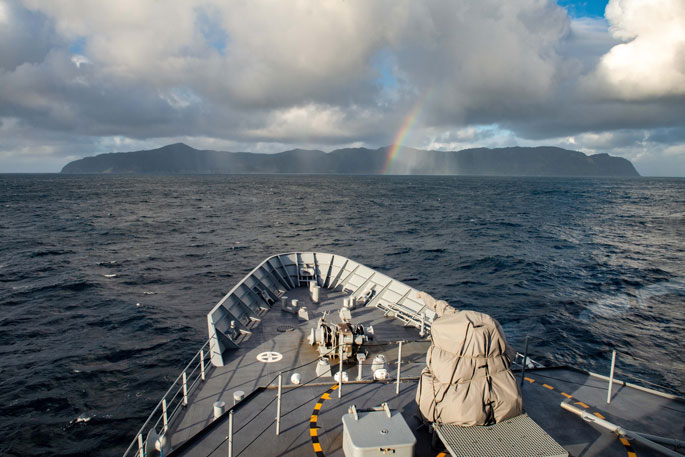 Royal New Zealand Navy ship HMNZS Wellington has set sail for Raoul Island in the Kermadec Islands with GNS Science and MetService staff on board who will be maintaining essential equipment that provides weather and tsunami warning systems for New Zealand.
Raoul Island's strategic location in relation to New Zealand makes it an important site for monitoring tsunamis following seismic events, and for gathering data on shifts in weather and weather patterns.
The New Zealand Defence Force works with the Department of Conservation, which manages Raoul Island, and with GNS Science and MetService to facilitate essential work, including maintenance of tsunami gauges and automatic weather stations on Raoul Island, which lies 1000km northeast of Cape Reinga.
Three GNS staff and three dive contractors, plus five staff from MetService, have joined personnel on the ship, bringing the total number on board to 78.
HMNZS Wellington has deployed with a Navy Seasprite helicopter aboard to take people and equipment to the island.
Commanding Officer Lieutenant Commander Philip Davies says the ship will spend about two days getting to Raoul and five days on station at the island before making the return trip.
"The ship's crew are pleased to be getting underway, and looking forward to their part in assisting GNS Science and MetService with essential tasks they need to get done," he says.
GNS Science has two tsunami gauges on Raoul that provide information about any tsunami caused by earthquakes, submarine landslides and eruptions, and could act as an early warning system for New Zealand.
GNS Science staff will replace and maintain sensors, and on this trip will also install new communications equipment and upgrade the power systems in the Met office building.
"It is important for our monitoring capabilities that we are proactive in our maintenance and continue to revitalise our critical infrastructure in these harsh environments,'' says GNS Science Remote Infrastructure Operations Coordinator Kris O'Brien.
Steve Knowles, MetService's Network Observations Manager, says MetService staff would carry out maintenance and servicing of MetService's Raoul Island Automatic Weather Station.
The weather station measures atmospheric pressure, rain fall, solar radiation, bright sunshine hours, temperature, and wind speed and direction.
The data is transmitted to MetService's Wellington headquarters.
MetService staff will also deploy a meteorological buoy, which collects atmospheric pressure readings, sea surface temperature and ocean current data.
"Receiving good quality meteorological data from Raoul Island will be essential throughout the pending tropical cyclone season. Data from our Automatic Weather Station will assist MetService forecasters in predicting where tropical storms may track as they approach New Zealand,'' Mr Knowles says.
Lieutenant Commander Davies says there are a range of Covid-19 prevention protocols in place, including enhanced cleaning on board the ship, testing prior to embarking and wearing of face coverings until negative tests results were received. Civilians boarding the ship had to produce a negative test before embarking.
Military personnel deploying on operations are fully vaccinated.
More on SunLive...