Intermittent ash emissions possible at Whakaari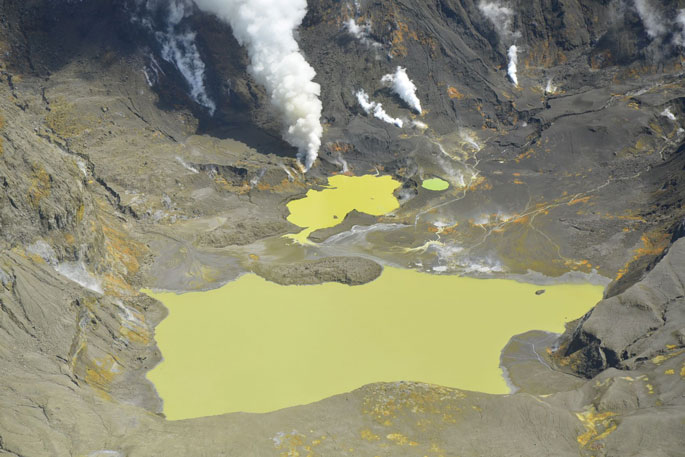 Recent gas and observation flights at Whakaari / White Island show lower gas emissions and low vent temperatures remain.
The volcano still occasionally emits traces of volcanic ash and remains in a state of moderate to heightened unrest.
The Volcanic Alert Level remains at Level 2.
"Last week GNS scientists undertook a gas emission measurement flight and made visual observations and temperature measurements from a helicopter," says duty volcanologist Agnes Mazot.
"The gas measurements showed emissions of Sulphur Dioxide (SO2) have decreased to 267 tonnes per day from 520 tonnes per day at the end of September. The emissions in Carbon Dioxide (CO2) and Hydrogen Sulfur (H2S) also decreased to 757 and 10 tonnes per day, respectively."
Agnes says temperatures measured in the active vent area were similar in value to those measured 2 weeks ago, with a maximum 220 °C recorded.
"The minor deposits from the intermittent volcanic ash emission described in previous bulletins were visible but were confined to the area close to the active vents.
"Weak ash emission was occurring during the observations made last week, and intermittent ash emission is still possible.
"Seismic activity remains similar to last week, with low levels of volcanic tremor and occasional low-frequency volcanic earthquakes."
The current level of activity is consistent with moderate to heightened levels of unrest. As such the Volcanic Alert Level remains at 2 and the Aviation Colour Code remains at Yellow.
Equipment that provides real-time monitoring on the island is currently degraded and we are continuing to work on restoration options, says Agnes.
"The Volcanic Alert Level reflects the current level of volcanic unrest or activity and is not a forecast of future activity.
"While Volcanic Alert Level 2 is mostly associated with volcanic unrest hazards (including discharge of steam and hot volcanic gases, earthquakes, landslides, and hydrothermal activity), potential for eruption hazards also exists and eruptions can still occur with little or no warning."
Further information about the volcanic alert levels and what they mean can be found here.
"GNS Science and the National Geohazards Monitoring Centre continue to monitor Whakaari/White Island for further changes in unrest."
More on SunLive...