No change to WBOP Labour Day kerbside pick ups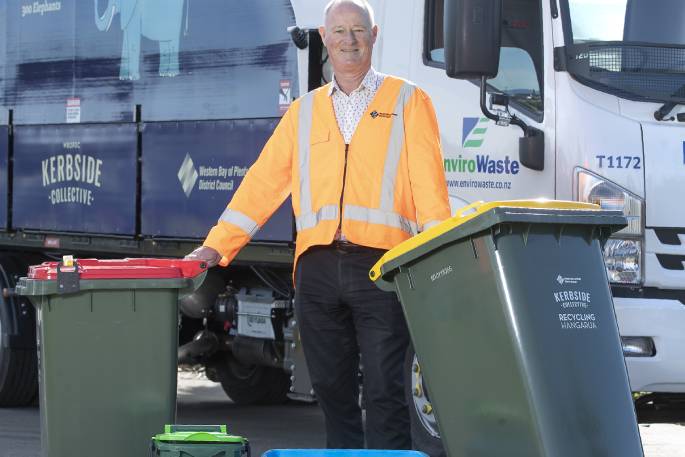 It's business as usual for the Labour Day public holiday kerbside collection in the Western Bay of Plenty District.
Western Bay of Plenty District Council's Kerbside Collective services the Waihī Beach, Athenree an Bowentown area on Mondays (to Woodlands Road but not Kauri Point Road and surrounding roads).
Council's Deputy CEO and Group Manager Infrastructure, Gary Allis, says Waihī Beach township and surrounding communities are very popular destinations for the October long weekend as holidaymakers and homeowners return to enjoy the beautiful Western Bay of Plenty.
But with an increase in visitors comes an increase in rubbish and recycling.
"This is the first public holiday on the calendar since the kerbside service started, so we want people to know that all is business as usual. Put out your bins on your scheduled day and keep up the good work," says Gary
"Residents of the Western Bay are doing a great job with their kerbside recycling.
"Contamination from dirty or unrecyclable items has been low, with latest stats showing all areas sitting below the 10 per cent threshold that would see a truckload of recycling be diverted to landfill."
The latest contamination audit results are
• Tuesday 12 October, Katikati 6 percent contamination including 2 per cent glass in mixed recycling

• Friday 8 October, Lower Kaimai and northern Te Puke, 2 per cent contamination, no glass contamination in mixed recycling

• Thursday 7 October, Te Puke and Pukehina, 8 per cent contamination, no glass contamination in mixed recycling

• Monday 4 October, Waihi Beach, 5 per cent contamination, no glass contamination in mixed recycling
Remember to keep glass out of your mixed recycling bin and use your glass crate. You can drop off excess glass recycling at our recycling centres for free. In past Labour Day weekends Athenree Recycling Centre has been busy taking recyclables. This year the Athenree centre will be open
Saturday 23 October 9am-12pm
Sunday 24 October 1pm-4pm
Monday 25 October 10am-4pm
The Katikati and Te Puke recycling centres will continue to operate as normal.
Putting your bins out
If you're new to kerbside collection, here's what you need to do.
Pop your bins out on the kerb by 7am on your collection day. Please ensure the lids are closed and bins or glass crate are not over filled.
If you're putting out your red lid rubbish bin make sure a pay-as-you-throw (PAYT) tag is attached correctly. Without a tag, your bin won't be emptied. You can purchase your pre-paid PAYT tags from supermarkets, some local stores and Council's library and service centres. Find a list of retailers at kerbsidecollective.co.nz/payt
How-to for attaching PAYT tags
Loop your PAYT tag through the black and red handles together on the side of the bin.

Peel off the orange circle for joining the tag.

Join the front and back circles by sticking to the 'stick here' circle.

Place your bin on the kerbside by 7am on collection day.
Please don't
Loop through only one handle

Peel off all of the backing
Bins will not be collected if:
Bins are overfilled, or recycling bins include non-recyclable items. If you are not sure what item goes in which bin, use our item search finder kerbsidecollective.co.nz/item-search/.

The driveway is blocked or hidden by trees.

Waste in bags or boxes beside bins.

Your pay-as-you-throw tag is not attached correctly. For example, it is only looped through one handle instead of the red and black handle.

Bins are not Western Bay of Plenty District Council bins or are third party bins.
Helpful resources
Not sure what items goes in what bin?
Use our handy item finder kerbsidecollective.co.nz/item-search/
When do I put my bins out?
Try our collection day finder kerbsidecollective.co.nz/collection-day/
Where can I purchase pay-as-you-throw tags?
For a full list of locations visit: kerbsidecollective.co.nz/payt/
For more information, visit kerbsidecollective.co.nz
More on SunLive...