Covid update here and around the globe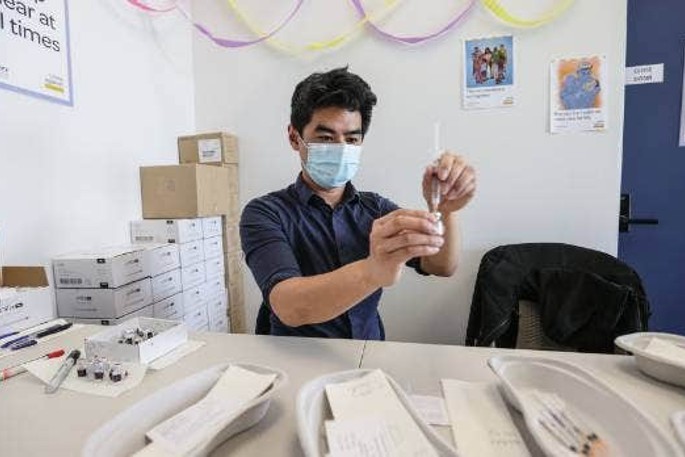 Thousands of New Zealanders are expected to roll up their sleeves for Super Saturday. Today is the nationwide drive to raise Covid-19 vaccination rates across the country.
So what does Super Saturday actually look like? Basically, a host of events are taking place throughout Aotearoa, offering people a chance to get their jab.
Microbiologist Dr Siouxsie Wiles says we need to help our unvaccinated family and friends make an informed choice about getting vaccinated.
"The lives of our children and vulnerable community members depend on it. High vaccination rates are also our collective ticket to get some level one freedoms," says Siouxsie.
In some places, like in Canterbury, there's free kai, icecream, free rugby tickets, bouncy castles for the kids, and prizes up for grabs. In Wellington, there are giveaways of coffee, as well as opportunities to win Homegrown concert tickets, and family passes to aquatic centres.
Anyone over 12 can be vaccinated and people do not need to make an appointment.
Fran Scholey says it was an easy decision to make because she needs to keep herself safe to be around for her daughter. The chief executive of Pulse Netball lost a lung to cancer six years ago and as the mother of 12-year-old, Madilyn, she cannot afford to get ill. Madilyn also got the jab and her message to other young people was a simple one: "We have to protect everyone in New Zealand."
Meanwhile, thousands of doctors have joined forces in an open letter to say: "We overwhelmingly support vaccination against Covid-19."
On Saturday afternoon, a Vaxathon event will also be televised and will include messages from sports stars and celebrities as well as musical performances.
Global toll
Global data from Johns Hopkins University shows 239.9 million people have been infected with SARS-CoV-2, and 4.88m have died. Vaccination efforts are continuing with 6.5 billion doses administered around the world.
The United States continues to record the most cases and fatalities - 44.8 million cases and 722,858 deaths.
India and Brazil also have some of the highest infection and death counts – 34 million infections and 451,814 deaths in India, and 21.6 million cases and 602,099 deaths in Brazil.
What should I do?
Anyone who wants to get tested can find their local testing centres by visiting the Ministry of Health website.
Quarantine-free travel from Australia has been suspended.
Auckland, Northland, and much of Waikato are in alert level 3. Auckland's modified settings include a new step one allowing outdoor gatherings of up to ten people from two bubbles.
Northland and areas of Waikato will remain at alert level 3 until 11.59pm on Monday, October 18. The alert level for Auckland will be reviewed on Monday as well.
The rest of the country is at alert level 2, with masks mandatory for people over the age of 12 when accessing essential services such as supermarkets.
People should use the Covid-19 tracer app.
If you are sick, call your GP before you visit, or Healthline on 0800 358 5453.
To avoid contracting and spreading the virus, wash your hands properly, cough and sneeze into the crook of your elbow and throw tissues away immediately.
Reach out, find support from people who care, connect with your community or help a neighbour in need.
Vaccination locations on Saturday:
Mount Maunganui
• Pop-up vaccination clinic and free ice cream at the beach volleyball at Mount Main Beach, 9am to 5pm
Tauranga
• Free coffee vouchers and vaccinations at Life Pharmacy Devonport Road, 9am to 5pm
• Grab a coffee and get your shot at The Doctors Tauranga, 8.30am to 3.30pm
Bethlehem
• Walk-in vaccinations at Ngati Kahu Hauora, 9am to 12noon
Greerton
• Walk-in vaccinations at Chadwick Healthcare in Greerton, 8.30am to 4pm
Welcome Bay
• Community BBQ and walk-in vaccinations at Welcome Bay Community Centre, 11.30am to 3pm
Ōmokoroa
• Free BBQ for everyone who gets vaccinated at Omokoroa Medical Centre, Ōmokoroa, 8am to 2pm
Te Puke
• Walk-in vaccinations at Poutiri Wellness Centre – 10.00am – 12.30pm
Katikati
• Community BBQ and walk-in vaccination clinic at Katikati RSA, 10am to 3pm
Whakatāne
• Community BBQ pitstop and walk-in vaccinations with free burgers, ice cream and spot prizes at 11 Quay Street, 8am to 6pm
• Walk-in vaccinations and free hāngī at Te Puna Ora o Mataatua, 92 King Street, 10am to 3pm
• Coffee and café vouchers for those who get their shot at Unichem Total Health Pharmacy, 252 The Strand, 9.30am to 4pm
• Walk-in vaccinations with free coffee vouchers and Kiki Cookie pies at The Dr's Phoenix, – 09.30am – 4.30pm
Ōhope
• Coffee vouchers and BBQ for those who get vaccinated at Ōhope Medical Centre, 262 Pohutukawa Avenue, 9am to 12noon
Ōpōtiki
• Walk-in vaccinations with free kai and a $10 pledge towards every vaccinated person's nominated school, kura, marae or the Eastern Bay hospice at Ōpōtiki Health Centre, 32A King Street, 10am – 12.30pm and 2pm – 4.30pm
Kawerau
• Walk-in vaccinations with free kai and ice cream.
• Kawerau Town Hall, 9am to 3pm
Edgecumbe
• Chez Louis pizza for everyone who gets their shot! At Edgecumbe Pharmacy, Riverslea Mall, 9am to 12pm
• Free chocolate for those who get vaccinated at Riverslea Medical Centre, Riverslea Mall, 8am to 12pm

Also 5th Ave Family Doctors, Mount Medical Centre, The Doctors Bayfair, Te Puke Medical Centre, The Dr's Papamoa, and The Dr's Phoenix will also be open for patients with booked appointments.

Walk-in vaccination hours have been extended at the Mount Maunganui, Tauranga and Whakatāne BOPDHB vaccination clinics:
Open 8 am to 8 pm Friday – Sunday:
1. Mount Maunganui: Trustpower Baypark, Truman Lane
2. Tauranga: 87 First Avenue
3. Whakatāne: 11 Quay Street

Find out more about super Saturday at www.covid19.govt.nz/super-Saturday
More on SunLive...