The sound of silence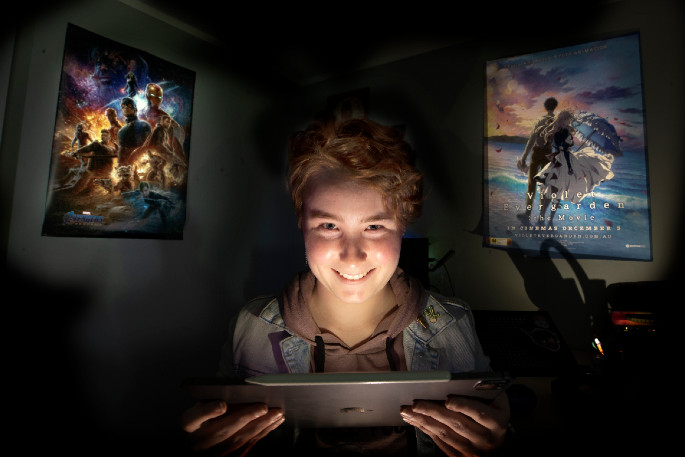 Hundreds of hours have gone into Asher Wadsworth's animated silent film Insomnia.
The 17-year-old from Te Puna has drawn every frame of the three minute-long flick.
Insomnia is one of 15 films that have made the finals of this year's New Zealand International Youth Silent Film Festival.
Asher's inspiration for the movie about an astronaut came from a piece of art on Instagram.
This is the second time Asher has entered the competition, and through it they discovered they really enjoy creating silent films.
"It's really cool platform," says Asher. "It's a good prompt to make something really creative and amazing."
The Tauranga Girls' College Student does traditional filmmaking through their course at school, but enjoys animation the most.
"I really enjoy the kind of creativity you can get with animation.
"You can do all sorts of stuff with traditional filmmaking, but with animation you can do anything you like. You're not restricted by any creative boundaries."
For the competition, entrants choose one of 10 soundtracks, composed specifically for the festival, to base their film around without any other audio. Filmmakers must be 20 or younger.
Fellow Tauranga finalist Tearani Wikohika says it's less challenging to make a silent film.
"It doesn't involve any audio or dialogue, so you can focus on the visuals," says Tearani.
"It's awesome because silent films really highlight the cinematography.
"You can focus on the visual storytelling."
The 16-year-old and her sister, Maea, filmed Between the Lines during the recent lockdown and enlisted their parents as cast members.
Eight other films from students at Tauranga Girls' College, Bethlehem College, Te Puke Intermediate and Selwyn Ridge Primary have also been selected for the finals.
This year, 25 entries were accepted for judging, and following jury panel deliberations, the top 15 films have been submitted to celebrity judge, comedian, actor and writer Tom Sainsbury for final judging.
"I always love seeing people's creative expression, and there was something so exciting about seeing these young guys getting out there and making something," says Tom.
"The films were so good! Everyone knew how to make great, interesting shots and then edit their footage together."
This year the top three films will receive cash prizes of $1500 for first, $1000 for second and $500 for third.
The top two films will also go on to represent New Zealand at the IYSFF Global Awards in Portland in 2022.
Instead of the usual red carpet affair at Baycourt Community and Arts Centre, the final will be streamed online.
Baycourt manager Reena Snook applauds all the filmmakers who entered the competition this year.
"Despite everything that's been thrown at our young filmmakers, they still managed to shoot a short film, edit it and submit it on time," says Reena. "That alone makes them all winners in our eyes."
The awards final will be streamed on the Baycourt Community and Arts Centre's Facebook page from 6pm on Thursday, November 11.
More on SunLive...