Help needed to find missing kiwi statue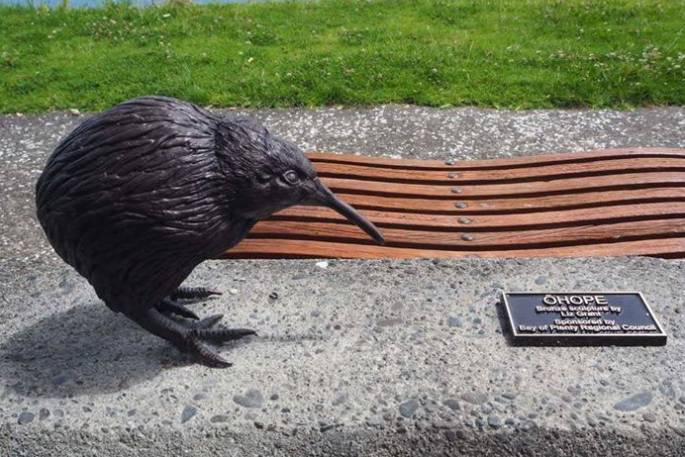 A Bay of Plenty charitable trust is asking for the public's help locating and returning a beloved statue they believe has been stolen from a popular walking trail.
Ōhope is a life-size statue of a male kiwi who took previously took pride and place opposite the Bay of Plenty Regional Council building on Quay Street, Whakatāne.
Made by sculptor and zoologist Dr Liz Grant and sponsored by BOP Regional Council, Ōhope has been a part of the Whakatāne Kiwi Trust's Kiwi Wandering Trail since it opened in 2018.
However, they discovered he was missing last Thursday.
Just a foot remains in the place where this cute carving once stood and the Whakatāne Kiwi Trust's Marketing and Funding coordinator Danielle Guy is hopeful someone can help bring him home.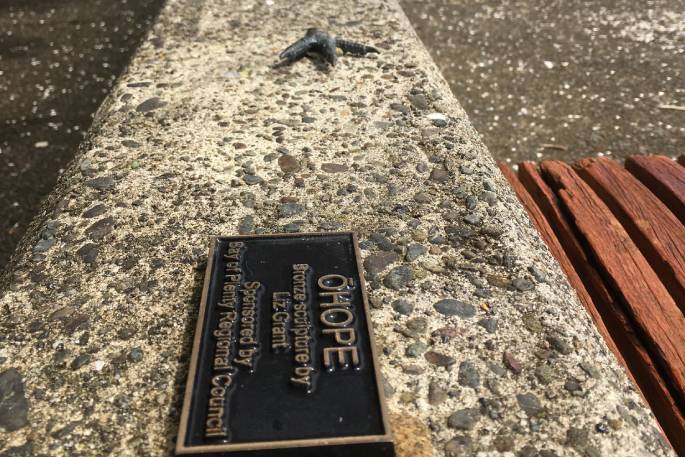 Ōhope missing. Photo. Gaye Payze.
"It would be a huge sense of relief if it was returned to us," says Danielle.
"The statues cost $5000 each to make, and the Trust simply doesn't have the funds to replace Ōhope."
She says this is the third case of vandalism along the Trail and police were notified of the incident last week.
The Kiwi Wandering Trail, which starts at the Library and Exhibition Centre on The Strand runs to the finish at Wairaka Centennial Park, and is a self-guided scavenger hunt to find the 10 bronze kiwis of which, regrettably, only nine are now intact.
"The Kiwi Wandering Trail is also a public asset that belongs to the Whakatāne community," says Danielle.
"It is incredibly disappointing that this delightful, and free, family activity has been vandalised for a third time."
Te Hau, a statue at the Whakatāne Heads, had its beak badly damaged one week after installation in December 2018. It has since been repaired.
In June 2019 Miro, another of the Kiwi statues, was stolen. Fortunately, it was later handed into the police and was able to be reinstalled after being repaired.
The BOP Regional Council have also appealed for help locating the missing sculpture.
"Beautiful 'Ōhope' has been stolen from its location outside our building on Quay Street, Whakatāne as part of the Whakatane Kiwi Trust Kiwi Wandering Trail," says a post on their Facebook page.
"Please help find it and return it to its special spot."
Anyone who might have any information regarding the location of the statue should contact the police non-emergency number on 105.
More on SunLive...