Hipkins on border exemption error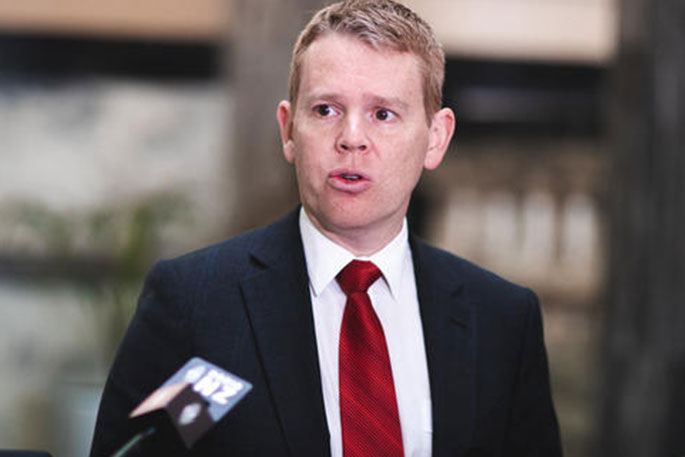 Covid-19 Response Minister Chris Hipkins is rejecting suggestions Auckland's border is too easy to flout, after two women travelled to Northland and have since tested positive.
Hipkins says the Ministry of Social Development approved, and then revoked, the women's border exemption.
The second woman was found on Monday and has been co-operating with contact tracers. Both women are in managed isolation and quarantine (MIQ).
"There was a degree of error in the approval in the first place," Hipkins says.
The mistake in granting the exemption was corrected but only after the pair had crossed the border.
Hipkins told Morning Report he did not have any information on reports one of the women hid in a car boot to cross the border, and says it's up to police on whether car boots are checked at the crossings.
"Given the volume of people who are having to travel and the queues that are already forming they will be relatively efficient in the way they process those queues so they may not be doing a thorough inspection of every vehicle.
"I think the police are doing as much as they feasibly can do."
Hipkins says there were issues with the two women's border exemption but he did not accept Auckland's boundary was porous.
"A land-based border is pretty tricky for a country like New Zealand where a huge amount of our economic activity happens in Auckland."
Freight comes in via the airport and port, and people do have to move in and out of the city, he said.
"We try and limit that as much as we can but it is just the reality."
Work-related travel
At Alert Level 3, travel is restricted to prevent the spread of COVID-19.
Essential workers who are moving around create more risk of transmission of the virus than people who are staying at home.
The Government has introduced a requirement for workers who need to cross Alert Level boundaries to work at a permitted business to get tested, whether they have symptoms or not.
At Alert Level 3, workers who are permitted to cross an Alert Level boundary will be required to have evidence of a test taken within the seven days before crossing the boundary.
From 11.59pm on 9 September 2021, employers of essential workers who need to cross regional Alert Level boundaries for work must have a process in place to enable these employees to be tested for COVID-19.
This includes enabling their workers to undergo testing, medical examination, or both during their working hours.
The obligation for workers crossing the boundary to carry this evidence took effect at 11.59pm, 16 September.
Police compliance checking will involve them spot checking and turning people around who do not have evidence of a test.
The proof of test will be in addition to permission to travel documentation (the Business Travel Document, work order or employer letter) that all workers are currently carrying when they travel in and out of Auckland.
There is no cost for essential workers who get a test for this purpose. Nasal swab testing is available at community testing sites or at GP practices. Go to the Healthpoint website for testing locations in your area
This regular testing will provide the assurance that travel is being done safely and prevent COVID-19 crossing boundaries from these higher risk settings.
Public health advice continues to be that anyone who develops symptoms should get tested. We also know that fully vaccinated people are more likely to have a mild illness and may not develop symptoms, and that transmission may still be possible, although less likely in people who are vaccinated.
These workers will not be required to stand down or stay at home while awaiting their result, as this additional testing is to provide assurance travel in and out of boundaries is being done safely.
We are working with different sectors to understand how we can minimise the impact of this additional testing for workers, employers and supply chains, while providing assurance that travel across the boundary is being done safely.
If you need to travel across or within an Alert Level boundary for work or business reasons, go to the MBIE website to check if you need to apply for a travel exemption.
Health care workers
If you're a health care worker (including pharmacy staff) you can travel within and across an Alert Level boundary if you can present photo ID from your place of work. If you don't have a work photo ID, you will need to have:
• a letter from your employer confirming your place of work, and dates and reason for travel; and

• a form of photo ID, such as a New Zealand driver licence or passport.
If you don't have photo ID, a personal photo that is contained within the letter from your employer is recommended. Alternatively, your employer may have supplied you with a QR code to facilitate fast processing at the Alert Level Boundary.
Exemptions for personal travel across an Alert Level boundary
Alert Level 3 boundaries are in place around Northland, Auckland and some parts of Waikato. View a map of regional boundaries.
Travel into, out of or through an Alert Level 3 region is highly restricted.
There are some already permitted reasons for personal travel listed on the Unite Against COVID-19 website. If your reason for personal travel is listed there, you do not need to apply for a personal travel exemption.
If your reason for travel is not permitted on the Unite Against Covid website, you can apply for an exemption. Before you apply you must be sure that:
• your need to travel across the Alert Level boundary is urgent and cannot be delayed; and 

• there is no one else (who would not need to cross an Alert Level boundary) who can attend the event or perform the activity instead of you.
Given ongoing concerns about the Delta variant it will be very difficult to get an exemption for personal travel.
The following reasons for a personal travel exemption will not be approved. Please do not apply if your reason for travel is:
• going on a pre-booked holiday

• attending a wedding or civil union

• attending a significant celebration of a close whānau or family member

• collecting an item you purchased online

• returning to the region you attend school

• travelling to attend an exam or other assessment

• assisting someone else to travel for the above reasons.
If your proposed travel is to meet with a foreign Embassy or High Commission, for example to organise a visa, please contact them first to see if the activity can be done remotely. Travel exemptions to meet with an Embassy or High Commission are seldom approved.
Anyone travelling across an Alert Level boundary is strongly encouraged to get vaccinated before travelling across the boundary.
Only the Ministry of Health can approve personal travel exemptions to cross an Alert Level boundary.
Change to some personal travel exemptions
As of September 22, it is possible to apply for an exemption to travel across the regional Alert Level boundary into Auckland to:
• attend a funeral/tangihanga, accompany a tūpāpaku/deceased person or visit a dying family member, or

• provide support or care to another person who is unwell, or provide childcare where the parents or guardians are returning to work.
The threshold for exemption approval remains very high, as we still need to contain the virus, and people will need to provide evidence of the need for travel.
As with other exemptions, if people are approved, they must also:
• stick to the approved travel and not go anywhere else.

• If leaving the Alert Level 3 area, have a negative Covid-19 test no more than 3 days prior to departure or a certificate from a doctor who examined them within three days prior to travel confirming they have been exempted on medical grounds from being tested and exhibited no symptoms of Covid-19.
Read here for more information about border crossings at Alert Level 3.
More on SunLive...