Tauranga woman's "baby" to kickstart the heart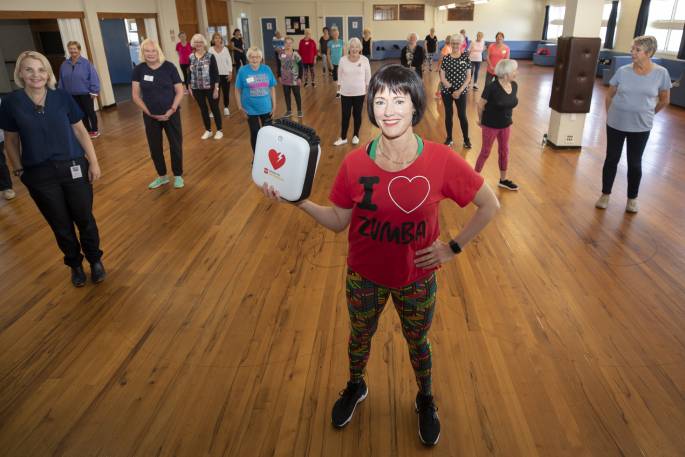 Tauranga's Tina Neville was left relieved after lifeguards and doctors saved the life of a friend who suffered a "massive heart attack" at the beach.
The Zumba teacher was also inspired to ensure she did everything possible to prevent any potential tragedy elsewhere.
Her journey led her to fundraise toward buying what she calls "her baby", a $3100 Lifepak Defibrillator she now keeps in the back of the car and takes to the over-65 Zumba class she teaches at venues like Bethlehem Hall.
"I started fundraising not long after my friend's heart attack," she says.
"When I turned 50 I asked for people to give me money towards this instead of useless stuff I don't need.
"It is one of the newer ones that you can use on children, babies and adults. They say it is similar to the ones that they use in the ambulances. It is very easy to use. It talks to you and it is pretty fool-proof."
Tina will now take the defibrillator with her to various venues where she teaches her Zumba classes. The halls she typically hosts classes in do not have onsite defib access.
She is also registering the device with GoodSAM. It means if St John get a call-out, but Tina is nearby, she will also be notified.
"If I am closer they say can you go out first and administer first-aid and help out," says Tina.
"Hopefully, I will never have to use it but it is there if needed and could save a life."
Tina is speaking ahead of World Restart a Heart Day, a global initiative to raise awareness of the use of bystander CPR and defibrillation use.
Around five people a day are treated for an out-of-hospital cardiac arrest in New Zealand. Of those, 25 per cent will have a pulse when they arrive at hospital and only 13 per cent will survive more than 30 days following a cardiac arrest.
Rapid treatment, including CPR and AED use is vital toward improving survival rates in cardiac arrest patients.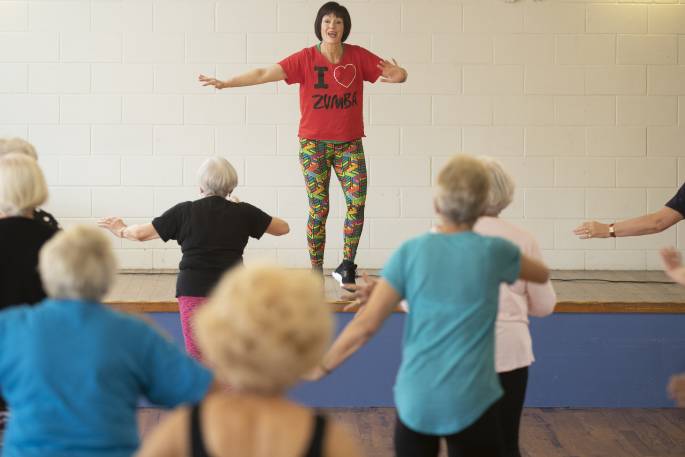 Tina taking her Zumba class at Bethlehem Hall this week. Photo: John Borren/SunLive.
Bay of Plenty District Health Board resuscitation coordinator Jayne Conning has seen first-hand how important out of hospital CPR and defibrillation can be across her 20-plus years as a registered nurse working in intensive care and coronary care units.
"I have nursed a lot of people who have recovered because they have had CPR in the community," says Jayne.
"It is the CPR in the community that keeps them alive long enough to get them to hospital when we can do all the extra things that they need. That is the most important thing, the hospital is then secondary.
"If we can get people getting CPR and defibrillated their chance of survival is much higher."
Jayne says there are resources for learning CPR and she encourages people to do so. She also highlights that members of the public should not be discouraged from using a public AED, explaining how simple they are to use.
"The thing about this is, if you turn it on, it will actually tell you what to do," she explains.
"So you can use this without any formal training. You just open it up and follow the instructions."
Jayne, whose mum is part of Tina's Bethlehem Zumba class, is hopeful more devices like this can be located in the general public.
"It would be great if there were more of them in the community," she says.
"Especially in places like this, like the halls, where Tina identified there was a need for it."
For more information on World Restart a Heart day visit restartaheart.net
More on SunLive...