Petition may be called for to stop wire barriers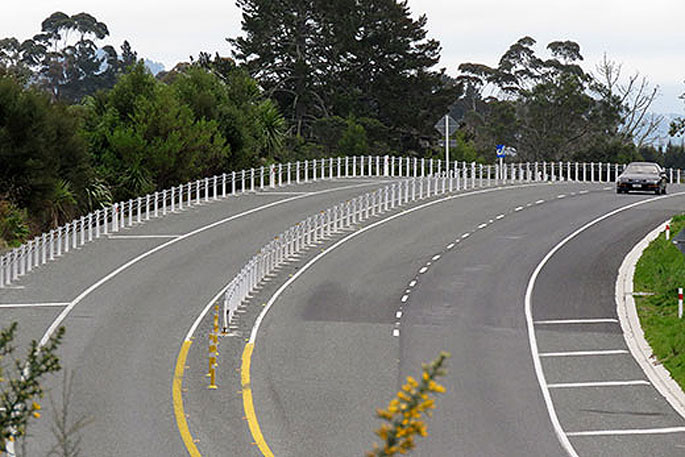 Public opposition may be needed if the Eastern Bay doesn't want to see wire rope barriers installed along much of the centre line of State Highway 30 between Awakeri and Whakatane.
At a meeting of Whakatāne District Council's projects and services committee last week, a report from general manager of infrastructure Bevan Gray said Waka Kotahi had held an initial engagement meeting with council officers to share thoughts on dealing with some of the issues raised in its review of speed limits on State Highway 30 earlier this year.
These included installation of a centre line wire rope barrier along much of the length of this section of the highway.
Council officers expressed concern over the proposal, advising that there were a number of businesses along the route and there would need to be a lot of consultation for such a significant change to be considered.
They also reiterated the community's safety concerns around various intersections along the route, including Kope Drain, Thornton, Huna, Shaw and Mill Roads.
Waka Kotahi acknowledged these concerns and noted that they would be included in their ongoing assessments for safety improvements.
Councillor Lesley Immink feels this is not good enough and the area needs to have the speed limit past these dangerous intersections slowed to 80km/h as soon as possible, as it's an accident waiting to happen.
Council transport manager Martin Taylor says the agency seems to be fixed on the idea of the wire barriers and it will be very hard to get them to rethink that mindset.
"I think we are going to be having some very robust conversations over this issue," he says. "We're in for a bit of a battle about it.
Immink suggests getting the public involved with "building a bit of a groundswell" and putting a petition together.
"Locals would probably be happy to have their say."
Gerard van Beek says that as a resident on that road, he thinks a wire barrier will be catastrophic.
Wilson Jones agrees, saying he has witnessed traffic being held up along the sections of highway at Awakeri that had wire barriers, because there was nowhere for drivers of tractors and other machinery to pull to the side of the road.
A public engagement process was undertaken as part of the State Highway 30 Tikitere to Whakatāne speed review, a summary of which was published in September.
The review drew 304 written comments from three drop-in sessions held at Rotoiti, Whakatāne and Awakeri; 43 emails; 270 comments and suggestions on Social Pinpoint (online forum) with a further 552 interactions from people liking or disliking specific comments.
Waka Kotahi also talked to businesses and organisations in the area at a stakeholder event, which included representatives from Whakatāne District Council, AA, freight industry, NZ Police, local community board, Awakeri School and cycling groups. It also engaged with representatives from local iwi, hapū and marae.
During the engagement, it was learned that most of the community are in favour of lowering the speed limit to 80km/h across SH30.
Among other issues, feedback also shows that some people felt the 80km/h speed limit between the Landing Road bridge and Gateway Drive was too high. Concern was also expressed about the design and maintenance of the road.
"We are using these insights, along with the technical analysis, to finalise our recommendation for what the safe and appropriate speeds should be for this road," the review states.
"The next step will be to commence the required formal consultation with our recommendations. It is expected that the announcement of the consultation dates will be made shortly."

More on SunLive...