Record tumbles in Matakana Classic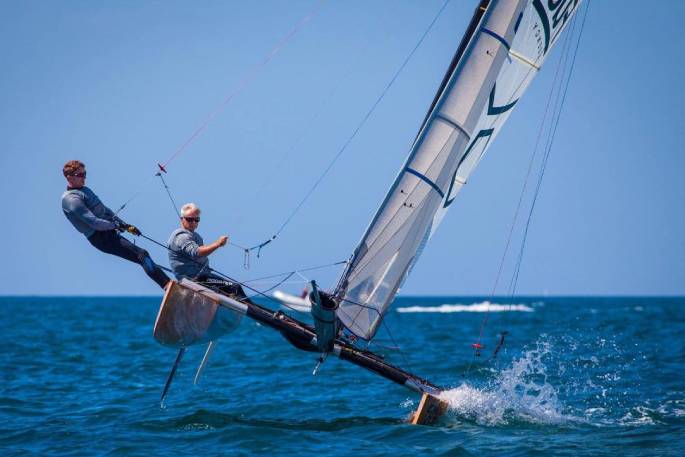 A new record has been set in the annual Matakana Classic, with the winning team shaving 15 minutes off the previous best time.
The yearly event is a non-stop race around Matakana and this year Relentless, with Brendon Dusky and Jason Marra on board, claimed the record-breaking victory, says a statement from event organisers.
The Tornado beat out Quantum Leap, piloted by Tom Wain and Lyndsay Hayward and Arriba, with the crew of Stu MacKinven and Mark Findlay, on Saturday, October 9.
The winning time of 2:20:25 surpasses Phil Scherer of Seahorse's previous record.
The 33 nautical mile race began at 9.45am, with Relentless taking an early but narrow lead up to Ōmokoroa on a tight reach.
"Shortly after Ōmokoroa the competitors were hit with significant wind gusts and Arriba rolled over Relentless and lead up to the top of the harbour," says organisers.
"Relentless regained the lead around the top of the Harbour with Arriba chasing hard and Quantum Leap right behind the first two boats, with speeds hitting over 20 knots.
"Arriba and Relentless dueled it out swapping the lead and by Kauri Point Arriba went mining again, sending Mark around the forestay for the second time.
"Relentless lead the fleet through the Bowentown entrance."
A reach right along Matakana Island 20kts sent Relentless flying home at 15-20 knots boat speed.
Half way along Matakana, adjacent to Kawera, Arriba was hit by a gust and she rolled over onto her port side, and then totally inverted.
Both Stu and Mark were swimming but spent little time in recovering Arriba. Quantum Leap had now passed Arriba and was sitting second.
Relentless was first into the harbour and to the club. Quantum Leap was 10 minutes behind in second and Arriba was a few minutes behind Quantum Leap in third.
More on SunLive...