Repair shop restores link to the past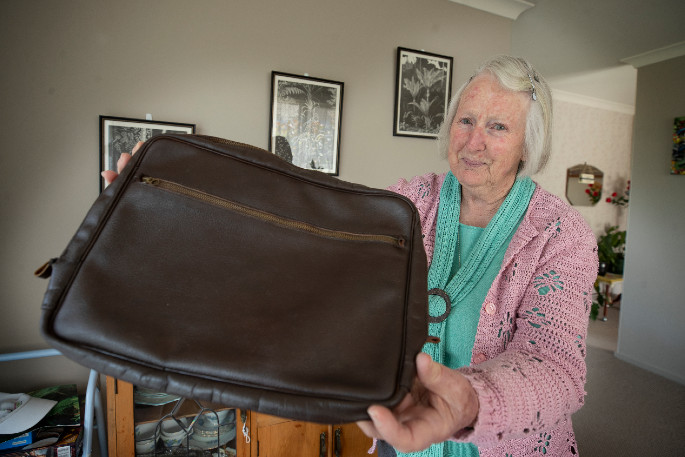 A handmade leather satchel that's more than 60 years old has been restored to its original condition, keeping alive the memory of the Katikati man who hand stitched it in hospital before he died of cancer at just 18-years-old.
Jack Harrison gifted the satchel to his older sister Anne (now Anne Baldock). She was just 20 when he died in October 1961.
For many years, the bag had multiple uses. She used it for work, shopping and "everything else" until it became worn out and got stored away.
Now 80, the grandmother, who lives in Te Puke, wanted to get the satchel cleaned so that one day her grandchildren could enjoy it as a memory of the uncle who didn't live to see his 20s.
Much to Anne's delight, Shane Barr of Shane Barr Shoe Repairs in Tauranga said he could do more than just clean it.
"We love to help people, and items like bags and shoes often tell a story," says Shane. "We washed the satchel with leather shampoo, fed the leather with leather lotion and re-coloured it with dark brown dye.
"Then we re-stitched all of the stitching including both zips. I think we achieved the aim, which was to restore it to look newer but obviously not brand new, because its age is part of its appeal and beauty - like a piece of history."
Anne explained how her brother Jack had got sick with a form of facial cancer aged just 15.
"He had an operation to remove some of his mouth and nose and jaw which essentially left him without a face – it was awful for him," says Anne.
"But he didn't let it get to him. He would say: 'I'm not as bad as the guy in the next bed who lost his hand.'"
He was taken from Katikati, where the family lived, to Middlemore Hospital, where he spent time recuperating. Anne said the surgeons made him a mask which he could wear so that his face would appear more "normal".
"He was in hospital for a long time," she explains, "so for something to do he made the leather bag. When he gave it to me I loved it, but I didn't know how significant it would become as I didn't know then how soon I would lose him."
Jack left hospital and for a while enjoyed a fairly normal life back in the Bay wearing the mask.
"In one of the last photos ever taken with the family, he has the mask on with his glasses and you wouldn't know there was anything different about his face," says Anne.
"We were told it was one of the first 'artificial faces' of its kind in New Zealand."
Unfortunately the cancer returned, and Jack died just a few weeks short of his 19th birthday.
"I don't think I really processed the grief at the time, but the bag was so special and I took it everywhere. I am so happy that it has been given a new lease of life, because whoever carries it will always carry a little piece of Jack with them."
More on SunLive...