Short films invading Tauranga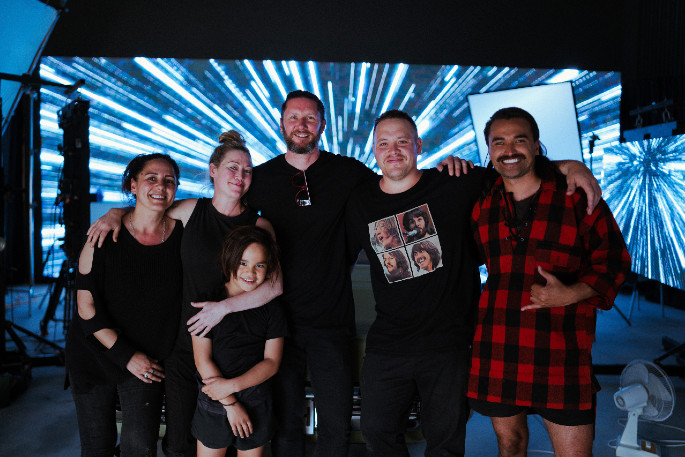 A Darth Vader helmet, a blue tongue lizard and a 1972 Chevrolet Constantia don't sound like the ingredients of a sweet movie about relationships.
But in the short film Space Invader, these elements come together to create a fun movie that is visually interesting and easy to watch.
Space Invader tells the story of young boy named Max, played by Common Ruka, who loves baked beans, Star Wars and hanging out with his dad. This all becomes threatened, however, by the invasion of his dad's new girlfriend Shelly.
"The main aim with this movie was to make something that was quite upbeat and light-hearted," says writer Matt Kelleher.
Matt started writing the film early last year, and with Covid-19 and lockdown not long on the scene, he thought it was even more important to give people something fun.
"We wanted to try and keep it quite light so that people get 15 minutes of pure entertainment rather than anything too depressing."
The inspiration for Space Invader came from how tricky it can be to introduce a new partner to your children, says Matt.
"If you've spent time around six-year-old boys, you'll know they can be incredibly blunt and quite stubborn - especially when it comes to introducing someone new. So, that's exactly what Max is like."
The Kiwi film has been chosen for the Show Me Shorts Film Festival, New Zealand's leading international short film festival, and will be shown at cinemas around the country.
Space Invader is one of 75 films chosen from more than 1600 entries.
It will play at Rialto Tauranga in The Sampler category of the festival on Sunday, October 17.
Directed by Isaac Bell, the movie has already enjoyed success, and while it has recently been selected for the New York Shorts, Hollywood Shorts and LA Shorts film festivals, simply having it play around New Zealand is a big achievement.
"Because they are playing in the provinces and around the country, it's a chance for people we know to actually see it in the cinema," says Matt. "So it's quite exciting for everyone.
"When we put it together, you're hoping that it makes sense. So to have other festivals validate it is really good."
Matt enjoys writing short films because you can get a short story "smashed out quite quickly".
"You're not asking people to invest 90 minutes of their life in something," he says.
Isaac is originally from the music video world, and is transitioning from being a music video director to making movies.
"Short films are a great training ground to prep us for the day that we eventually get to make feature films and series," says Isaac.
Space Invader was filmed in Auckland across Labour Weekend last year, and Isaac laughs when admitting they went against the cliché advice and worked with children and animals.
"We did everything we weren't supposed to."
The children and animals clearly behaved long enough to create a great short film.
Show Me Shorts is at Rialto Tauranga on October 17. For more information visit: www.showmeshorts.co.nz
More on SunLive...