Tauranga Gold Blues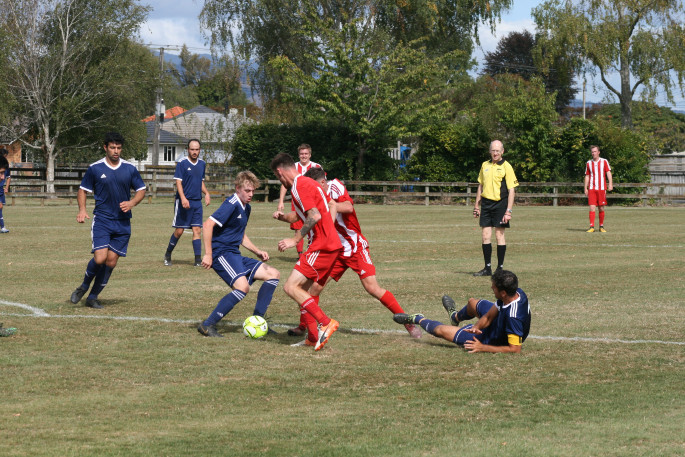 For Tauranga Old Blues Football Club, this season can be summed up with a count of one, two and three.
One club, two titles and three - the number of players who showed up for their first pre-season training session.
"After the first practice we didn't have goals of winning the league because only three guys turned up," jokes Old Blues first-team boss Phil Ranger.
At that point, the WaiBOP Championship side going on to claim the title and promotion to the Premiership seemed improbable, but that's exactly what happened.
"Once the whole group came together the team just gelled," says Phil, who has been involved with the club since 2004.
"Our goal from the very start of the season was to win the league - even after we lost the very first game."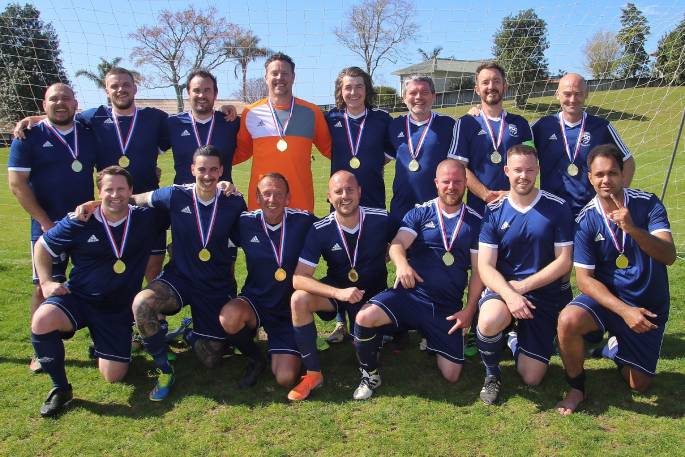 Old Blues Bay League team with their Bay League Division 2 medals. Supplied photo.
That opening day defeat came to Cambridge, the side they eventually beat into second place on the final day of the season.
A battling 1-1 draw with Te Puke at Litt Park proved sufficient to hold off the challenge of their Waikato rivals.
Meanwhile, the more socially-driven Old Blues Bay League outfit wrapped up the Men's Bay League Division 2 title early, with several games in hand.
Whilst a smaller club than some of their local rivals, Old Blues have won two league titles from a possible two this campaign. This promotion could be the foundation on which the club might flourish.
"Our plans are to try and carry on the momentum," says Phil.
"We hope what we have created will entice more people to come and check out Old Blues, whether it be as a player, coach, volunteer or spectator."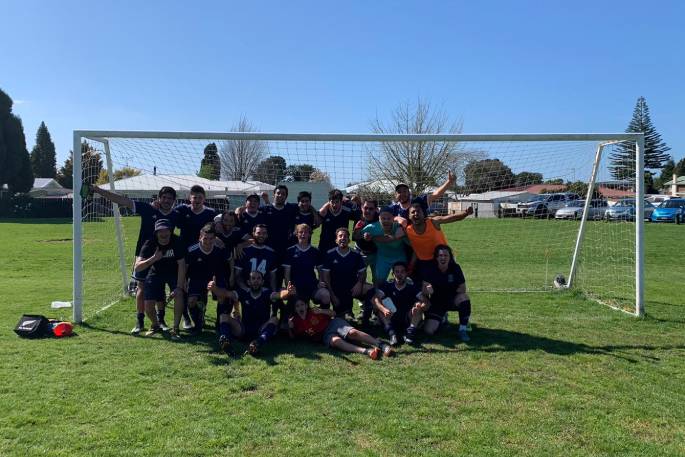 Tauranga Old Blues celebrate their title win at Litt Park. Supplied photo.
A third team is not out of the realms of possibility in Phil's eyes – especially considering the room to grow that's available at their Waipuna Park home and their continued success on the pitch.
"Our hope is to build a club that can cater to the guy who wants to play at the top level, down to the guy who has never played football before but wants to come down, have a run around and be a part of something," he explains.
That inclusive feeling was made evident after the final whistle blew on Old Blues' title-winning Te Puke fixture. The chant echoing from the handful of away fans was of "Campeones", a sign of the club's diverse playing roster and following.
Footballers from Argentina, Brazil, Chile, England, India, Mexico, Uruguay and even, as Phil calls him, a "token Australian", have been embraced in line with the club's motto, 'Amici n Unitate', meaning 'Friends United'.
"At the end of the day it doesn't matter where someone is from," says Phil.
"It is more about who they are as people. The guys this year were great. We had a lot of laughs, a few arguments and then some more laughs.
"If anyone is interested in playing, coaching or helping out next year, definitely come down and see us."
More on SunLive...