Martial arts creating future leaders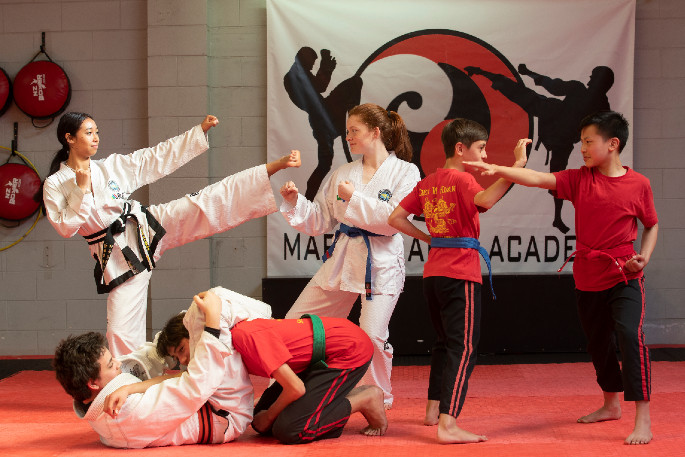 Skyla Dix wants to become an official coach at The Martial Arts Academy in Tauranga, and her goal is in reach after being chosen for the academy's leadership programme.
"I've always wanted to be a leader in some way," says Skyla. "I'm really glad that I can help out the younger kids."
The 14-year-old practices Muay Thai, and has been training at the academy for five years.
For the last two years she's been helping with younger children's classes, and Skyla is happy and excited to have her efforts recognised through the leadership programme.
"I saw that some of the kids were struggling with different skills, so I stepped in and helped," she says.
"To be a coach you have to be very patient, because some of the kids we get are as young as five and you have to be very clear with your instructions."
Skyla chose Muay Thai because she's likes the physical aspect.
"I wanted to learn about different kicks and skills - especially for self-defence reasons.
"I think it's really important to learn self-defence."
The leadership programme is a first for the academy, and founder Scott Coburn started it as passion project to improve the students' life skills.
"I've always had this passion for teaching and helping people develop," he says.
The nine students selected are aged between 12 and 16, and represent five of the eight martial arts that are taught at the academy.
Scott says they chose the participants because they are really engaged and want to support other students.
They will spend a year setting goals and learning communication skills, reliability, integrity, how to become instructors and, eventually, take their own classes.
Scott also wants to give them insight into how to operate a small business in New Zealand.
"We wanted to take them well beyond simply learning how to do a martial art and teaching them how to be instructors.
"They will have some degree of understanding of all the different facets involved in opening and operating, not just the martial arts academy, but their own business - taking something they're passionate about and the steps they need to take to execute it."
Natalie Coburn's goal is to be an instructor, and she hopes to go to the wold championships next year. She is a national champion in taekwondo sparring.
"I need the guidance because I am now a black belt, so I need to learn how to take classes and that's what the program teaches us," says the 16-year-old.
Enoch Tie, 13, feels very grateful to be chosen for the programme and hopes he'll be able to apply the skills he learns to other parts of his life, not just teaching martial arts.
Scott wants the programme to have a lasting impact on the students' lives, so they can look back and think that part of what they've accomplished is because of The Martial Arts Academy.
"I'd really like our legacy, as an academy, to be giving people the skills that help them achieve whatever they want in life."
More on SunLive...