Lions enhancing nature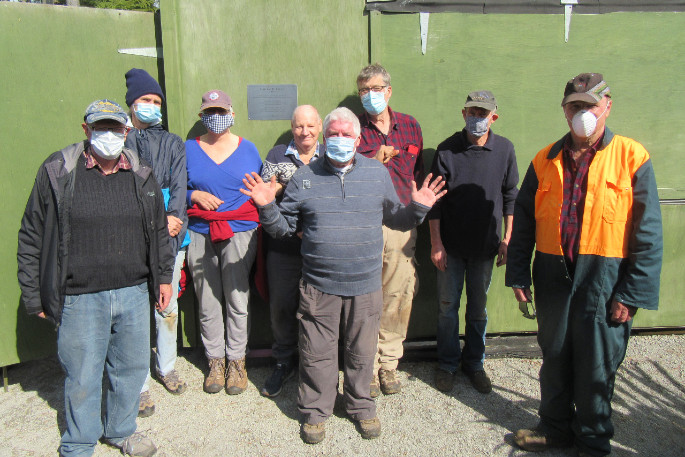 Lions Club members from across the Bay of Plenty and Matamata have added more natives to the TECT All Terrain Park thanks to a recent planting day.
In total, nine volunteers planted 200 trees in the Lions Tree Grove - a 2.4 hectare area of cut over pine forest that is being converted back to native bush.
Since the grove was created in 2012, committee members have made 1.8kms of walking tracks, a half-acre grass area for picnics and planted up to 9000 natives.
Lions Tree Grove committee chair Trev Hawkins says the planting day went really well, with two people digging holes while others filled them and added fertiliser.
A mix of lemonwood, lacebark and griselinia seedlings were planted, with the cardboard insert from apple cartons around the base to suppress weeds.
Trev says it's another great way to recycle the cardboard.
"The great thing about the grove is the insects and the bird life," says Trev. "We've got North Island robins out there, tomtits and all sorts of stuff. It's stunning.
"There are days in the winter when you get up and think it's too cold and you don't really want to go out there.
"But you're glad you did because you come back feeling totally different and enthused."
Over the next two planting seasons the committee has around 750 more trees to plant, which will round out planting in the grove.
"By that stage, we feel that all we'll need to do is maintain the space," says Trev.
A mix of canopy and understory trees, shrubs and flaxes have been planted throughout the area, including manuka, kanuka, kahikatea, rewarewa, totara and hebes.
"We'll never live long enough to sleep in the shade of some of these trees, but we've planted something as a legacy that will be there for generations to come to enjoy," says Trev.
The Lions Tree Grove was started by a group of Lions from different clubs between Rotorua and Tauranga.
At the recent planting day there were members from the Pyes Pā, Matamata, Tauriko, Ngongotahā, Rotorua East and Greerton Lions Clubs.
Halfway through their planting the group stopped for a sausage sizzle and a coffee to aid flagging energy levels before finishing the job.
Trees for the recent planting day were funded by a grant from Matariki Te Rākau, as part of the One Billion Trees Fund.
More on SunLive...