Mount man's 24hr Mauao challenge for mental health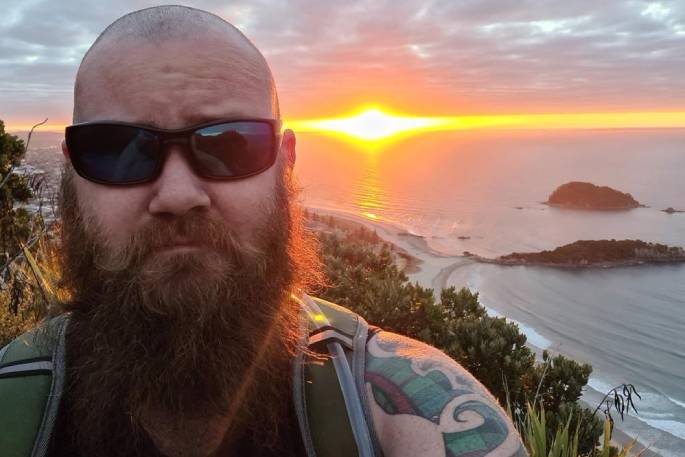 This Sunday will mark world Mental Health Day and one Mount Maunganui resident is embarking on an epic challenge to raise money and awareness.
Adrian "Beardo" Reid will be walking up and down Mauao in Mount Maunganui continuously for 24 hours.
He is raising money for mental health charity I am Hope and will start his epic challenge at 2pm Saturday, powering on until the same time the next day.
Adrian has personal motivations behind taking up the challenge, but is also hopeful of helping others along the way.
"It really is a healing journey as much as anything else for myself, as well as raising awareness," says Adrian.
"I thought why not create a bit of a challenge for myself and do it that way. The Mount is a good representation of mental health. You know it is quite nice at the top but once you get down it is pretty hard to get back up."
Adrian took part in the Everest Challenge last year, where participants are asked to climb the Mount 38 times in 50 days, equating to scaling the height of Mount Everest.
That was the first time the self-confessed "couch potato" had been up his hometown peak in more than 15 years, but the efforts had a profoundly positive impact.
"I noticed a massive improvement to my mental health," says Adrian.
"It was a bit of a struggle to get up there the first couple of times but we did it. I was going up every other day, or at least four or five times a week, but even if you miss one the next time you go up it is always a struggle. It is a relentless climb no matter how many times you do it."
Whilst it is a personal challenge for Adrian, he has already been contacted by others willing to share their own stories and even join him on the climb on the Sunday leg.
Those stories could add fuel to Adrian's engine when the challenge starts to weigh him down.
"We might get to the top and have a bit of a chinwag and hear their stories which will give me a bit more motivation to keep on going," he states.
"I've already had people message me with their stories thanking me for what I've done. That's definitely the motivation I need to keep up with it."
The Givealittle page for Adrian's walk is open until November 14 and more of his story can be viewed at his Facebook page, www.facebook.com/beardosephiphany.
As for his plans after the walk, Adrian is looking forward to putting his feet up, if he can still move them that is.
"The in-laws have a sauna so I will probably hop in that," he laughs.
"Or I'll head over the road for a coffee. A bit of R&R. I don't know if I will make it to the car afterwards but we will see."
More on SunLive...