Murupara in Bay of Plenty is the lowest vaccinated town or suburb in the country.
The Ministry of Health has released a suburb-by-suburb breakdown of vaccination data current to October 6.
Only 32.6 per cent of people in Murupara's population of about 1400 people had one vaccination, while just 16.1 per cent were double-dosed - both statistics accounting for the lowest rates in the country.
Prime Minister Jacinda Ardern was in the area on Thursday with the aim of boosting vaccination numbers.
Speaking at the daily briefing yesterday, Covid-19 Response Minister Chris Hipkins saya Ardern believes her presence there will help lift rates, and he does too.
Hipkins encourages everyone to look at the suburb-by-suburb statistics and get the numbers up in their own suburb.
He hopes the data will be used by community groups to help target the vaccination to harder-to-reach groups.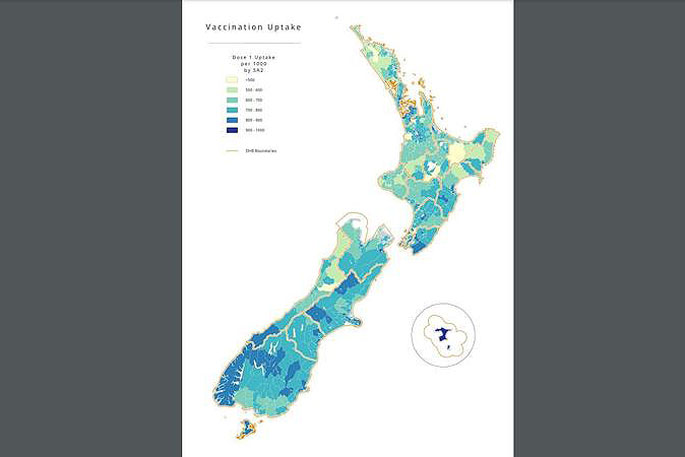 Photo: Source: Ministry of Health.
The next lowest areas with reliable data were Ōtangarei and Waima Forest in Northland with 45 per cent and 45.1 per cent respectively.
While Port Taranaki had middling first doses at 58.3 per cent, it was lagging behind on second doses with just 16.7 per cent, second-lowest after Murupara. Ilam University similarly ranked comparatively highly on 89.9 per cent first doses, but had 27.8 per cent.
The data showed about 35 areas with rates over 95 per cent, many of them in affluent areas including downtown Auckland, central Wellington and Queenstown.
Several other areas had uncertain data or population sizes too small to reliably count vaccination rates.
Most, but not all, the areas with more than 90 per cent first-dose vaccination was in affluent downtown areas including Symonds Street and Victoria Park in Auckland, Ngaio and Khandallah in Wellington and Queenstown central.
Riverlands in Nelson-Marlborough was the most fully vaccinated area in country with a sizeable population, with over 95 per cent.
In Auckland DHB area, the lowest vaccinated area for first doses was the Barrier Islands - not including Waiheke - of 68.9 per cent, with 58.7 per cent for second doses. Several areas were above 95 per cent.
For the Counties-Manukau and Waitematā DHBs, the lowest were: Ōtara west 62 received their first dose, 36 the second; Ferguson 64 and 35 per cent respectively; Ōtara Central 64 and 39 per cent; Wattle Downs 65 and 41 percent while for Papakura Kelvin the numbers are 65 and 35 per cent.
In Wellington's Capital and Coast DHB region, the lowest was Waitangirua at 63 per cent, and 35.3 for second doses, while Karori, Khandalla, Ngaio, and Onslow were the highest.
In Canterbury, the lowest was Aranui at 55 percent for first doses, 29.8 for second doses.
The highest doses was Riccarton Central with over 95 per cent first doses, but it has only 69 people.
The Chatham Islands had 94.1 per cent and 72.8 per cent for first and second doses.
The Ministry expects to update the suburb-by-suburb data on a weekly basis.
See the ministry's maps here or the full dataset here