Mayor's relief after ram-raid fire at butchery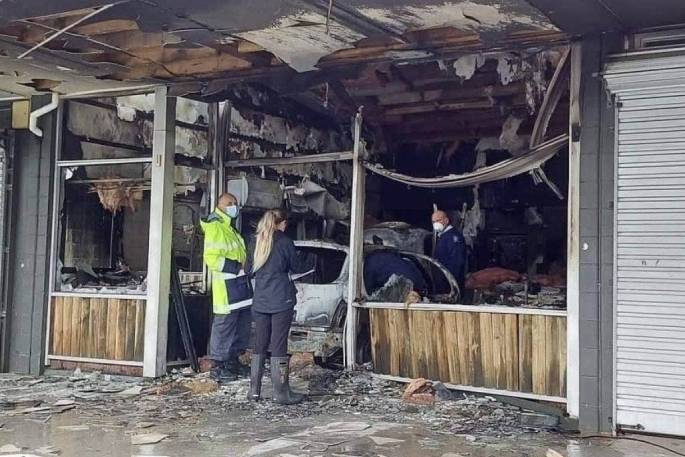 The Mayor of Kawerau says he is just happy nobody was killed after his butchery was gutted by fire after an overnight ram-raid.
However, Malcom Campbell admits this is the end of the butchery business in the centre of the town he has led as Mayor for the past 15 years.
Police were called to a vehicle collision at Campbell's Meats on Onslow Street at 12.30am. Fire crews also attended the scene.
"It appears the collision was a deliberate attempt to gain access to a commercial premises," says a police spokesperson.
The Mayor, who celebrated the 46-year anniversary of the business this month, says the shop is badly damaged but that things could have been worse.
"There has been a ram-raid overnight and unfortunately, we do not know if the vehicle has exploded or there was an accelerant used, but it has burnt out our shop," says Malcolm.
"It could have been worse. There could have been a fatality here because one of the young offenders running off had significant flames coming off of him."
Police confirm two offenders ran from the scene and that one appeared to be injured.
Malcolm says the clean-up is now on. He is not prepared to have the burnt out building becoming something of an eyesore in Kawerau.
"We have now just got a big mess to clean up," he says.
"I won't leave it in the situation it is now, not in the middle of town. It is not a good look, so we will get into it fairly smartly.
"We are just waiting on police and fire people to finish their forensic investigations and we will be into it."
The Mayor says the support from the local community has been "marvellous" and whilst he expects plenty of helping hands he is keen to muck in himself.
"The support around the place has just been absolutely overwhelming to be honest," he states.
"We have got plenty of hands, plenty of people coming to help us out and heavy equipment coming in. So I am itching to get into it myself now."
Malcolm states that whilst the building will be restored it is likely the end of the butchers.
"The bottom line is we won't be rebuilding a butchers here," he explains.
"But we will be rebuilding. The building is in sound condition, although it doesn't look it right now.
"The investigators say she is sound and good to go. But it won't be built as a butchers shop anymore."
As for the emotional impact of losing his 46-year business, Campbell is taking a positive and pragmatic approach.
"It is just one of those things that has happened," he says.
"I am probably ready to retire now anyway. I probably was about 10 or 15 years ago. From that point of view it is not really a concern. I am more concerned about my staff."
If anyone has any information about this incident or the people involved please call 105 and quote the file number 211007/6437.
More on SunLive...