Dental therapist retires after 45 years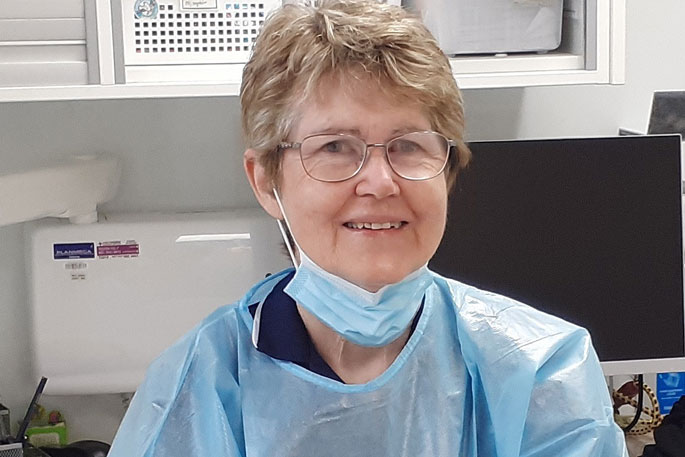 Lakes DHB Dental Therapist Ngaire Holden is excited to be retiring after 45 years of service to the children of Rotorua.
Ngaire says the only thing that is the same since she started her role in 1976 is the hand instruments; her mirror and probe. Everything else has changed.
At that time, dental therapists wore a white, starched uniform with a veil, white stockings and shoes and a red cardigan.
The pupils sat in a wooden dental chair and filling materials were really only silver amalgam and white for the front teeth.
Now dental therapists do local anaesthetics, x-rays, use high speed drills, do steel crowns and have a tooth-coloured material for fillings.
Ngaire says the perception the children now have of the dental clinic has also changed.
"Most children are happy to come. Dental therapists are nice and we have anaesthetic and high speed drills now."
It's the children Ngaire will miss, as she looks forward to her retirement.
"I will miss their cheeriness and chatter. I get most job satisfaction when I have a child who comes in nervous and leaves smiling. It's been good for me working with children. It's been a good job and I've enjoyed it, helping children and making a difference. When you have a child in pain and can do something to help it's very satisfying."
She says it's hard to say if children's teeth have got worse over the years.
When she first graduated and until 1991, children were seen every six months, so problems were picked up and treated earlier.
The oral health service has been through several national reviews and one change in 1991 was seeing children every 12 months.
Another in about 2010 saw dental therapists move from a school based service to working in some clinics and mobile dental vans.
Ngaire says if she had her time again she may have been an accountant. She's good with numbers, she says. She studied at night classes for years and has a Diploma in Business.
"I've made a bigger difference to children's lives as a dental therapist."
Ngaire says she has had dental therapist students come to work with her whose teeth she has treated.
A new graduate even told her Ngaire had been a role model and part of the reason the graduate had chosen to be a dental therapist.
When Ngaire trained, the course was a two-year certificate run by the Department of Health. Now days it's a degree course which includes dental therapy and hygiene- so new graduates often choose to be dental hygienists rather than school dental therapists.
There's more money in that career option and it's working with compliant, adult patients, she adds.
As the dental therapist workforce ages and retires as she is, Ngaire says it's an on-going problem for children's oral health services.
Ngaire trained in Auckland and was posted to Rotorua, she did not have a choice where she worked.
However, she met her husband piano tuner and repairer Brian here and the couple only moved to Cambridge last year.
Ngaire is very excited to retire and is looking forward to spending more time getting back into patchwork, excursions and social activities with friends.
Oral Health Manager Community Oral Health Services (COHS), Juan Restrepo says Ngaire has been a very important person to the COHS as a human being and as a professional.
Her long career in the service has been an example for her colleagues and everyone who has had contact with her.
Juan says Ngaire was trained as a therapist to serve a completely different service than the service we have today, and she knew how to adapt to all those changes.
"Due to her time of service, she has had the privilege of serving several generations and today some of the new therapists were her patients years ago. Ngaire has been a leader within this service and we will miss her."
More on SunLive...