Rena photo exhibition launches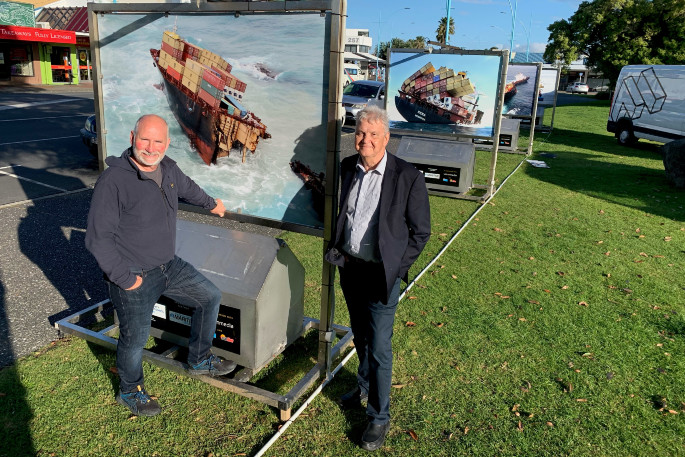 An exhibition marking the 10th anniversary of the grounding of the Rena has opened in Tauranga ten years to the day since the vessel hit Astrolabe Reef.
A collection of photos, taken by brothers Ross and Graeme Brown of Vision Media, is on show in an outdoor display that will extend across October and November at Mount Maunganui and Tauranga City centre.
The opening launch at Coronation Park, which started soon after dawn today, exactly 10 years since the grounding, has exhibition sponsors and representatives from Maritime NZ, the University of Waikato, local iwi, councils, and community organisers attending.
Ross and Graeme were commissioned by Maritime New Zealand to keep a photographic record of the disaster response back in 2011, and their photos and videos were subsequently seen by millions around the globe.
"The Rena exhibition came about, after having hundreds of thousands of photos that Graeme and I had taken as official photographers for Maritime New Zealand," says Ross.
"It was interesting how it started. I had a phone call from Maritime New Zealand asking if we could do a contract for three or four days.
"At that time I was also working at Sun Media as a general manager, and I had a few other things on as well. With our company Vision Media, Graeme was based in Palmerston North, and he got a call from me in the middle of the night."
Graeme remembers that call.
"The rugby world cup was playing, and Ross phoned to say we're getting a contract possibly, he was waiting 20 minutes for a contract from Maritime New Zealand," says Graeme.
"He rang me back, and I'd already made the decision to come up and help Ross take images. He said 'we've got the contract, the bad news is they want you here at 7am tomorrow'."
Graeme drove through the night, and as soon as he arrived, he was flown out to the Rena with some Maritime NZ staff who were dropped onto the ship.
"It all started from there,' says Graeme. "Over the next four months, which we thought was only going to be four days, we covered the events as they unfolded, as you'll see here in the images on display."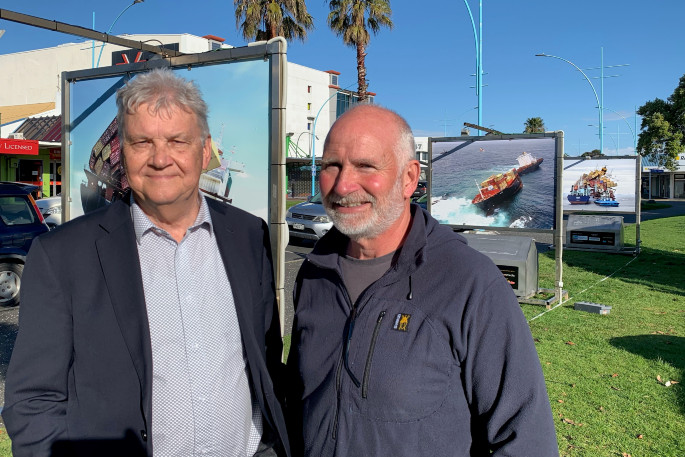 Ross Brown and Graeme Brown. Photo: SunLive.
"It was an awesome experience to fly out there and record it photographically," says Ross. "The idea of an exhibition came about to show a collection of photos all in one place that tells the story of the Rena."
Ten years on, they began the task of short-listing 400 from thousands of photographs, with Ross saying they agonised over which of the photographs to choose.
They finally selected 20 that will be displayed on billboards at Coronation Park from October 5-18.
The display will then switch to The Strand from October 19 to November 15. Each of the 20 boards is being sponsored by individuals, businesses and organisations.
"What we've tried to do in this display isn't just to show the break-up of the ship," says Ross. "It's also to show what the community did, and how fantastically the community responded to it.
"In a lot of ways, that was one of the most amazing things - how everybody took ownership – 'this is our beach, we don't want oil on it, we're going to get out there and do it'. And Maritime New Zealand were absolutely amazing. They said 'yes we are going to involve the community', after a bit of an initial problem of thinking 'is that the right thing to do'. They choose to involve them and it was the right thing."
"With the hundreds of images we've gone through, I think we've come up with some real gems," says Graeme.
It is not surprising they ended up with so many images. What started out as two or three days' work back in 2011 ended up being over four months.
"We'd like to thank the sponsors," says Ross.
'Without them we couldn't have gone ahead with the exhibition."
Every photograph has a sponsors' name below it.
"We ask everyone to look at that and acknowledge that these sponsors made this exhibition possible, as it's been a major undertaking. We had to make the decision whether to go ahead, and we didn't really have the sponsorship to do it but they've just come out of the woodwork and said 'hey look we're going to support it'."
The exhibition includes stunning photos and close-ups of scenes that the public may have never seen before.
"People are going to see photos of bags on the beach, the birds being released, the washing of little blue penguins and wildlife, the breaking up of the Rena and the changes of the ship, and how the sea can gobble up a huge container ship in about four months," says Ross.
Ross and Graeme's photographic exhibition will be on display during the day as well as being lit up at night, on billboards at Coronation Park from October 5-18.
The exhibition will then switch to The Strand from October 19 to November 15.
To mark the 10 year anniversary, Sun Media has published a ten year commemorative special. View the publication here.
More on SunLive...